5 Reasons To Love Courtyard San Antonio SeaWorld
Ask someone where you should stay when visiting San Antonio, TX and most people respond, "on the Riverwalk." I think its a reflex for many Texans. Personally, I think where to stay depends on who you're traveling with, and what your plans are in San Antonio. Sure, the Riverwalk is nice if you're planning to sight-see downtown, and want to walk to local bars, but if you're looking to visit SeaWorld, I have 5 reasons you'll love staying at the Courtyard San Antonio SeaWorld Westover Hills.
Let's do a countdown:
5. Complimentary Shuttle to SeaWorld
Okay, so I usually prefer to drive myself, that way I can come and go from the park on my schedule, and keep extra towels, etc in my vehicle. But during our AdventureCon13 trip, the kids were still sleeping, and we only had one vehicle, so I tried the shuttle. Sign up was easy, and they dropped me off just steps away from the entrance. Plus, during busy days the lots get full, taking the free hotel shuttle saves you on parking and you don't have to worry about finding a spot.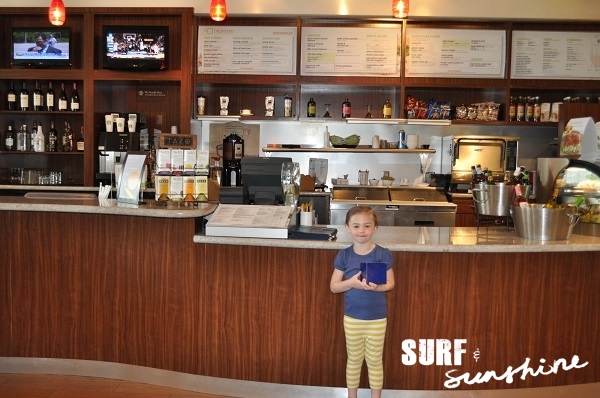 4. Restaurant/Bar/Starbucks
Caffeine is a morning requirement for me, preferably a caramel macchiato from Starbucks. So the fact that the Courtyard San Antonio has a Starbucks on site, that serves breakfast sandwiches, pastries, juices and caffeine, is Awesome-sauce! There's also the Bistro that serves breakfast, lunch and dinner, and Waves lounge has beer, wine and mixed drinks. Oh and the breakfast buffet is free for kids 5 and under, with their parents buffet.
3. Family Friendly
Courtyard San Antonio SeaWorld/Westover Hills is family friendly. All of the rooms have a microwave and mini fridge, perfect for keeping milk and snacks for the kids cold. There were plenty of other kids in the lobby and playing in the pool. Ours were even able to get their photo taken with Shamu, as part of the AdventureCon13 fun!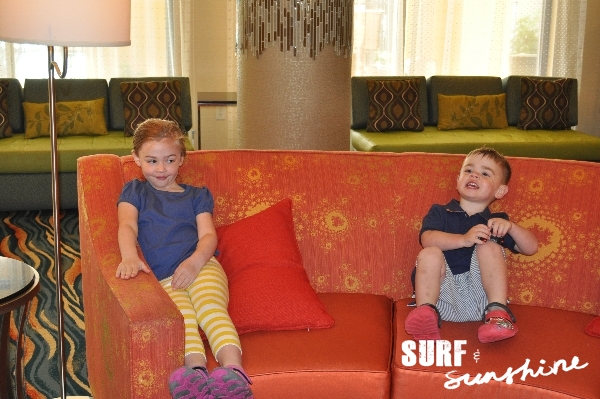 2. Amazing Resort Pool 
Two years ago, in April, we stayed at this same hotel while taking the kids to SeaWorld. It was still a bit too chilly to enjoy the pool, plus at 2 and 6 months, the kids were still a little young. During our most recent stay, the kids had so much fun at the pool, that after an exhausting day of fun at SeaWorld our daughter wanted to go back to the hotel and play in the pool. The kids love the splash pad, and I love the swim up bar! (what?!? because it has seats in the water)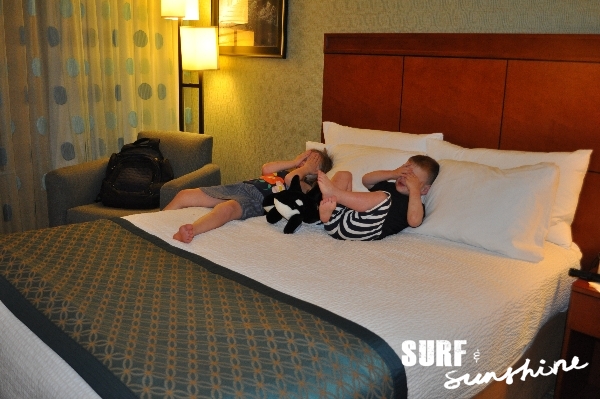 1. Location, location, location
When you can see the park from your room, you know you can't get any closer to SeaWorld. It's less than a 5 minute drive from the hotel parking lot. With extended summer hours at both Aquatica and SeaWorld, being close to the hotel is so convenient. You can come back to the hotel for a nap and a snack, and then head back over to catch the Summer Nights show at SeaWorld or Island Nights at Aquatica. From now through September 1, you can enjoy live music, entertainment and Polynesian dancers.
By the way, for a limited time when you stay at the Courtyard San Antonio SeaWorld Westover Hills and mention SeaWorld, they're giving guests a limited edition SeaWorld juice glass. (there are only 500 available and they can't be purchased at the hotel or at the park)
Also, SeaWorld is offering some great discounts, including $10 off admission* to Aquatica after 5PM when you bring in any 20 oz. bottled Coke product to the SeaWorld or Aquatica San Antonio ticket window. I can tell you that evenings are a great time to beat the heat and the crowds, as well as save some money!
*Offer is valid towards the SeaWorld/Aquatica dual park single-day ticket, SeaWorld/Aquatica Fun Card or SeaWorld/Aquatica Annual Pass only when purchased at the main gate. Guests may also bring a bottled Coke product to either the Aquatica or SeaWorld interior Guest Services to receive $10 off their single-day upgrade to Aquatica.
"Like" the Courtyard by Marriott SeaWorld San Antonio Facebook page to stay up to date with the latest specials and promotions, and follow them on Twitter @CourtyardSW.
Disclosure: This was NOT a complimentary stay. I paid a special conference rate and enjoyed it so much that I wanted to share my experience with you.