Writer/Director Richard Curtis Reveals How It's #AboutTime
You've already seen us gushing over the new movie About Time, so we were thrilled to have the opportunity to sit down with writer and director Richard Curtis, who you may remember from the love story classic Love Actually. Curtis is back at it again with a man named Tim (played by Domhnall Gleeson) in his timelessly romantic time travel journey. I had the privilege of sitting down with the man who has touched my heart with his work (and also made me sissy-girl-cry in theaters).
Curtis began his writing career in the late 70s on British comedy series Not the Nine O'Clock News (where you may have seen actor Rowan Aktinson launch as a comedic actor).
You always end up trusting your instincts in the things that you write. Oddly enough with me started the other way in that I started just writing comedy, and I remember the first time I went to the BBC, they gave me a list of what was funny and it said: British sandwiches, trade unions, the Queen.  And I didn't think any of those things were funny, and so, I stared off my career trying to believe that if something made me laugh when I typed it, that that would end up being funny.  And often, they were much smaller things and particularly non-satirical things.  I found tiny little bits of sort of personal behavior funnier.
About Time features several serious moments in the relationships of the characters, but particularly with Tim, whose father (played by Bill Nighy) guides him as a fellow time traveler. Tim eventually gets caught between being able to live in the moment, and cherishing memories with his father in the scene that triggered my sweetly steady stream of tears.
I'd thought about the father giving the son that advice, the scene on the beach with the father and the son was just a thought I had, and every time I thought of it, it struck me as being a very emotional thing that you'd go to such a tiny thing rather than a great and take your dad back to the day you won a prize, as it were. So, I think you always have to trust your instincts and write about things that interest you and hope that that'll be just like we hoped and it'd be funny.  You have to hope the serious stuff will be moving.
But Curtis doesn't let the writing take all of the credit. He spoke highly of Gleeson, Nighy, and love interest Rachel McAdams, who plays the character of Mary.
Domhnall [Gleeson], he's a very sweet man, and you could see that.  He's also silly, and trying to find a young actor with a sense of humor is quite a stretch, because their job is to kind of take themselves seriously.

And the Bill [Nighy] thing actually sort of came from him.  I sent it to him, and he came back, and we had a meeting, and he said at the meeting, I'll do it as long as I don't have to do any acting.  And I remember saying but he was the one who perceived that, that there was another way of playing it, which was a sort of moustache twirling English eccentric, closing the door in a dark library full of books. And because he did it so gently means everyone could put their own dad or mom into the tone when we made the movie.

Rachel is the right tone… I've always loved her work, and I thought it was quite complicated in this film having someone who was there on the first date and a mother of three by the end.
The inspiration for Tim and his father's bond isn't all fiction. When proposed with the idea of time traveling back to a moment in his life, Curtis revealed what memories he misses most.
Well, the movie's probably right there insofar as, you know, having lost members of my family and things, I think I'd go back to any Christmas Day 20 years ago. Because it's very hard to remember the texture of people who you lose.  I think, actually, the next generation's going to be luckier because, the moment my mom died, I remember literally the moment she died.  I thought, oh no, we've got no film of her. And I'd done this thing when I knew she was getting old where I would sit with her with my typewriter and ask her, so when did you and Auntie Rowe go to London. I thought it was important to have all the facts. And I should simply have filmed her talking about tea or what had happened that day and everything like that.
What was most endearing about sitting down with Curtis was his light-hearted smile and gentle tone. Like anyone, Curtis has had his fair share of writing highs and lows, but at the end of the day, Curtis is a father of four whose kids keep him grounded.
If ever we get bad reviews, my daughter quotes this Taylor Swift song that she loves, which goes, one day, I'll be living in a great big city, but all you're ever be is mean.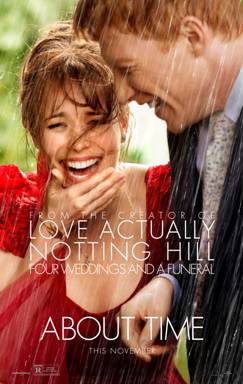 ABOUT TIME
Universal Pictures
In select theaters November 1, Everywhere November 8
Visit the official website
Like About Time on Facebook
Follow @AboutTime on Twitter