Making Family Memories At Aquatica San Antonio
We came, we saw, we rode, but most importantly we made lasting memories at Aquatica San Antonio this Father's Day weekend. As a stay at home/work from home Mom, you would think our days are filled with fun activities. The reality is I spend most of my time at my desk, working, while the kids entertain themselves. So when we do have the opportunity to spend quality time with the kids, I want to make memories.
Last year, JB and I spent the day at Aquatica San Antonio without the kids and had a blast (check out my post for tips). But…everywhere I looked, every ride I rode, I was thinking: the kids would really enjoy that slide, or playing at Walkabout Waters. So this summer we knew we had to take the kids and the AdventureCon13 conference gave us the perfect opportunity! I could tell you about our adventure, but I think the photos I took do a much better job of showing just how much fun everyone had!
My daughter and I seem to have made a habit out of making silly faces for the camera. This time we were making fish faces!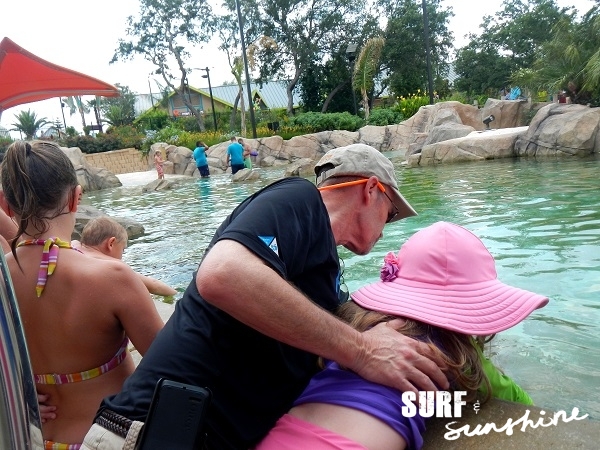 Our first stop inside Aquatica, was at the stingray pool where we fed them minnows. My daughter 4.5 loved getting to pet them and she said, "he tried to eat me, but then he ate the fish (minnow) instead."
Tip: Minnows to feed the stingrays are $5 for 3. After you feed them, they continue coming back looking for more, creating the perfect photo opp.
After covering ourselves in sunscreen and finding life jackets for the kids, we headed to Stingray Falls. I was so excited to find a ride that all four of us could enjoy together! Height requirement is 36 inches, and our 2.5 year old is about 38 inches tall so it was perfect. HP loved it so much, that we rode it more than 10 times!
Tip: Lines for Stingray Falls are shorter late in the day, especially an hour before closing time.
Once we were able to drag them away from that ride, we headed to the Slippity Dippity pool area where we splashed and caught the kids as they rode the slides. (again, and again, and again)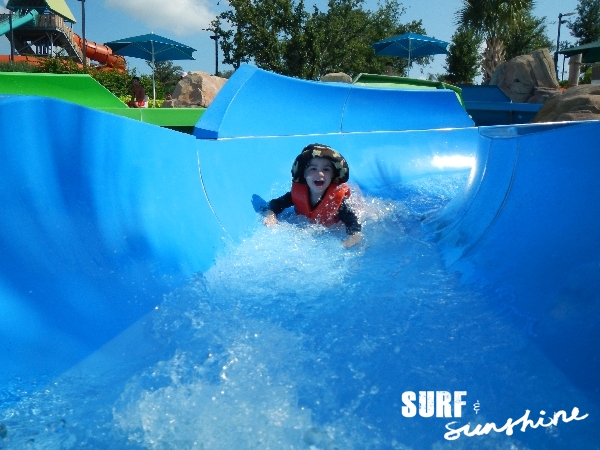 One of the best parts about Aquatica is their multiple areas for kids, big and small, to play! We spent time at Walkabout Waters, Slippity Dippity, and Cutback Cove.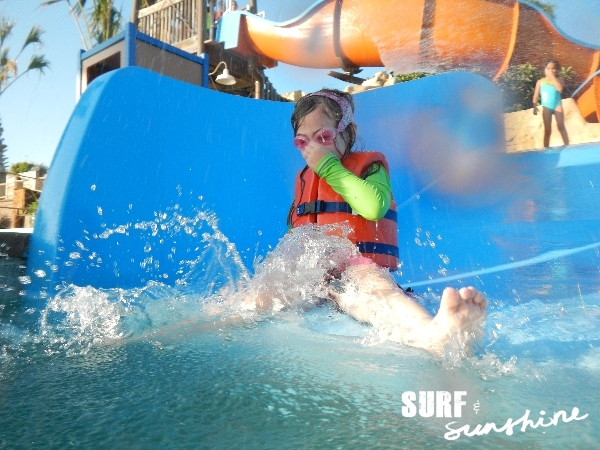 MC loved wearing her new Frogglez on the slides! They did a great job of keeping water out of her eyes, while staying on securely.
I loved catching this sweet and spontaneous moment. HP waded out into the wave pool and hugged his big sister. Then he climbed on her back and they swam back to us.
We had so much fun that we ended up closing the park down at 9 PM! None of us really wanted to leave Aquatica, but we were tired and waterlogged. I really wish we lived closer (its a little over 200 miles away) because if it were, we'd be visiting SeaWorld and Aquatica at least once a week. Date night…I'm thinking roller coasters, family fun weekend…let's catch a show!
A huge thank you to the folks at SeaWorld for inviting me to attend AdventureCon.
"Like" Aquatica San Antonio on Facebook and follow them on Twitter @SeaWorldTexas to stay in the loop on the latest and greatest happening inside the park.
I received discounted tickets to SeaWorld and Aquatica as a part of the AdventureCon conference tickets, which included quick queue passes. I was under no obligation to share my experiences, and as always all opinions are my own!