Raising Our Toddler to be A Sports Fan
This post brought to you by Buffalo Wild Wings. All opinions are 100% mine.
I've always known that my husband was a sports fan but I never realized just what a fanatic he was until we moved in together. It only makes sense that our toddler is growing up to be just like dad. At two she had the DE-TROIT BAS-KET-BALL chant down to a science and could often be heard yelling and cheering at the TV screen during a sports game.
Last spring we won a set of tickets to a Detroit Pistons game. It was Maddilyn's first live game so we decided to make a day of it. First stop was Buffalo Wild Wings for dinner. They were packed when we arrived and there was a bit of a wait. So we passed the time playing arcade games like Skee Ball and Hoop Fever. Before we knew it our table was ready but after a 3 hour drive Maddilyn still had energy to burn. The waitress was nice enough to seat us at a table next to a toy car and Maddilyn played on it quietly while Jake and I checked out the pre-game. By the time our food came she had burned off her energy and was ready to eat some pizza and wings – because what else would we have on game day? It turns out she isn't a fan of spicy wings like mom but she like the honey barbecue just.like.dad.
After arriving at the Palace and outfitting her in Pistons Gear we took our seats and spent the next hour and a half watching her marvel at the chanting crowd, buzzers, and life size players. The Pistons even managed to pull off a win! It was such a great family day. I wish we could catch more live events, especially with Football season right around the corner. But when we can't I know of a place with more big screen TV's than your eyes know what to do with, honey barbecue wings and family fun.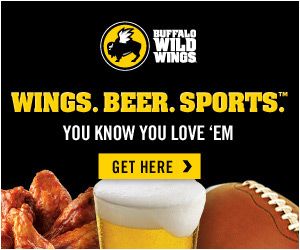 Be sure to Follow Buffalo Wild Wings on Twitter and Like Buffalo Wild Wings on Facebook for more fun specials and promotions like Bottomless Boneless Lunch and Boneless Thursday.