Gluten Free Recipe: Meat and Veggie Pizza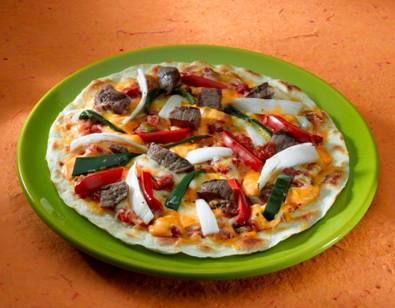 We have had a few brisk days this week letting us know that fall is making it's presence known but I don't think anything signals fall more loudly than back to school season. Wether you tearfully awaited that first day or, like me, were in in the oh-thank-you-I-can't-wait camp, school is back in session. With it brings a completely new routine with new challenge. Somewhere between the sports practice, the dance classes and the mounds of homework we're also trying to find time to clean the house, cook dinner and keep the dog from eating the homework. I'm a huge fan of healthy, nutritious after school snacks – and not just because it allows me squeeze in dinner a little later if necessary. ;)
I'm really digging this Gluten Free Recipe for Meat and Veggie Pizza by LA-based celebrity trainer and lifestyle expert, Paolo Mascitti.  As kids are heading back to school Paolo recommends his gluten-freeveggie pizza for a quick and healthy meal. Not only does it look tasty, but it only takes 10 minutes from start to finish!
Gluten-Free Meat and Veggie Pizza
Author:
Prep time:
Cook time:
Total time:
This Gluten-Free Meat and Veggie Pizza is a quick snack to serve after school or if you're on the go.
Ingredients
Gluten-free tortilla
1 oz cooked steak (diced)
1 oz yellow onions
2 oz red and green peppers (julienne cut )
2 oz pizza sauce
3 oz of fresh mozzarella cheese
Instructions
Place the gluten-free tortilla on a baking sheet.
Spread a thin, even layer of marinara on the tortilla and sprinkle with cheese.
Top with onions, peppers and steak.
Pop it in the oven for 5 minutes while the cheese melts.
BON APPETIT!

Paolo Mascitti is also found of Cibo verde, a meal delivery system that caters to customers' body calculations to help them reach their weight goals and maintain a healthy lifestyle.