Keep Your Dogs Safe With Vectra 3D Flea Control
This post brought to you by Vectra flea & tick control. All opinions are 100% mine.
We are the proud owners of three dogs. Casey our oldest, a yellow lab mixed with who knows what, was originally my Mom's dog. Now that Mom's gone, she lives with us. Cowboy is our middle dog, the smartest, most loyal, compassionate border collie, and well the family favorite. My husband and I bought Cowboy when he was 8 weeks old, before we were married. I think he's the best purchase we've ever made together!
Then there's our youngest, Cooper aka "Scoop Scoop", a lab mixed with English setter.  My hubby brought home Cooper one night as gift for me, when I was six months pregnant with our daughter. Cooper is the sweetest, most loving dog I've ever met, but not too bright.
Before our children were born, our dogs were our kids. They lived in the house, slept in the bed, and were spoiled rotten. Now, they've become outside dogs, but they're still our family. Which means they live outside full-time until the sympathy card is played during cold weather, thunderstorms, or fireworks,  then we cave and let them spend the night inside. Unfortunately, last summer after the dogs slept in the house, we ended up with a flea infestation!
With fleas attacking my son with a vengeance, I learned more about fleas than I ever wanted to know. We spent two months and countless dollars waging war on the fleas in our yard, on our dogs, and in our house. Did you know fleas can carry and transmit bubonic plague? Oh and as luck would have it, Cooper has flea allergy dermatitis, an allergy to the saliva from fleas that made him miserable! It could have been worse, our dogs could have been infected with West Nile, heartworms, tapeworms, or become anemic.
[youtube http://www.youtube.com/watch?v=DegU_KbCHWk&w=560&h=315]
After our experience last summer, I learned its much easier to protect our dogs from fleas, ticks and mosquitoes, than to deal with the aftermath. Vectra 3D Flea Control kills fleas and ticks on contact, which means they die, before they bite your best friend! Since it only takes one bite for your dog to become infected, you want your flea control to kill on contact! You can buy Vectra 3D at your local vet's office, and try it for free.
When you enter Vectra's Protect the Love Facebook Sweepstakes, you get a free dose of Vectra flea & tick control. Just enter the sweepstakes, then visit FirstDoseFree.com and fill out the form, and you're on your way to protecting your dog. Plus, every week during the sweepstakes,Vectra will choose a random winner for a $100 gift card to use at your next vet visit! WooHoo!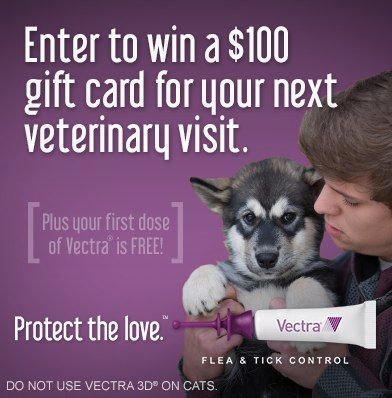 "Like" Vectra on Facebook and follow @VectraPet on Twitter to learn more about how to keep your dog safe from fleas and ticks.