Ponies and Princesses Are What Little Girls Dream Of
I got my first horse before I was 10 years old and from there I proved that horses aren't just a "phase." It's for this reason that my husband blames me for my daughter's obsession with the animal. Horse was the second animal Maddilyn recognized (next to her dog) and I think the passion started there. She was on a horse before she was 1.5 and it was about that time that she started to collect the stuffed vareity including, the classic stick horse. Next she fell in love with multiple movies involving horses but her latest obsession is My Little Pony on the Hub Network.
When she first started watching the show it was strictly because it had horses. But now she recognizes the characters by name and Maddilyn gets into participates in the episode to help her horse friends solve problems. The most recent movie to be release by Shout! Factory is My Little Pony: Friendship is Magic has become her favorite.
Since arriving in Ponyville, Twilight has learned Princess Celestia's most valuable lesson — the meaning of true friendship. But with every new adventure comes a new lesson and if anyone is up for more learning, it's the studious Twilight Sparkle!

Now, after completing an important challenge, Twilight has earned her princess wings and has all new adventures and responsibilities as a princess!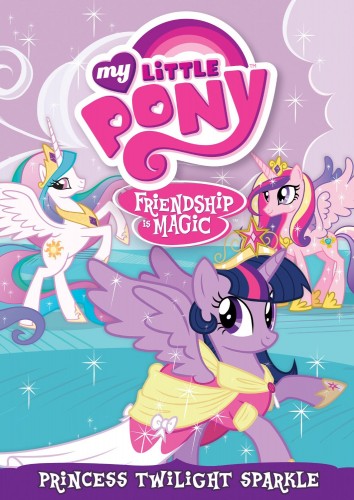 The new DVD includes 5 episodes and also features a singalong to the song "A True, True Friend" which she is well on her way to memorizing. Like the song, each episode features a lesson about friendship. I like that the valuable messages about friendship are blatantly obvious, toddlers have no problems picking up on the feelings and emotions of the ponies. Even better is that it encourages imagination and problem solving. Lately I have been noticing that she often reenacts an episode with her My Little Pony figures. But for Maddilyn, she likes it because it combines two things all little girls dream of: Ponies and Princesses. Either way we're happy!
You can pick up My Little Pony: Friendship is Magic, Princess Twilight Sparkle out on DVD now.