6 Steamy Photos of Gilles Marini + Meet Him at World Market AND Win $50!
This post brought to you by World Market. All opinions are 100% mine.
What happens when a greek mother and an italian father give birth in france? You eventually end up with drool worthy actor Gilles Marini. If you don't recognize the name you probably
will
recognize his work. Most notably (ahem, and my personal favorite) he was Dante in Sex and the City: The Movie – you know the one with the full frontal nude scene?
…..I'm sorry I forgot where I was going with this.
Oh yes, but his other notable works include Brothers & Sisters, Ugly Betty, Dirty Sexy Money, Criminal Minds, and Nip/Tuck. As well as a few big screen roles. But his career began as a model in his early twenties with photographer Fred Goudon and after looking at these steamy photos of Gilles Marini you can see why he was voted one of Peoples Sexiest Men Alive.
I feel like the term Bedroom Eyes was just took on new meaning.
Did I mention he is ex-military ladies? It's true.
Wouldn't it be great if he just walked right out of my day dreams and into my kitchen (what?! He IS french and italian after all). Alas, all I have in my kitchen is sir DiGiorno, about to be tossed into the oven. BUT if you're lucky enough to live anywhere within driving distance of Los Angeles, YOU can totally meet him at World Market! While I doubt his wife will let anyone take him home, you can snap a picture with him, get an autograph AND enter to win 50 bucks too!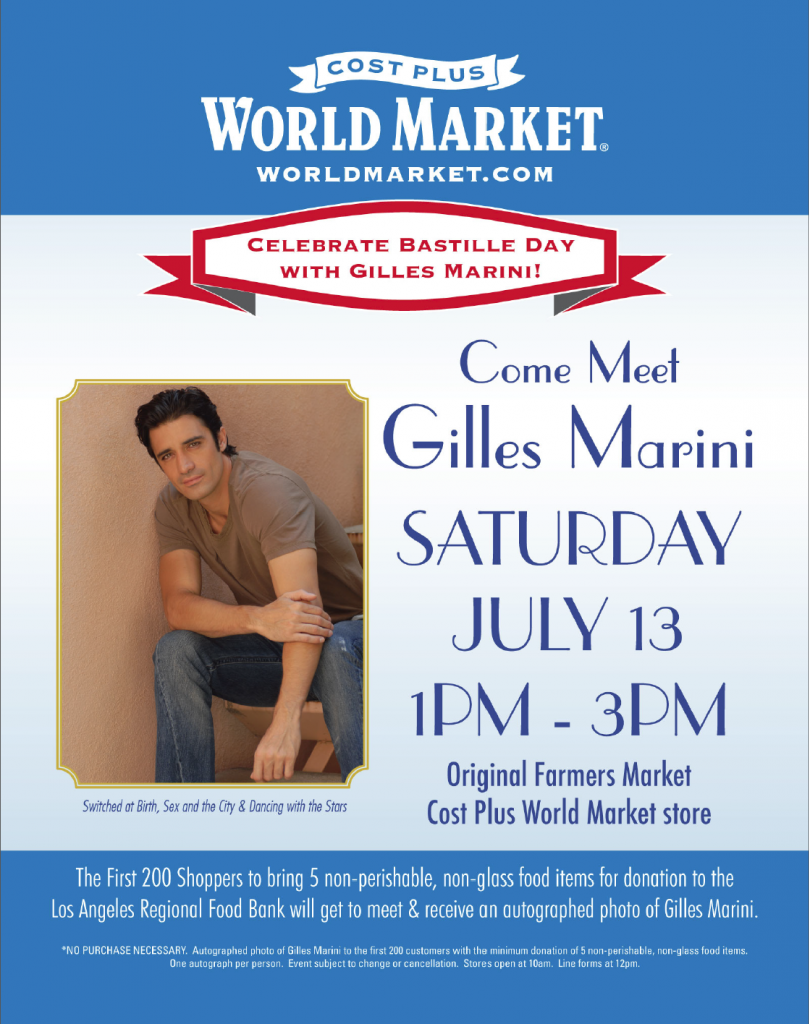 This Saturday, July 13th head over the COST PLUS WORLD MARKET (Farmers Market Store 6333 West 3rd St., Los Angeles CA) from 1PM – 3PM and celebrate Bastille day with Gilles Marini! Be one of the first 200 customers to bring 5 non-perishable items to donate to the Los Angeles Regional Food Bank for a chance to meet Gilles and get a signed autograph! You can get all of the details on the World Market Tumblr page.
PLUS two of my readers will win a $50 World Market Gift Card!
All you have to do is come on out to the event (I'll be there too!) and while you're there, snap and share a photo on Instagram. The photo can be of you and Gilles, a signed autograph photo of Gilles or any other telltale sign that you are actually physically at World market in LA during the event.
Step by Step instructions on how to enter to win:
Take a photo showing you are at the event and share it via Instagram

Tag your photo with BOTH #MerciWorldMarket and

@jeanabeena

Make sure you choose the option to send it to Twitter at the same time
Voila! You're entered. Once again, TWO of my lucky readers who complete the above method of entry will win a $50 World Market Gift Card each! Good luck and see you on Saturday!