Nominate Your Favorite NonProfit to Receive their Own Minor Miracle
I know first hand that Zerorez SoCal is committed to keeping homes truly clean – without harmful chemicals – thanks to their green technology that turns ordinary water into a mean cleaning machine. But more than just keeping our homes safe, Zerorez SoCal is working to give back to the SoCal aria through their Minor Miracles program, to help deserving organizations or individuals.
Through this program they regularly choose individuals or organizations that they feel need a lift, and they clean their home or offices for free. Helping provide a clean, healthy environment is greatly appreciated by recipients and gives them a psychic "boost" to help them better do their work! It also allows Zero Rez to be a part of their community by improving the lives of those we touch with our "minor miracles". Now they need your help. It's as easy as nominating a non-profit, church, or community space in Southern California for a free cleaning through Minor Miracles by Zerorez SoCal.
If you're unfamiliar with the area, aren't sure who to nominate or don't know any good candidates I've found three well reviewed nonprofit organizations in the SoCal area! So nominate your own or check out (and choose) one of the nonprofit's below.
A Place Called Home
A Place Called Home is a safe haven in South Central Los Angeles where undeserved youth are empowered to take ownership of the quality and direction of their lives through programs in education, arts, and well-being; and are inspired to make a meaningful difference in their community and the world.
Target demographics: Low income and underserved youth (8-20 years old) and families in South Central Los Angeles.
Direct beneficiaries per year: More than 1,000 youth
Geographic areas served: South Los Angeles

The Art of Elysium
The Art of Elysium, is non-profit organization that encourages working actors, artists and musicians to dedicate their time and talent to children who are battling serious medical conditions. They offer workshops in acting, art, comedy, fashion, music, radio, songwriting and creative writing.
The Art of Elysium provides a wide range of fine and performing arts workshops and activities designed to:
Help children cope with the difficult emotional challenges of illness and hospitalization,
Promote opportunities for growth and development,
Encourage socialization,
Provide exposure to various artistic skills and disciplines.
Geographic areas served: Los Angeles and New York
Create Now
Create Now is a nonprofit organization that transforms the lives of youth in need through arts mentoring and experiences. The serve vulnerable kids ages 2-21 who have been abused, neglected, abandoned, orphaned, are left homeless, runaways, teen parents, victims of domestic violence, children of prisoners and more. These forgotten children have fallen through the cracks of the system. They live in emergency shelters, rehab centers, detention camps and foster group homes, under the radar of the public eye.
Direct beneficiaries per year: Over 3,000 of the neediest youth in the region
Geographic areas served: All of Southern California – Counties of Los Angeles, Orange, Riverside, San Bernardino, San Diego, Santa Barbara
Programs: Music, Visual Arts, Writing, Performing Arts, Cultural Excursions (Artistic Journeys)
Did you know the guys at Zerorez clean with a patented pH water solution that is so pure you can drink it?! Not only is it completely safe, it works. Zerorez clean carpets, upholstery, tile and grout, natural stone, and hardwood to eliminate toxins and chemicals from surfaces that may have soap, solvent or chemical residue.
Zerorez is unique because it's truly green technology. It has the ability to clean without the use of high-residue soaps, detergents, shampoos, or chemicals. It operates with EMPOWERED WATER™ technology. It's enhanced water that is electrolyzed and oxidized to create a powerful cleaning solution without harmful toxins or chemicals. It is so safe that you can drink it, children and pets can lie on the carpet as soon as it dries, and individuals with allergies or chemical sensitivities won't have to worry about unpleasant reactions to harmful chemicals or cleaning agents.
Take advantage of this special discount for Zerorez, just for my SoCal Readers!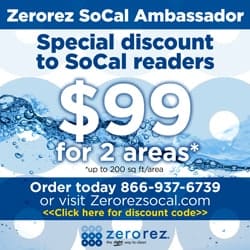 Zerorez SoCal
is offering my readers 2 professionally cleaned areas (up to 200 sq feet each) for just $99 when you use my code:
Surf11
(call
866-937-6739
). It covers carpet, hardwood, tile and grout, and natural stone. Though, it's not part of
this
deal they can also clean upholstery and can provide a quote if needed.
I am a Zerorez SoCal Ambassador. This post is written on behalf of Zerorez SoCal by me. All opinions remain my own.