For all of the amazing things California has to offer, the perfect glass of Sweet Tea it does not. I've tried creating my own at home for years by brewing hot black tea and adding sugar but it always ends up tasting like bitter cold sweetened tea – not Sweet Tea. Not being from the south, I had no idea that creating the perfect glass of sweet tea has a specific recipe and is a process that can not be cheated. There are no "skipping" steps. And for the perfect glass of sweet tea, you need a good ole' fashion southern Smooth Sweet Tea recipe.
Smooth Sweet Tea
Prep time:
Cook time:
Total time:
Ingredients
1 pinch baking soda
2 cups boiling water
6 tea bags
¾ cup white sugar
6 cups cool water
Instructions
Sprinkle a pinch of baking soda into a 64-ounce, heat-proof, glass pitcher.
Pour in boiling water, and add tea bags.
Cover, and allow to steep for 15 minutes.
Remove tea bags, and discard.
Stir in sugar until dissolved.
Add cool water to mixture and refrigerate until cold.
Boiling the water and sugar together it allows it to truly combine which gives it the REAL Sweet Tea taste, and not the sweetened tea taste. And as much as I love this stuff, I simply just don't have the time. So, what's a girl to do?
Well, the solution came to me with the release of the new Keurig Brew Over Ice K-Cups. Cross Country Cafe sent me a great variety to try and I'm HOOKED!! These Brew Over Ice K-Cups are specially formulated meant to, you guess it, brew over ice. Perfect for a sunny So-Cal day, this is my new favorite way to use my Keurig Brewer. I love that the Cups even contain the sweetener – which is how the end result manages to taste JUST like real Southern Style Sweet Tea. The tea, water and sugar molecules are better able to blend together via the hot water running through the Keurig, and then it's instantly cooled over the ice in your cup!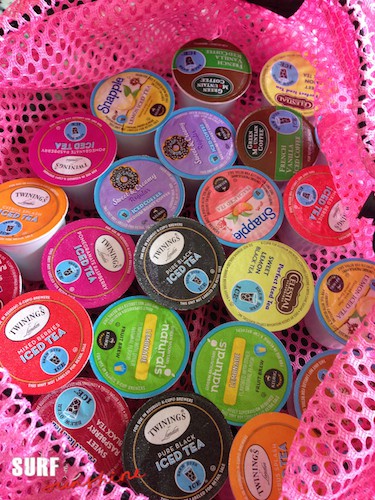 I've been so giddy over my perfect glass of Southern Sweet Tea in less than a minute, that Ben is tired of listening to me talk about it. So with the help of Cross Country Cafe, I'm going to share my joy with you instead! Just take a look at the great variety of Brew Over Ice KCups and let me know which two look the tastiest to you in the comment below for a chance to win a 30-count variety pack of Brew Over Ice Kcups from Cross Country Cafe!
The Giveaway
1 lucky winner will win a 30-count variety pack of Brew Over Ice Kcups from Cross Country Cafe!
How to Enter to Win
Please use this easy giveaway form below to record your entries – good luck!! The comment entry is the only mandatory one you must complete to enter. All others are purely optional for those that really want to win!
Related Posts