Take one blushing bride all dressed in white, and one gorgeous groom. Accessorize with the perfect hair, makeup and flowers set against a gorgeous backdrop. These are just a few of the elements brides spend months preparing to be captured on film. But what about your smile? On your wedding day you will flash thousands of smiles. Make sure each one is picture perfect with these tips for a whiter wedding smile.
Tips for Whiter Teeth
Crunchy Fruits and Veggies actually scrub your teeth clean while you eat. They also stimulate saliva that aids in fighting the formation of plaque.
Oranges and Pineapples contain acid that whitens teeth. They also contain enzymes that kill bacteria that cause tooth decay and bad breath.
Strawberries contain an enzyme called malic acid that can help whiten teeth.
Dairy products like yogurt, milk or hard cheeses can help protect teeth against decay. Plus, dairy is loaded with calcium to strengthen the bone that holds teeth in place.
Preventing Teeth Stains
Some of my favorite foods like soda, coffee, tea, and soy sauce stain teeth. Avoiding them is the best way to prevent teeth stains but if you can't, rinsing immediately after eating those foods helps reduce the stains they leave.
Tobacco is terrible for your health, but it also stains your fingers and teeth – so avoid it!
You can also try whitening your teeth. The toothpaste isle at your local drug store or supermarket is home to a variety of whitening toothpaste, mouthwash, pens and whitening strips. While they're economical and convenient there isn't a lot of control and they aren't the most effective.
Visiting your local dentist for a professional teeth whitening treatment is more effective and usually takes less time to get great results Plus, thanks to services such as Brighter.com, it doesn't have to bust the wedding budget if the service isn't covered by insurance. Brighter.com has partnered with over 500 dentists in LA County and has pre-negotiated the price of over 400 dental procedures, from preventative care to restorative work to cosmetic procedures that insurance DOES NOT cover like whitening or braces!
So not only will you be able to whiten your smile for a fraction of the cost (50-70% savings), you'll also be able to know the price up front to work it into your wedding budget. For instance, when I searched for "In Office Teeth Whitening", I was not only shown a list of dentists with photos and contact info, but the exact cost plus when the next available appointment is!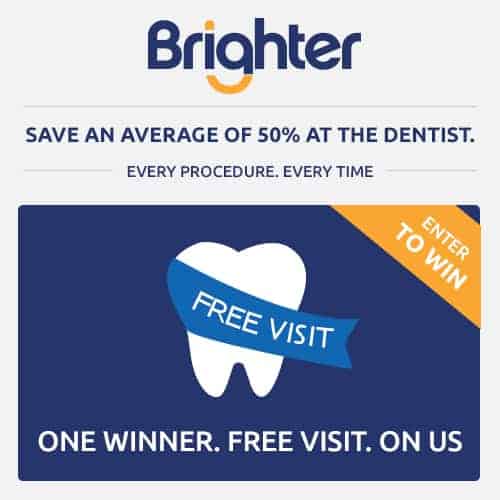 I'm so pleased to be able to offer one lucky reader a $199 gift certificate to use at Brighter.com. All you have to do to enter is go to Brighter.com, pick the dentist you'd like to visit if you win and leave their name here in the comments. Good luck!!
a Rafflecopter giveaway
Related Posts