Garden Vegetable Béchamel Lasagna (Vegan Recipe)
My family isn't italian but I grew up on pasta dishes. One of my favorite pasta dishes is Lasagna. I love that we can eat it again the next day, or make a double batch and dinner is already prepared for one night next week!
Garden Vegetable Béchamel Vegan Lasagna
Author:
Ingredients
4 cups butternut squash, cut into 1/2″ cubes
16 oz spinach, washed and dried
3 onions, thinly sliced
1 lb lasagna strips (enough for three layers, gluten free if desired)
12 ounces vegan ricotta (recipe below)
2-3 cups vegan shredded mozzarella
1/2 cup nutritional yeast
chili flakes
4 cloves of garlic
1/2 cup basil, julienned
1 tablespoon Olive oil
1 tablespoon Vegan butter, plus extra for topping
Beschamel:
1 3/4 pints unsweetened soymilk
several sprigs of parsley
1/4 teaspon nutmeg
10 peppercorns
1/2 teaspoon chili flake
1 bay leaf
6 tablespoons vegan butter
1/2 cup flour
1/4 cup nutritional yeast
1/2 cup vegan shredded mozzerella
Vegan Ricotta Cheese
2 cups of extra firm tofu, pressed and drained
(about 16 ounces)
1/3 cup light miso
1/2 cup water
1/3 cup cashew nut butter or tahini (unsalted, raw)
1 tablespoon nutritional yeast
1/4 cup olive oil
5 to 7 large garlic cloves
1 tablespoon of lemon juice
1 cup fresh basil
1/2 cup fresh oregano
Salt and pepper, to taste
Instructions
Ricotta Cheese
Mix all ingredients in a food processor until well incorporated. Feel free to pulse or puree depending on your prefered texture.
Adjust herbs or seasoning to your taste once done.
Lasagna
Preheat oven to 425F.
Drizzle olive oil over the butternut squash. Dash salt and pepper.
Roast in the over for about 30min until soft and brown.
Saute spinach and 2TBS olive oil, 2 minced garlic cloves and pinch of chili flak over medium heat.
Cook until completely wilted and set aside on paper towel for draining.
Melt 1 TBS butter and 1 TBS Olive Oil in a lg pan over medium heat.
Add chopped onions and pinch of salt.
After 15-20 min add 2 cloves of minced garlic.
Cook onion/garlic mixture for another 15-20 minutes for a total of 30-40 minutes. Onions should be dark brown.
Set aside.
Boil the lasagna noodles until just al dente (one minute less than the boxes recommendation).
Set aside in a bowl of cool water.
Beschamel sauce:
Bring the milk and all other ingredients except for the butter, flour, cheese and nutritional yeast to a simmer.
In a separate sauce pan, melt the butter and add the flour.
Stir for about 1 minute, until doughy and smelling a bit nutty.
Stain in milk slowly (1/2c at a time) and whisk with the butter and flour mix.
Strive for a smooth, velvet texture.
If it's too thick add milk to thin out.
Add the nutritional yeast and cheese, then set aside.
Finish Lasagna
Pre-heat the oven to 375
In a lasagna pan add a thin layer of sauce.
Then place a layer of noodles, followed by some veggies, mozzarella, dot with a 3rd of the ricotta, add basil and cover with 1/4 beschamel.
Repeat 3x.
Fnish with the remaining beschamel, nutritional yeast and shredded cheese.
Dot the top with pads of butter to help brown and crisp up.
Bake for 25 minutes, or until bubbling.
Turn the broiler on and bake for another 5 minutes, or until brown and crunchy on top.
Allow to sit for 20 minutes.
If you love this recipe, be sure to check out "The Healthy Voyager's Global Kitchen" for more delicious plant-based recipes from around the world.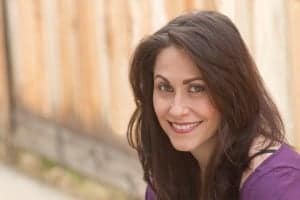 This recipe and photo reposted with full permission from the author. Award winning healthy, special diet and green living and travel expert, cookbook author, media spokesperson, holistic nutritionist, vegan chef and television personality, Carolyn Scott-Hamilton is a respected figure in the world of healthy lifestyle as well as special diet cooking and nutrition. With a highly acclaimed cookbook and travel show to her credit, Carolyn has traveled the world for her show, site and brand as well as to offer her services as a health and nutrition expert, recipe developer, writer, speaker, consultant and media spokesperson.  The Healthy Voyager aims to help people live well, one veggie at a time!