White wicker furniture, bold patterns, different shades of blue, sea grass,  bead-board and wood paneled walls or exposed beams are popular trends in coastal cottage living rooms.
Families with children may want to use washable slipcovers on white furniture, or choose something that wipes clean easily.
Bold colors and stripes make smaller living areas appear bigger, and built in shelves are great for conserving space. When choosing accessories, I like the idea of using driftwood for beams or furniture, antique buoys or glassware, seashells, trunks as tables and other tropical items.
I love the rustic dark wood table they use and the contrast it provides with the white furniture. Might be something that could be easy to DIY?
How gorgeous are the wood ceiling beams in this cozy den?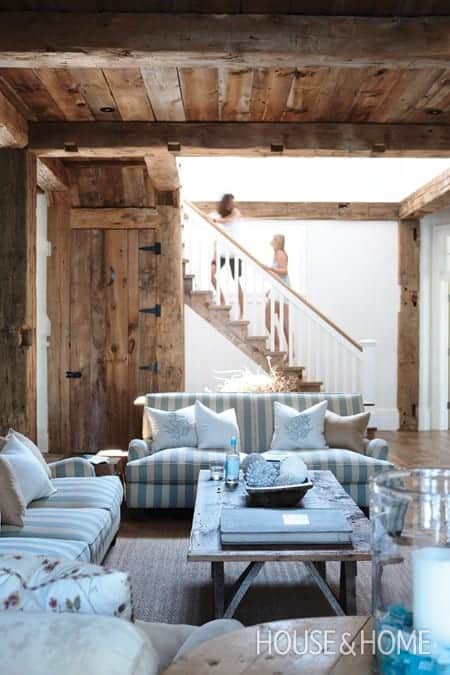 I love the rustic shelving unit and the way the different types of wood, contrast with the white walls and furniture.
Neutral colors are great for furniture, drapes and flooring, with bright colored pillows and accessories.
Built in shelves give this room, extra storage space along with a traditional look and feel. The blue beadboard backing is a nice extra touch!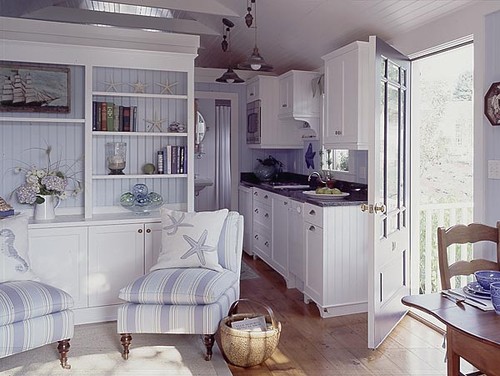 I love the idea of using a barn inspired pocket door to separate the spaces for privacy, or give it an open feel.
Using bright colored rugs or bold patterned rugs add personality and dimension to rooms with white walls and furniture.
Bright paintings, pictures, pillows and accessories make this room pop!
What do you prefer on the floor of a
beach cottage
: wood, tile, rugs, or carpet?