Good morning and happy Friday! Congrats, on being one of the 5 lucky drawing winners for my Last Day of School Interview time capsule kit :)
I hope this helps you capture some really great memories of your children that you'll enjoy for years to come.
If you'd like to read more about the kit and some tips on how to use it, please visit my blog post here.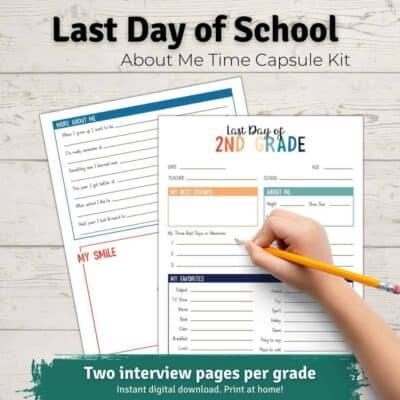 As I mentioned in the group, I normally sell this kit on Etsy (for $7.95) – but they won't let me give it to you for free. (They need to be able to take their cut!)
How to download the kit for free
I set up a special product on my store website so you will be able to download it for free:)
Visit the product page here (click the link and it will open in a new tab on your browser) and add it to your shopping cart.
Then, go through the checkout process but

be sure to enter the promo code

that I messaged you on Facebook. It will discount the cost of $7.95 for you.
Once your order is submitted, you'll be able to download the PDF file immediately (and you'll also get a receipt/link sent to your email).
ENJOY!
If you enjoy the Time Capsule kit and have a friend that might also like it, I am happy to offer them 50% off if they purchase it on my Etsy shop. 

Just refer them to this page so they can click on this special link (will automatically apply 50% off once they add it to their cart!)
Looking for some absolutely free activities and printables for kids?
I also have a ton of posts on fun activities for kids and how to keep them busy over the summer with DIY crafts and outdoor activity ideas here:
Thanks again for your interest and have a wonderful summer with your family. See ya in the Buy Nothing group!