This post brought to you by Bahama Breeze. All opinions are 100% mine.
Summertime is the perfect season for sweet and fruity cocktails. As much as I like a good cocktail, I have to admit that I'm fairly lightweight when it comes to alcoholic beverages and I unashamedly like my drinks fruity and sweet. Thankfully, there are perks to having a friend who was a bartender in college – custom drinks. So my friend created this incredibly simple go to Tropical Cocktail recipe for me.
Tropical Cocktail Recipe
Ingredients:
2oz Chilled Coconut Rum
4oz Chilled Orange Juice
2oz Chilled Pineapple Juice
Instructions:
Shake all ingredients together and pour into a glass. It's nothing fancy but a great go to cocktail that pairs well with most everything.
The only thing it's missing is the tropical experience like live music and good friends. And you still have to make your own dinner. :(
Instead, you could skip all the work and get the tropical experience this summer at your local Bahama Breeze. Bahama Breeze is the summer destination for good times during their Bahama Breeze Summer Beach Bash from June 23rd through August 3rd. They're brand new event features live music and a new signature cocktail, the Bahama Breeze Ultimate Pineapple. Its a fruity, frozen drink served in a fresh cut pineapple!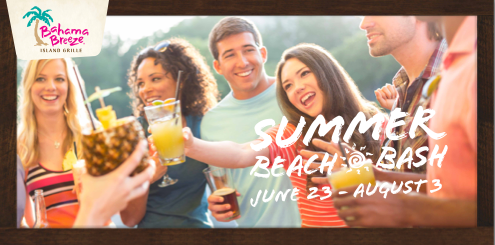 It would be a great place for a mini escape when you have a serious case of the Mondays. However, Saturdays are even more fun at Bahama Breeze. That's when you need to get your friends together and bring them down for live music and a mojito bar! You choose your fruit, your rum, and watch their bartenders muddle up the perfect summer cocktail.
If you attend the Summer Beach Bash, you can also participate in the "Instagram Selfie Contest". All you have to do is share a creative selfie of yourself (and your friends!) enjoying your time at the Summer Beach Bash. Make sure to use the hashtag #MyBBSelfie to be entered for a chance to win a $25 Bahama Breeze gift card.