Why visit Mykonos Greece? The perfect romantic getaway, Mykonos is a destination meant for those that truly want a quiet beach vacation to get lost in multiple novels in the sand and sip wine with your sweetie all day.
An island which lies on the west coast of the country and spans only 33 square mile, it is also the perfect romantic getaway. Mykonos is a destination meant for those that truly want a quiet beach vacation. It is the place to get lost in multiple novels in the sand and sip wine with your sweetie all day. There is a pretty active nightlife with bars and dance clubs, but many flock to the island for its incredible views and beaches.
The white washed buildings are perched on the rocky terrain of the island reminiscent of a long ago civilization. Looking out at the Aegean Sea, you are overwhelmed by the vast cobalt waves as far as the eye can see. It makes it easy to let the rest of the world fall away and just drink in the sun along with some daiquiris.
I don't particularly like a large, touristy hotel when I travel. I prefer some of the off-the-beaten paths stays that are smaller and offer more for their guests. In Mykonos, the Arte & Mare Elia Suites were exactly what we wanted for a honeymoon getaway. This smaller hotel has a variety of themed rooms that offered plenty of space and amenities as well as breathtaking views and an incredible breakfast spread complete with fresh olives, warm bread (right out of the oven!) and cheese for days.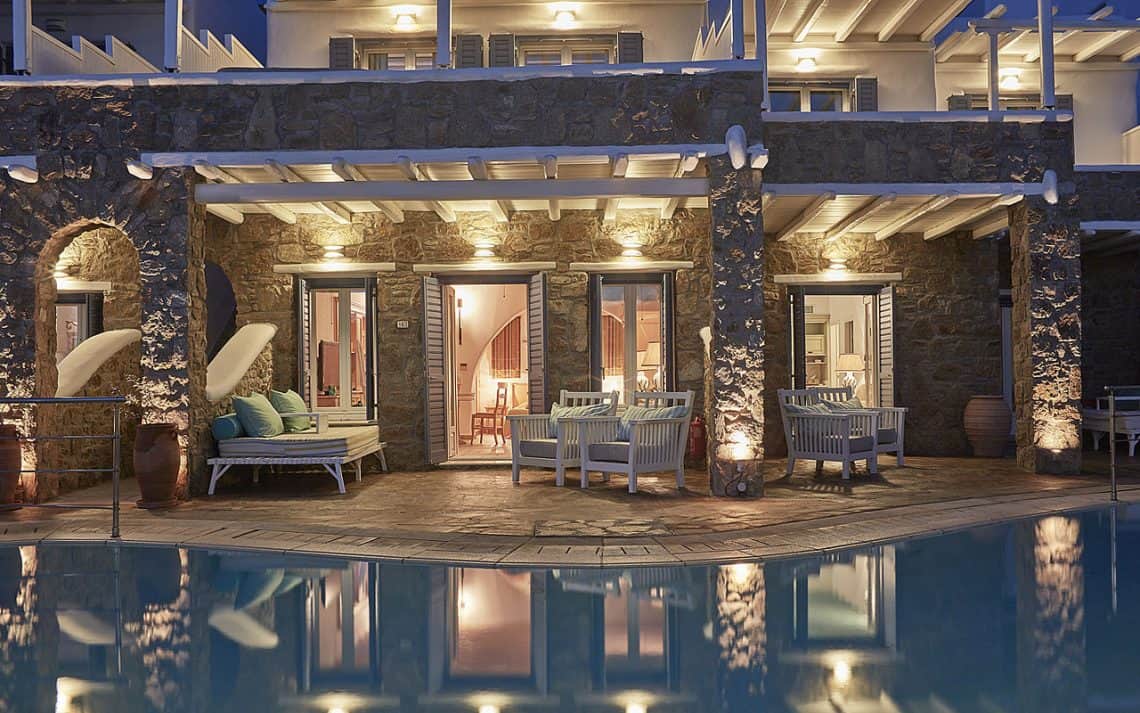 At the spa, there are a variety of treatments to completely indulge yourself in luxury. The thalassotherapy is a thermal algae body masque has nutrients from the sea and is meant to detoxify the body. They also offer aromatherapy, reflexology as well as a sauna and a gym for anyone that is crazy enough to workout on vacation.
There are two pools at the hotel that you won't find over packed and swarming with other guests. Relax on one of the daybeds and soak in the sun in between refreshing laps. While the junior and superior pools are a nice place for a refreshing swim, the ocean is just mere steps from the hotel, and it steals the spotlight. There are chairs with umbrellas for hotel guests and an amazing stretch of golden beach that melts into the crystal aqua colors of the ocean.
The sun is hot but the constant breeze makes it the perfect temperature. Sandy shores seem endless, and it will make you want to build sand castles like a kid again. If you happen to get bored relaxing in the sun, the island offers lots of activities such as jet skiing, horseback riding on the beach, parasailing, and diving as well as an active night life when the sun goes down.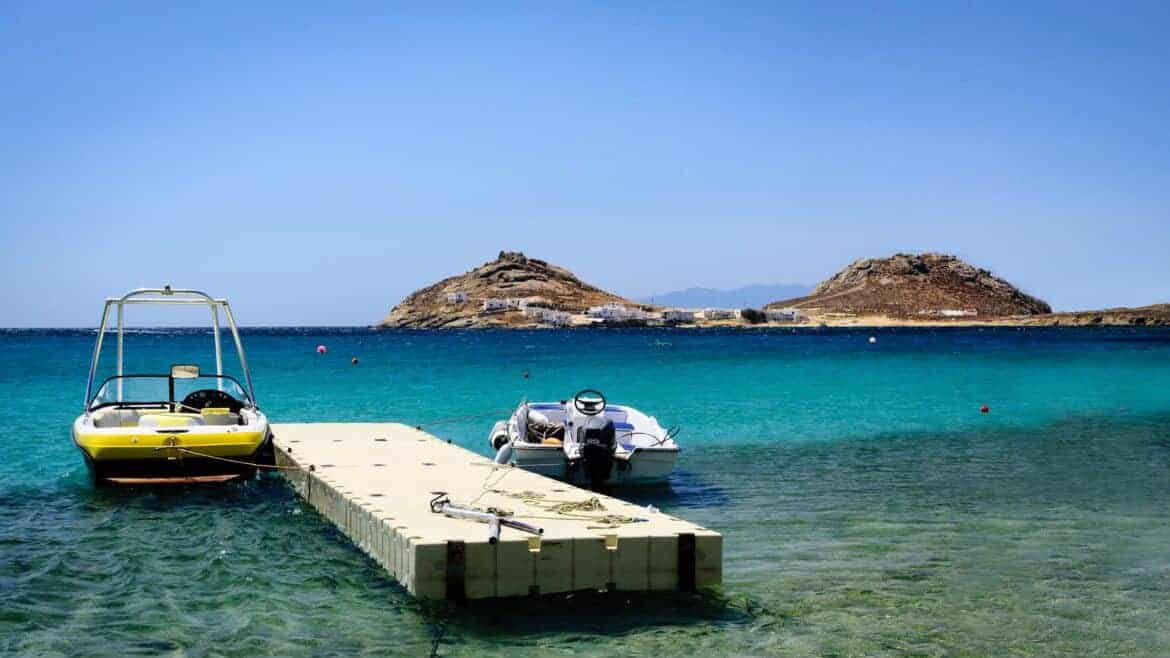 If you need a break from the persistent sunshine, there are also Archaeological, Folklore, and a Maritime Museum to visit on the island. It will give you a glimpse of the culture and history in between your suntan and beach naps.
Stop into the brand name stores on Matoyanni Streets and grab an espresso at one of the many cafes.
The local cuisine is just as luring as the sunshine. Heaps of olives, cheeses, nuts, and breads fill the menus. Spectacular pastas and mouthwatering, fresh seafood is available in every restaurant. The wines add a finishing touch to the perfect meal, and if you have any room left, there are plenty of deserts and pastries to satisfy any sweet tooth.
There are restaurants that offer up Americanized foods and dishes if you don't like to try new cuisine. Yet, if you like to try local foods, you have to look beyond the touristy areas. While on our honeymoon, we stumbled upon Nikos Gallop Restaurant which has an ocean view, and menu items fresh from the sea. From homemade hummus to fresh lobster and lamb shank, these dishes are artfully prepared and served up to customers like royalty. The seafood is some of the freshest I have ever tasted with such an amazing variety. The wines are painstakingly picked for the dishes, and it is the place to go if you want to truly enjoy a meal. In the U.S., everything is so fast paced, even eating, and it can be odd to sit and have dinner for hours. However, here we had no problem ordering dish after dish and washing it down with locally made wines. This was the ultimate Greek eating experience, and we ended up dining there multiple times while we were in Mykonos.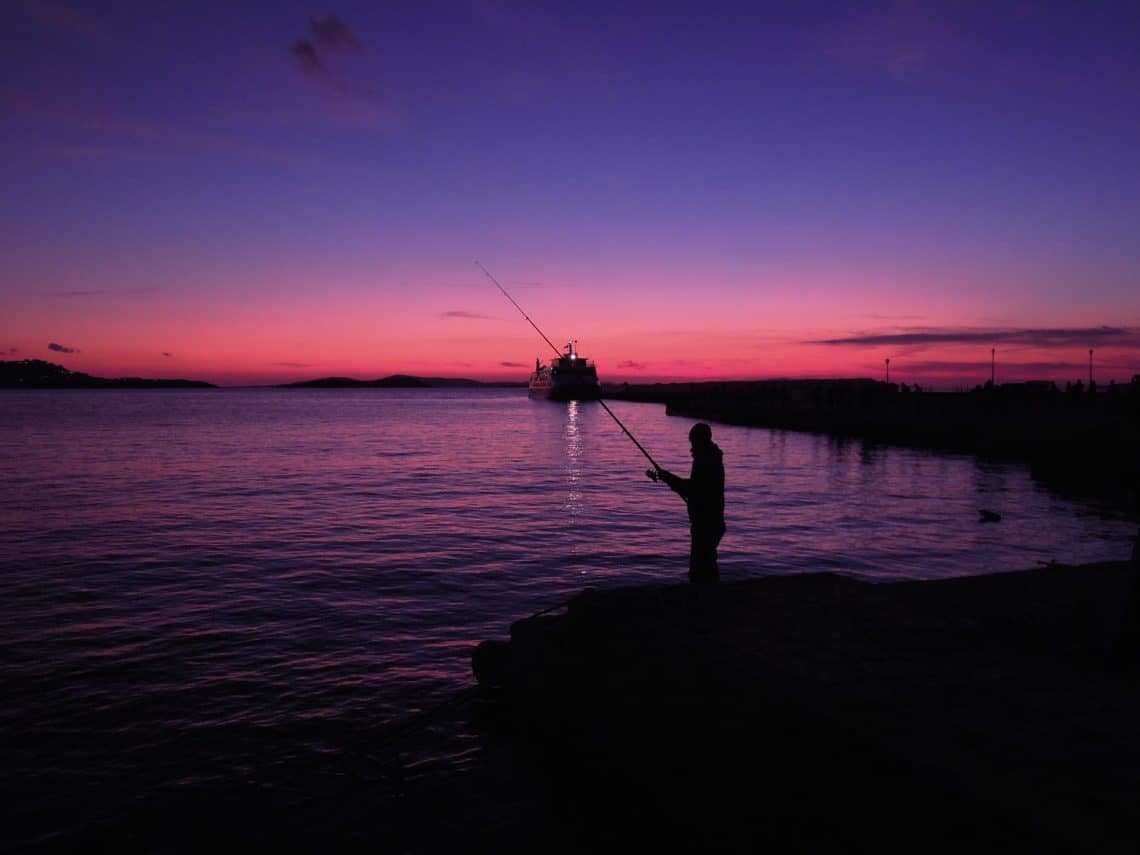 If you are looking for a night on the town, you have to check out The Piano Bar. It has been around in some form since 1983, but its evolution into a bar with fabulous entertainment from piano players and singers to cabaret performances made it a well known attraction on the island. Eventually moving to the building that housed the Montparnasse, the oldest bar in Mykonos, it became a staple of the community. Its amazing entertainment and delicious cocktails make for a great night out.
I took my honeymoon in Mykonos and fell in love with its beauty and culture. It offered an incredible setting to escape, and it felt as if we were the only two people in the world. If you are looking for that special trip, think of Mykonos as your next destination.
Pin this post for later