Print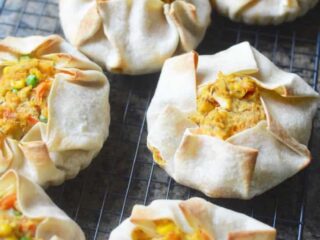 Thanksgiving Leftovers Turkey Hand Pie Recipe
This is a fantastic way to incorporate all of those leftover thanksgiving dishes piled up in your refrigerator. The exact amount of each vegetable is flexible based off of what you may have on hand. As long as you have a creamy base, you should really be able to make any combination and amount of turkey, squash, potatoes, corn, peas, carrots… and even stuffing works!
6 to 8

thin, small pieces of pie crust

(we used mini tart pans for these pies)
Filling
1

cup

cooked carrots

1

cup

peas

1

cup

corn

1

cup

mashed potatoes

1

cup

butternut squash

either cooked pieces or puree.

1

cup

shredded turkey meat

light, dark, whatever you prefer.
Rue
6

tablespoon

butter or dairy free alternative spread

6

tablespoons

flour

1.5 to 2

cups

quality chicken or turkey stock

sea salt

pepper and thyme, to taste
Start by making the rue in a large pot.
Over medium heat melt the butter or dairy free alternative. When completely melted and hot, slowly whisk in the flour until combined. Continue whisking for a full minute to cook out the flour taste. Quickly whisk in the salt, pepper and then pour in some of the stock. Continue mixing in a little more of the stock until you have the thickness you prefer, it should have a smooth consistency at this point.

Add in all of the vegetables and then turkey (I like the shred the turkey in the mixer with the whisk attachment, this does make more dishes to clean-but it's incredibly fast. You can also do this by hand). Carefully fold and stir until combined. Turn the heat down to low, or turn off and cover if your burners run hot like ours do.

Pre-heat your oven to 375 degrees. Roll out the pie crusts to fit your pans and press each one into fit the shape. Then fill each crust with the warm vegetable and turkey mixture. Fold the remaining dough over the edges to keep the filling from leaking and bubbling out. Place the mini pies on a baking sheet and bake until the crust is cooked through and turning golden brown. This took about 15 minutes for our pies, this could vary depending on size, thickness and oven temperatures though so please keep a close eye them.
NOTE: These freeze really well too! Simply let cool completely and then tightly wrap, individually, in tin foil, place in a freezer bag. The night before you would like to have them, let thaw in the refrigerator and then bake again for about 10 minutes at 350 degrees to crisp the pie crust again.