Print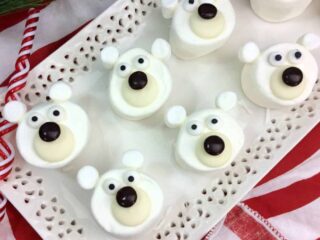 Polar Bear Marshmallows Recipe
I mean, come on. Why wouldn't you make a bunch of these Polar Bear Marshmallows for the holidays?
24

Jumbo marshmallows

48

mini marshmallows

24

small edible eyes

24

ghiradelli white chocolate melting wafers plus some

1/4 C to melt

24

brown M&M's

1

disposable piping bag

1

cookie sheet fitted with parchment paper
Melt the 1/4 c of chocolate and pour into the piping bag

Cut the tip of the piping bag. This chocolate will be used a glue

Using the melted chocolate, pipe on a small dollop of melted chocolate onto the back of the solid piece of chocolate

Place chocolate onto the lower middle part of the marshmallow. This is the bears mouth

Pipe on a small dot onto two eyes and place them above the mouth

Pipe on a small dot onto the m&m and place it on the middle of the chocolate piece. This is the bears nose

Turn the bear on one side and pipe a line where an ear should go

Place a mini marshmallow and hold it there for about 30 seconds

Repeat the step with the other ear

Repeat steps with remaining 23 marshmallows

Once done, let sit for 10 minutes before enjoying in a cup of hot cocoa!