This is a fun lighthouse craft idea for kids that is easily made from an empty toilet paper roll, paper plate, craft paper, paint and some glue.
Imagine that you are the captain of a ship exploring new seas that you have never sailed before. The seas are rough and it's the middle of the night. You saw land on the horizon earlier in the day, but now you have no idea how close the shore is.
You know that there is a real chance you could damage and sink your ship if you get too close and run across rocks. Luckily, you see a stream of light from a tall tower, giving you notice of where the rocky shore is!
What is a lighthouse?
A lighthouse is a tower with a very important function. Its main purpose is to warn boats of danger, like shallow waters or rocky land or a coastline they wouldn't be able to see at night.
Who made the first lighthouse?
Lighthouses date back thousands of years. The first known lighthouse (and undoubtedly one of the most famous), was the Lighthouse of Alexandria built in Pharos, Egypt by Ptolemy I and his son Ptolemy II. It was finished in 280 B.C. and thought to have been about 450 feet high!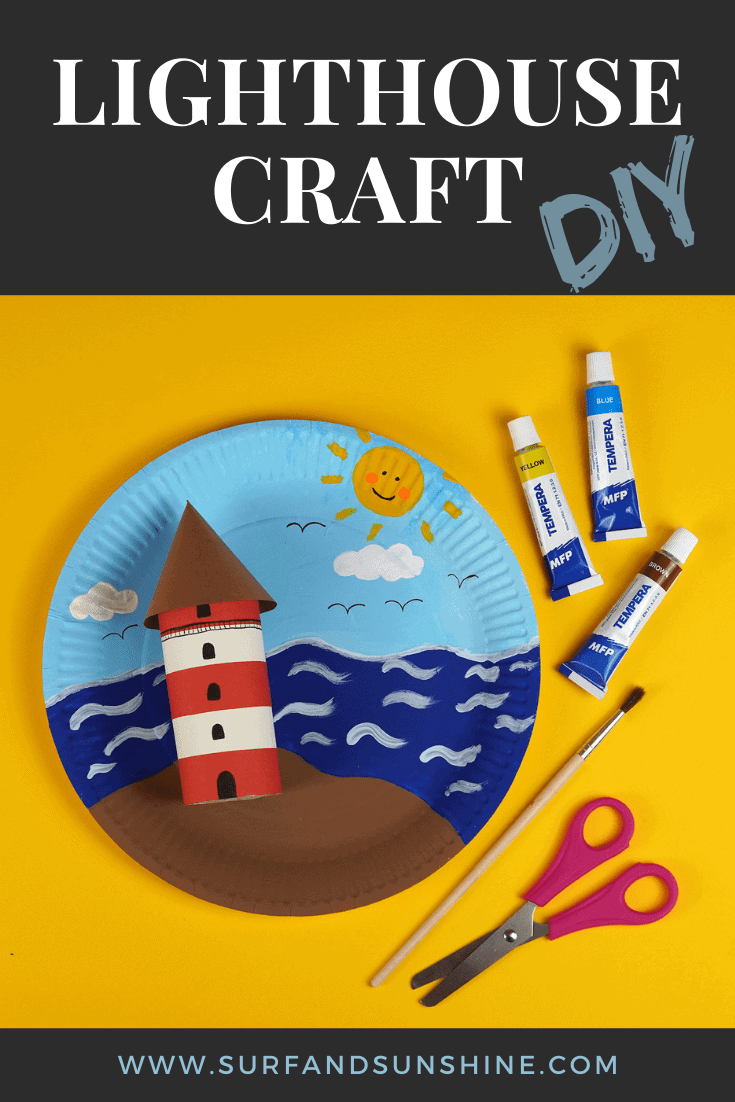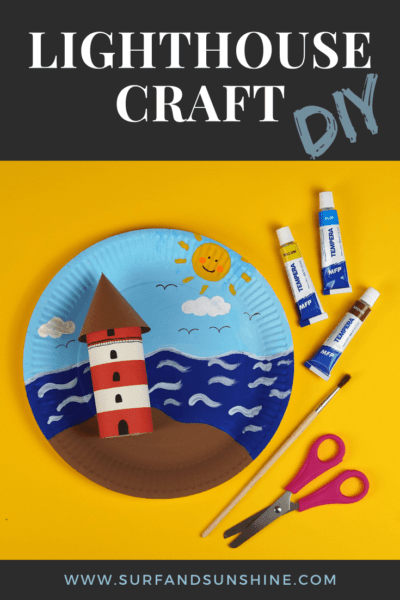 An incredible structure, you can see why it is considered one of the Seven Wonders of the Ancient World. Can you imagine what it might have looked like? Unfortunately, it was eventually destroyed by invaders and earthquakes during the 1300s.
Do all lighthouses look the same?
Although a tall, white conical tower with red candy-cane stripes is what usually comes to mind when we think of a lighthouse, there are actually many different ways a lighthouse can look.
A lighthouse's design features are often related to where it is located. For example, if it is on a very high cliff, the lighthouse might not be as tall as if it were located on a flat jetty.
Are lighthouses still manned by people?
The very first lighthouses burned coal or wood to create a "fire beacon", which was a simple warning light. Some even used oil lamps or candles. But since these didn't last long or could easily be blown out, a lighthouse keeper needed to climb all the way up the tower and check on the lanterns throughout the night.
This is why in the beginning, a lighthouse keeper had to live at the lighthouse to make sure there was always a light shining during the night.
Nowadays, all lighthouses in the US are automated, except for one very special lighthouse. Boston Light is the oldest station in the United States and because of this, Congress has declared that this lighthouse always be staffed with a lighthouse keeper.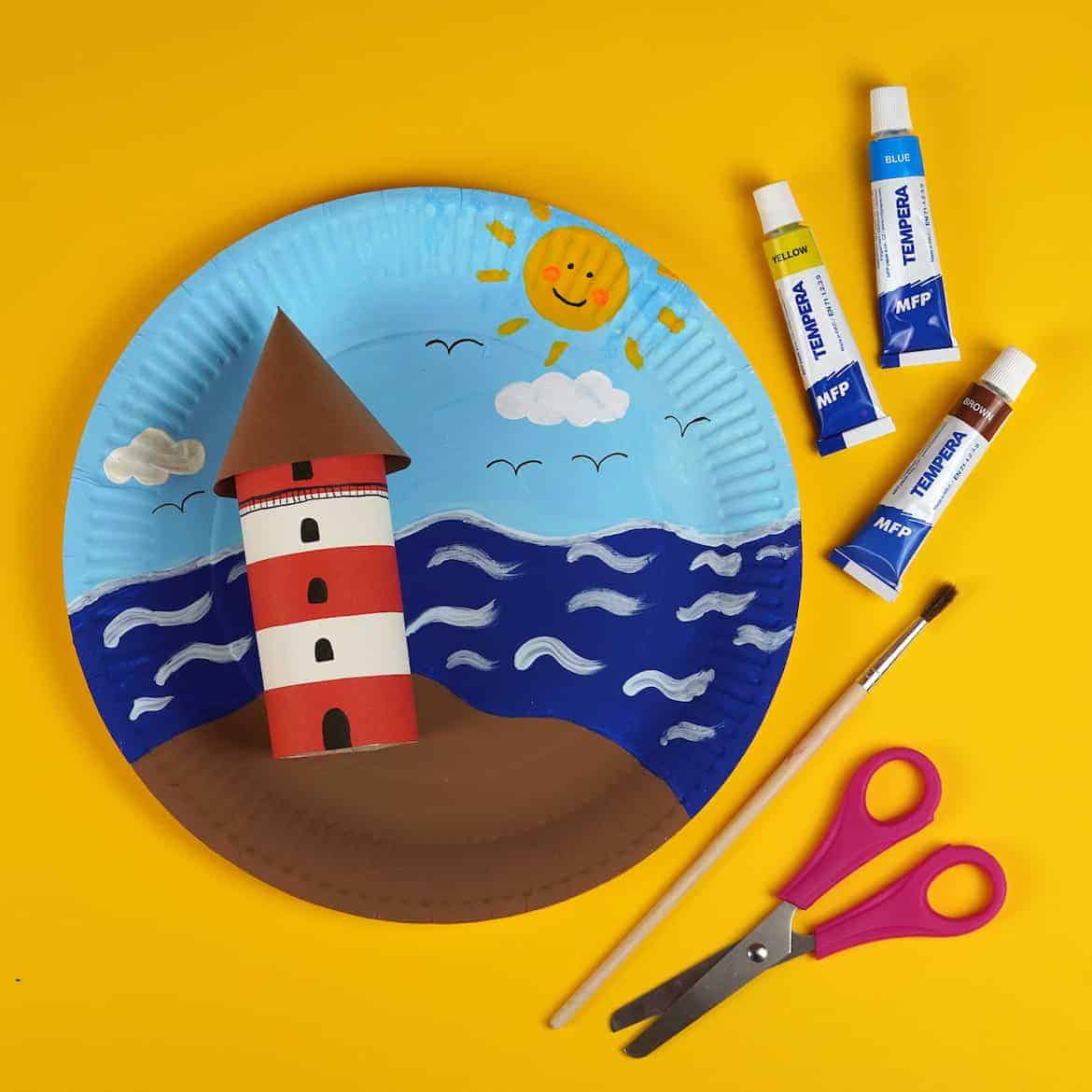 Lighthouse Paper Craft for Kids
Materials
paper plate
empty toilet paper roll 
red, white and brown construction paper
dark blue, light blue, white, brown, yellow, and black acrylic paint
paintbrushes
glue stick
scissors
a black and a pink  or red marker
pencil
Note: any kind of paint meant for paper can be used, even these paint pens would work well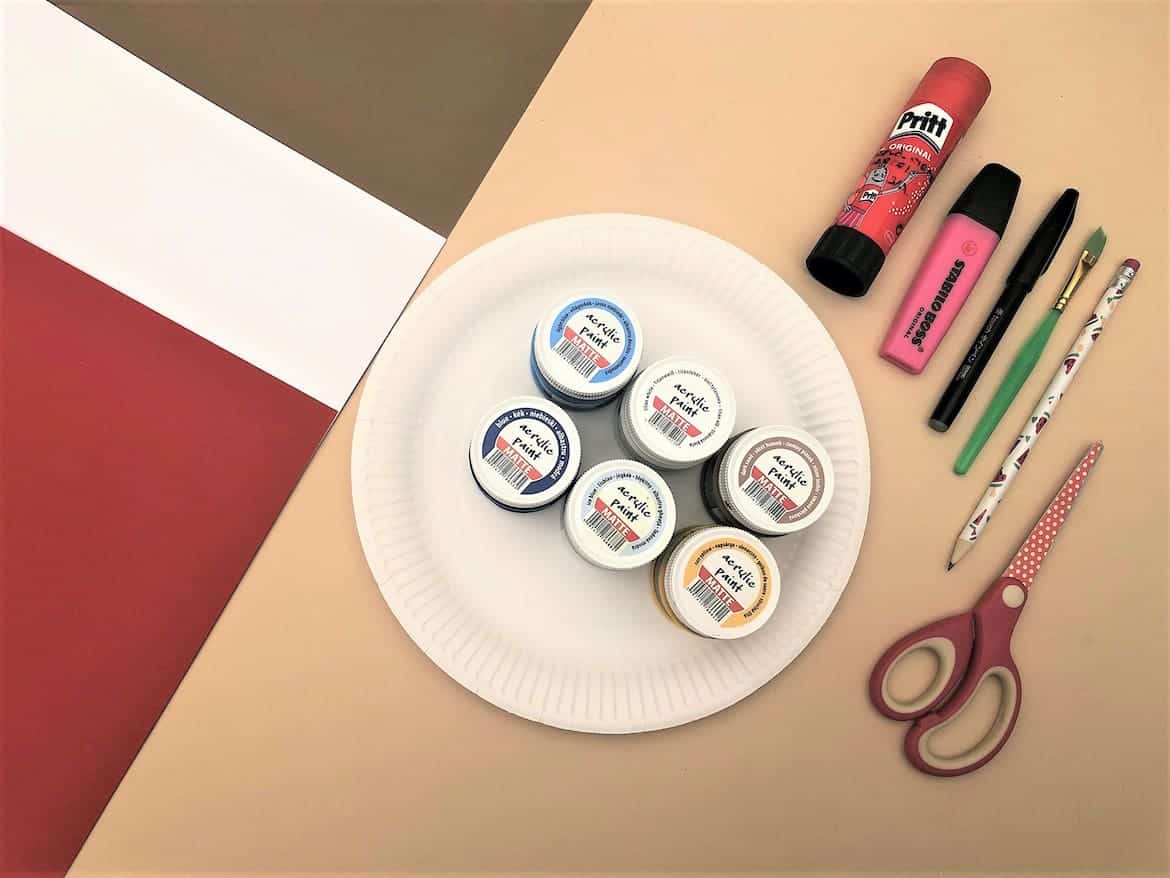 Directions
First, paint the bottom of the paper plate brown, this will be the ground.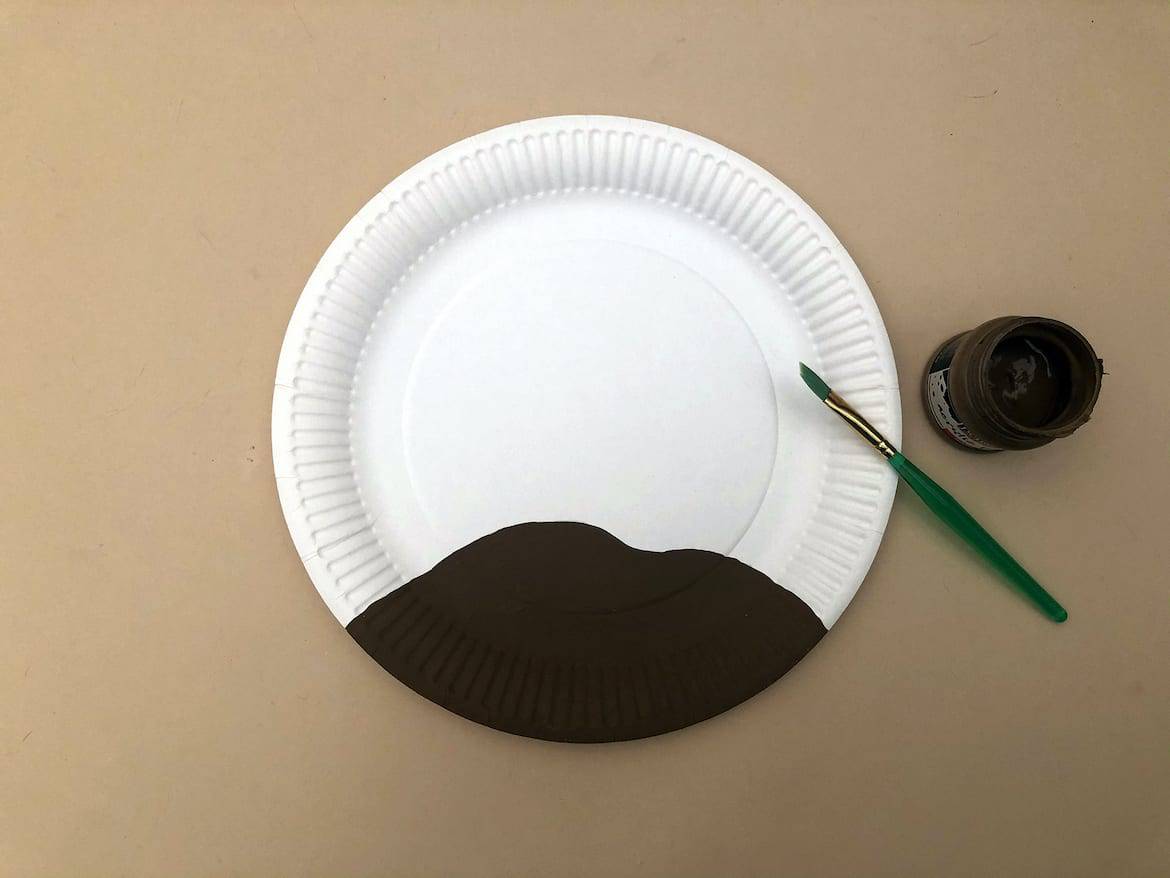 Then, paint a wavy sea above it in dark blue.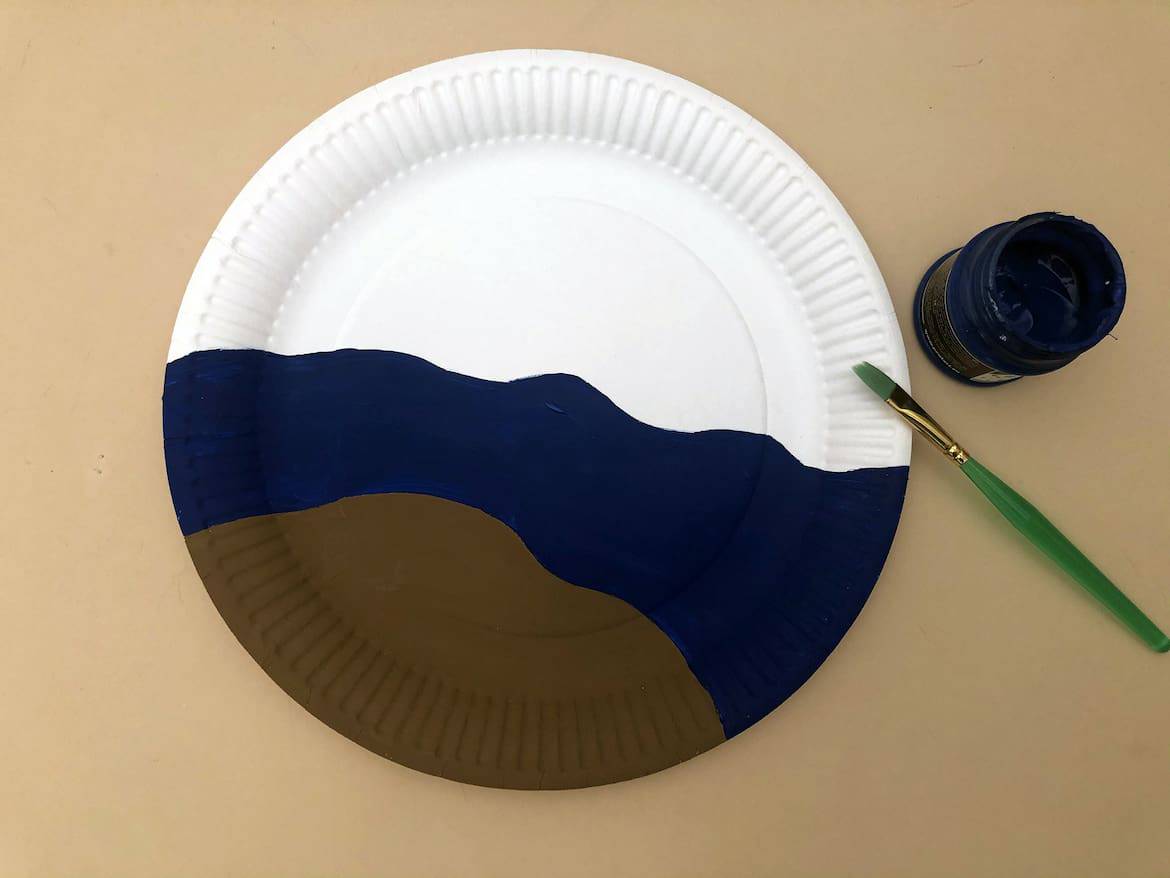 Next, paint the waves and sky in a lighter blue.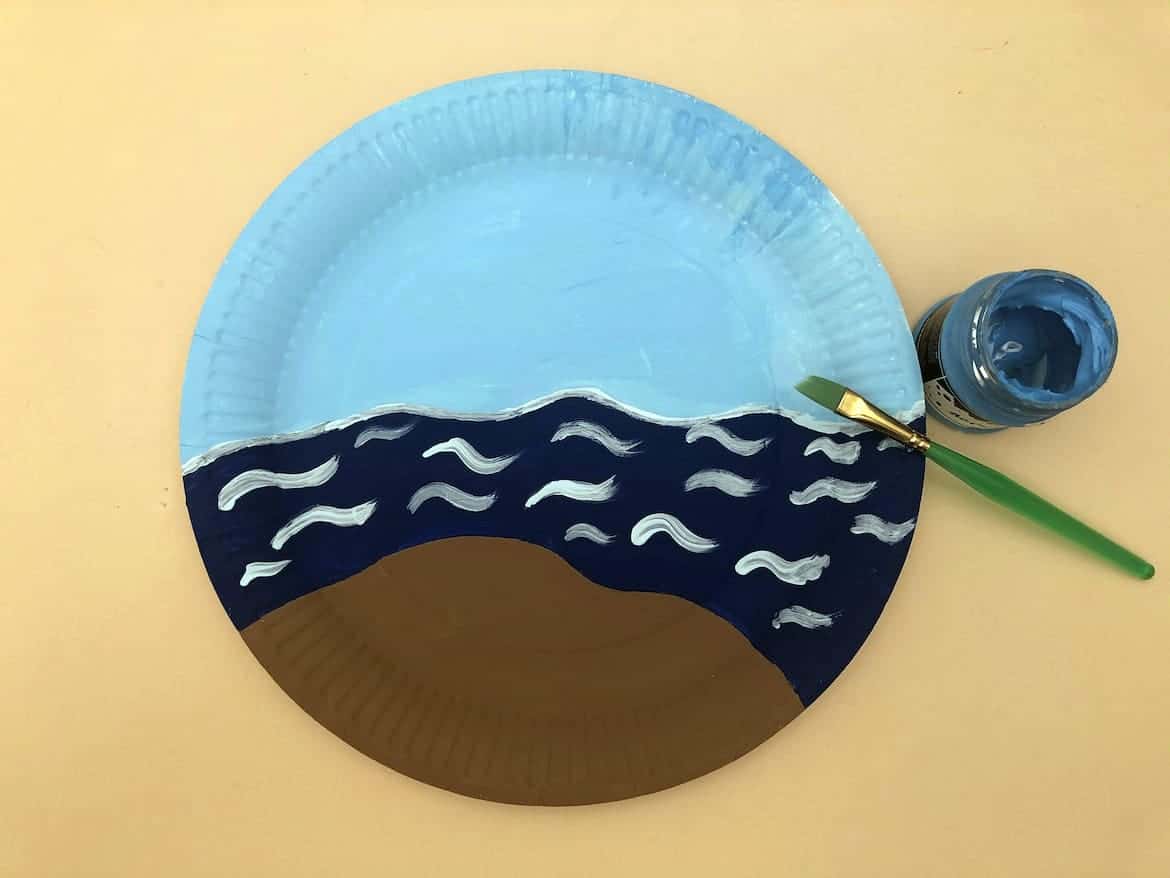 Paint clouds with white paint and then a happy sun off to one side with yellow paint.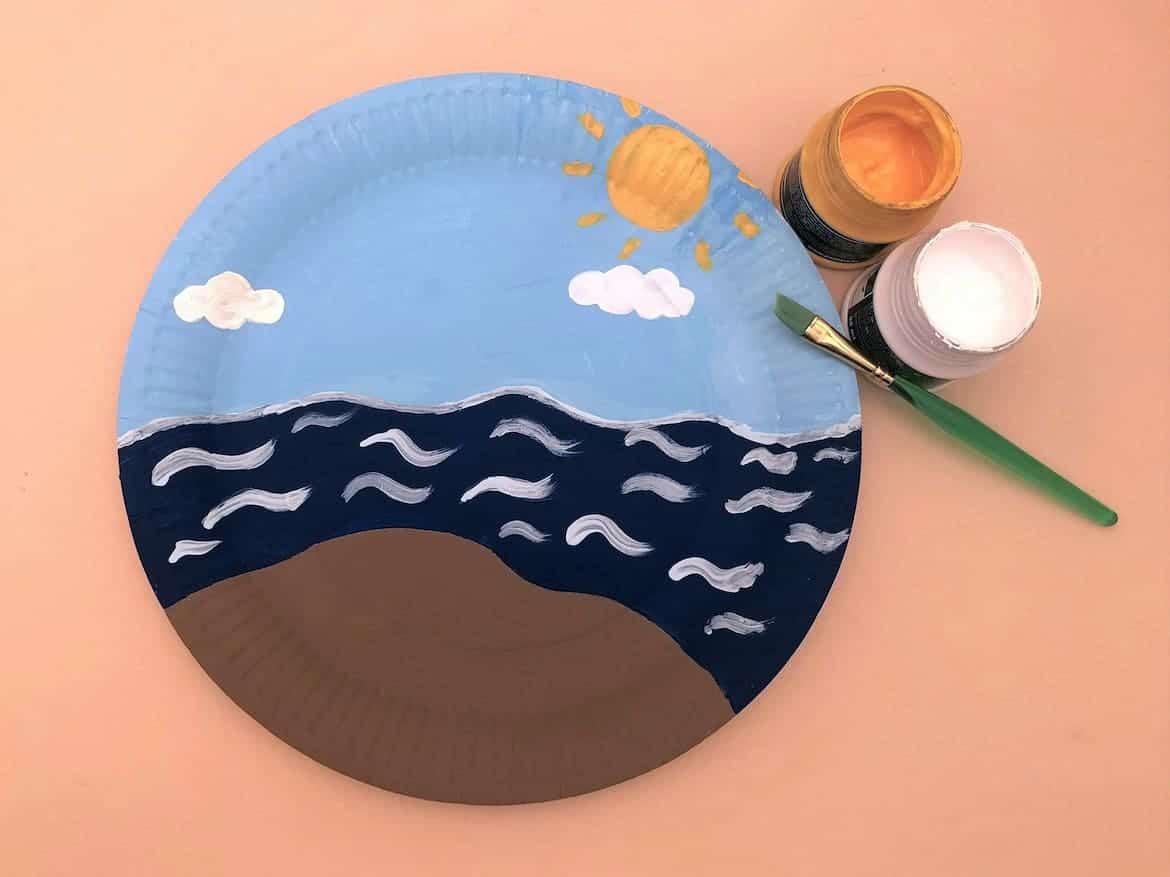 Set this aside to dry and grab your empty toilet paper roll.
Cut a piece of white construction paper about 6″ wide by 4″ tall (yours might be a different size than mine, so be sure to measure yours to see if this will fit). Glue it in place.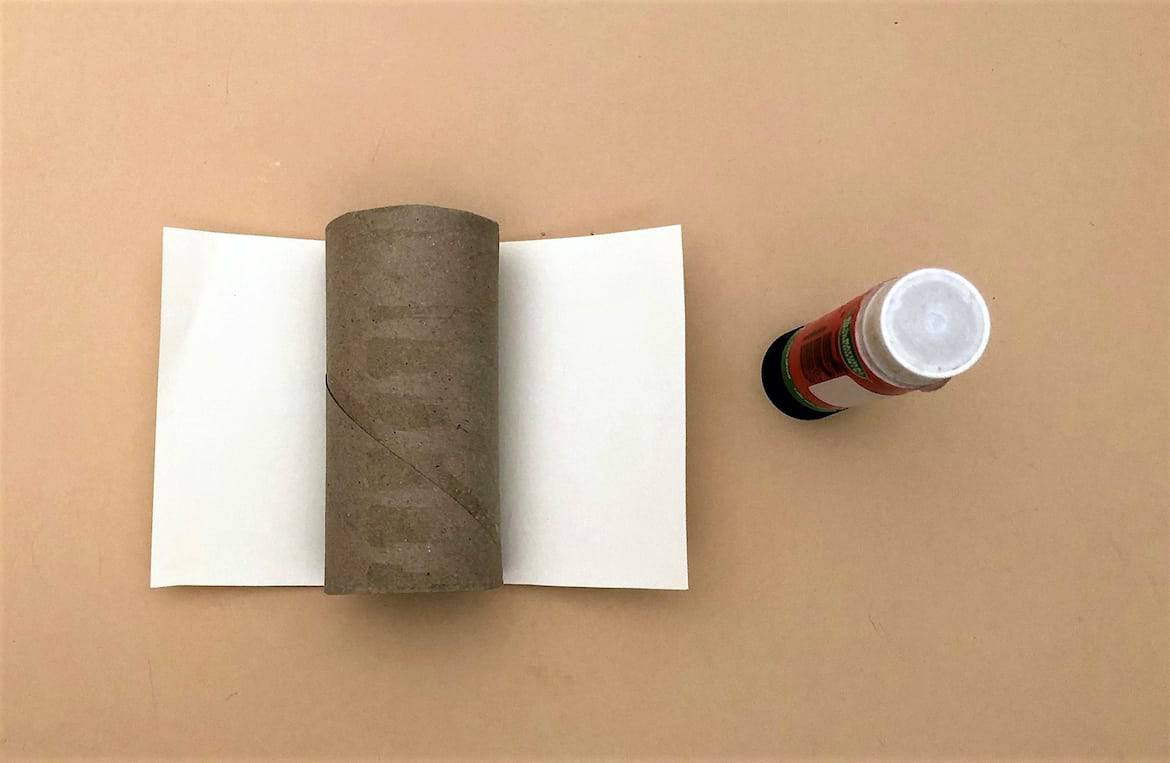 Next, cut 3 equal strips of red paper about 1″ tall and 6″ wide and glue them onto the toilet paper roll, equally spaced.
The easiest way to do this is to place one on each end and then put the last one in the middle, as best as you can.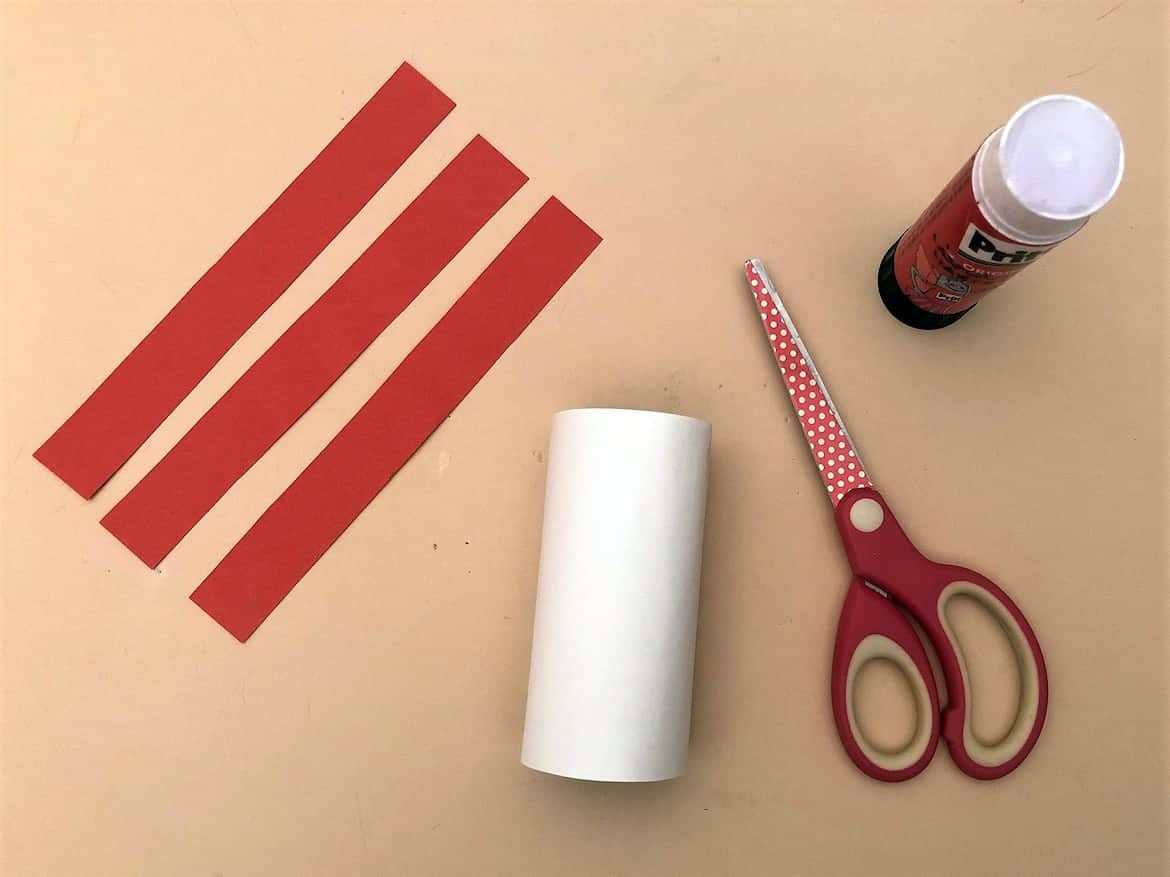 On the brown construction paper, draw a semi-circle (about 6″ in diameter). You can trace your protractor from school or a bowl to draw a circle that you then cut in half.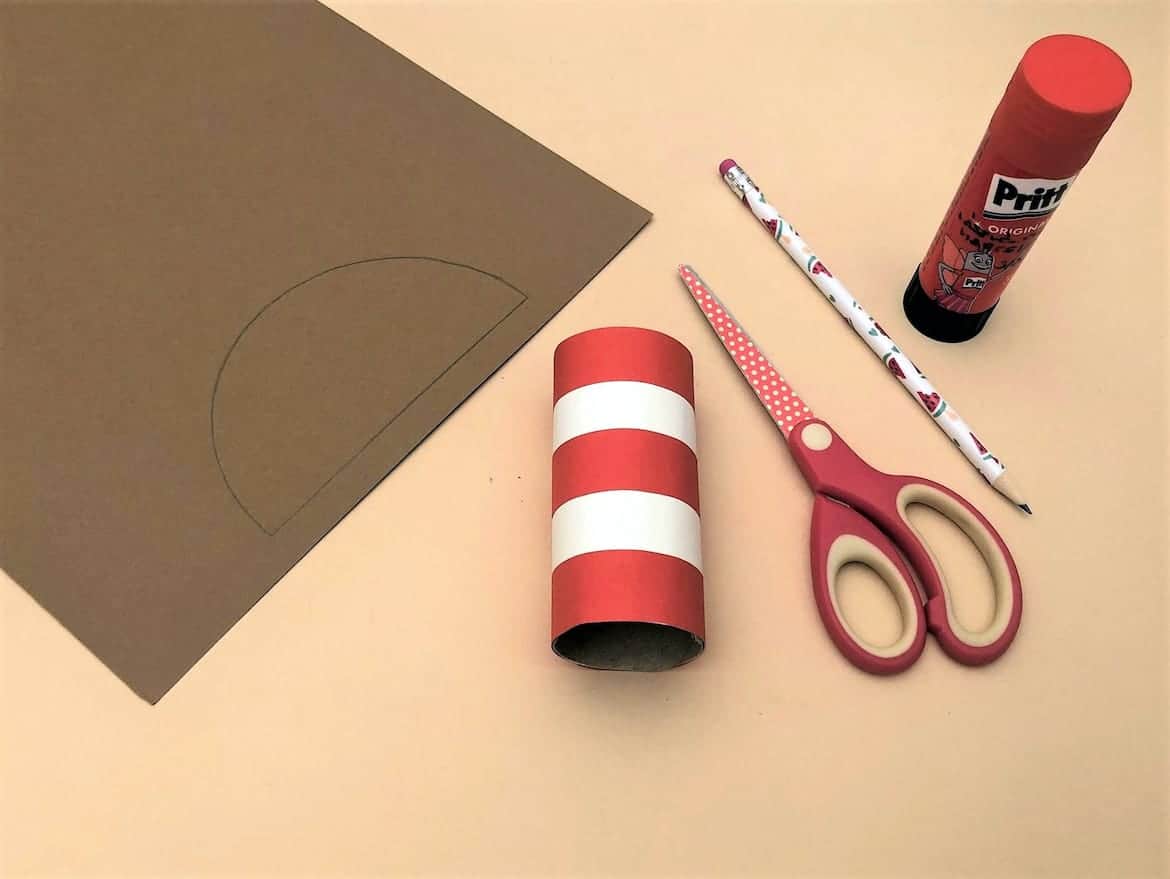 Cut it out and form it into a cone shape to glue on top of the roll.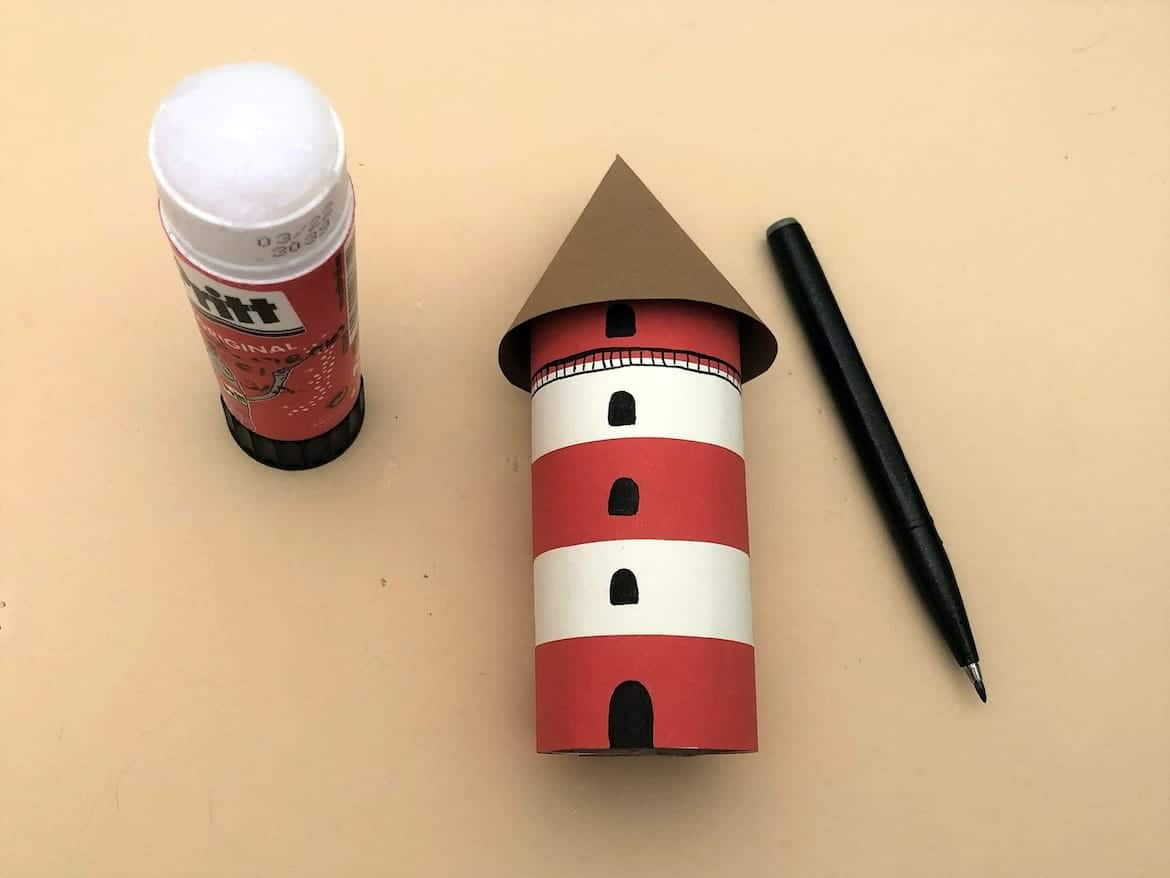 With a black thin tip marker, draw the door, windows and railing of the lighting tower.
Now check to see if your paper plate landscape painting is dry. If so, draw the eyes and mouth on the sun. Use a pink or red marker (or paint!) to make cute round cheeks. Don't forget to draw some birds flying in the sky.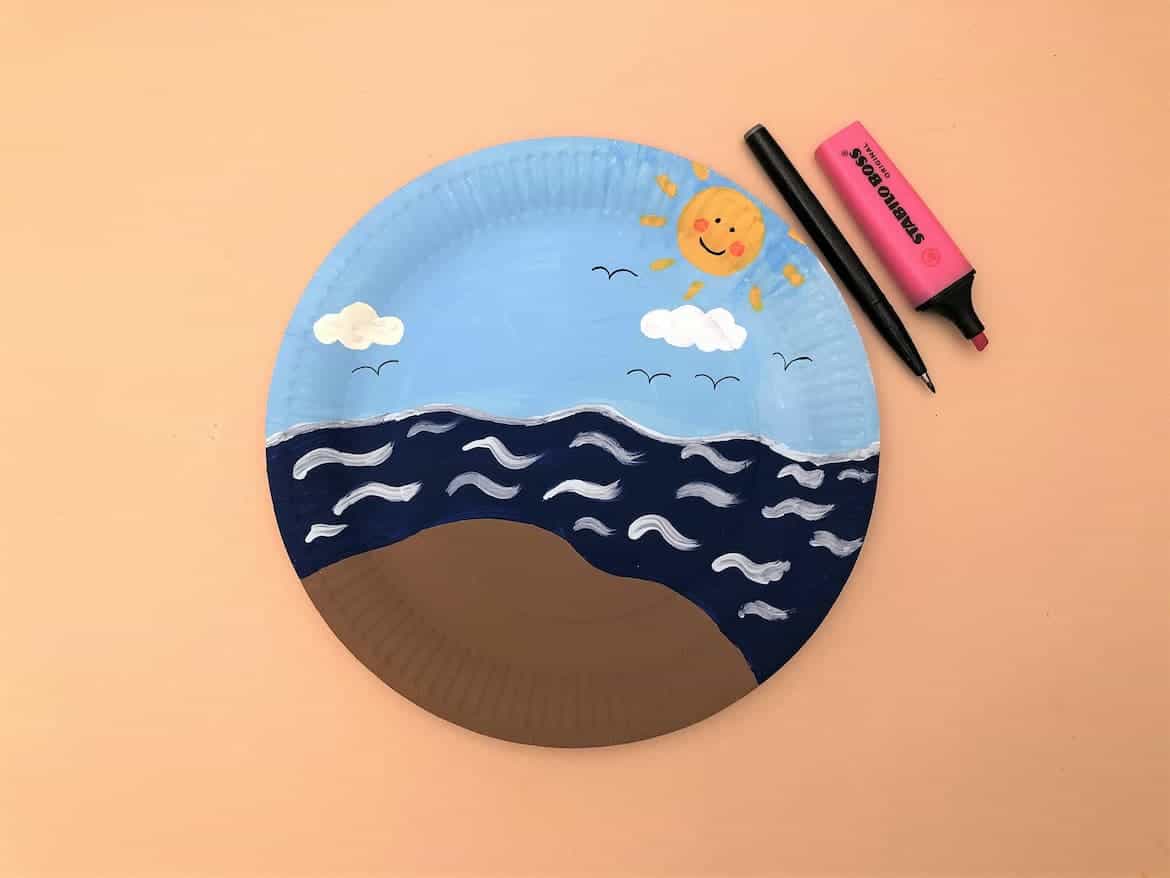 Finally, glue the finished lighthouse onto the paper plate.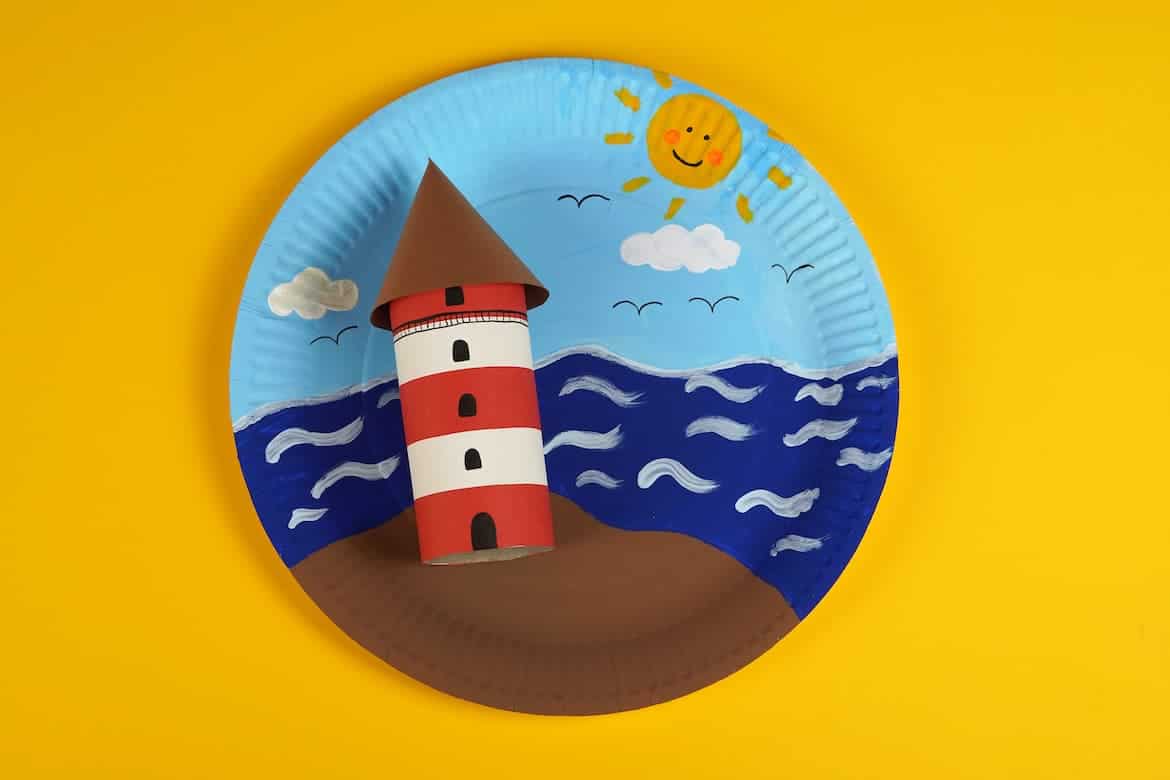 What are some other free lighthouse craft ideas?
The United States Lighthouse Society National Archives offers:
a fun free printable coloring book based on old architectural drawings of lighthouses
a "Lighthouse Fun 4 Kids" printable series that includes activities and stories designed for children to read with their parents