Print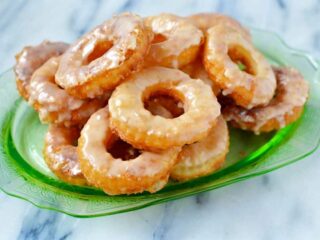 Maple Glazed Donuts
Because home made Maple Glazed Donuts are amazing.
1

package of puff pastry

chilled, not frozen

oil for frying

canola or safflower
For the glaze:
½

cup

powdered sugar

3

tablespoons

pure maple syrup

dash of milk

if needed to thin
To make the glaze, combine the powdered sugar, maple syrup and optional milk in small bowl. Mix until smooth. Set aside.

Heat the oil in a cast iron pan over medium, increase slowly if needed.

Use cutters to create the donut shapes, save the centers to make donut holes.

Test to see if the oil is hot enough with one of the small pieces. When ready, the oil will quickly start to bubble up all the way around the donut. If this does not happen and the dough just sits there, increase the heat. If it starts to cook too quickly, simply turn down the heat a little at a time and wait for it to stabilize before continuing.

Place the donuts in the pan with enough room for oil to get all the way around them. Do not overcrowd. Flip when the first side is golden brown.

Remove donuts from the oil when both sides are golden and place on a cooling rack with a plate or paper towels underneath to let the oil drip off.

Once donuts are cooled, you can dip them into the glaze and return to the cooling rack for the glaze to set for a few minutes.