I've always had a love of coastal living interior design. When we rebuilt our previous home, I insisted on things like an open beam ceiling, wainscoting in the bathroom, walnut floors that reminded me of driftwood and white trim throughout. The following are a few of my favorite photos that I used for inspiration when decorating that home.
Bold colors and stripes make smaller living areas appear bigger, and built in shelves are great for conserving space. When choosing accessories, I like the idea of using driftwood for beams or furniture, antique buoys or glassware, seashells, trunks as tables and other tropical items.
I love the rustic dark wood table they use and the contrast it provides with the white furniture. Might be something that could be easy to DIY?
How gorgeous are the wood ceiling beams in this cozy den?
Neutral colors are great for furniture, drapes and flooring, with bright colored pillows and accessories.
Built in shelves give this room, extra storage space along with a traditional look and feel. The blue beadboard backing is a nice extra touch!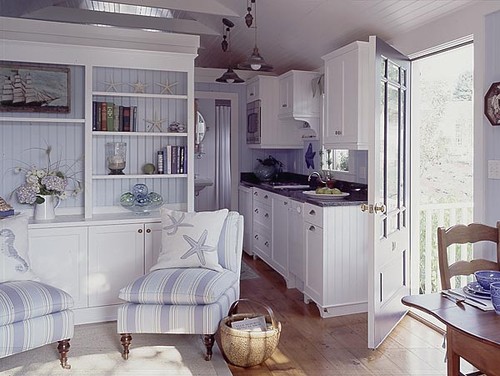 Using bright colored rugs or bold patterned rugs add personality and dimension to rooms with white walls and furniture.
Having grown out of our tiny little beach cottage, we recently purchased a new home and while we love the extra room – the lack of "beachy" feel makes me sad. We have big plans (and big renovations) planned for our new home, but in the mean time I've tried to ignore our ugly orange laminate floors and create a new beach cottage living room.
I opted for white slipcovered sofas (actually much easier to care for than one would think!) with coastal colored pillows and a fun green rug.
And while I love how this side of the living room is coming together, I can't really say the same for the opposite side…
Our makeshift media center is an eyesore for sure so I made it a priority to find a replacement that fit my beachy decor ideals. I came across Sauder.com and fell in love with quite a few of their pieces. I immediately fell in love with the colors and simplicity of the Original Cottage Collection – especially that they offered pieces for throughout your home.
Unfortunately, we have a larger TV and the media console from this collection is too short to meet our needs. With such a wide variety of furniture, I went ahead and used the Style Lab feature on the website to search and display specifically what I was looking for and found the Harbor View Collection Entertainment Credenza.
With the perfect length and just the look and feel I was after, along with a price of only $189.99 – how could I refuse? I ordered it on the spot and was surprised when it arrived at my doorstep just 2 days later. Talk about prompt delivery!
Being a fairly large piece, assembly took about as long as expected (around an hour) with no issues. Although we didn't need to use it, Sauder has an award-winning, Ohio-based customer service that can be reached via live chat on their website, or by calling 1-800-523-3987 between 9 a.m. and 5:30 p.m. EST, Monday through Friday.
The finished piece is just perfect for our needs. It has just the right amount of open space for those items that need to "see" your remote control, along with hidden space for things like movies, music and games.
I especially love the faux distressed finish as I think it lends perfectly to the beachy feel. While it already looks thousands of times better than our previous setup with just the electronics installed, take a look at what adding just a few additional items does to the overall look!
We are so happy with our purchase. What do you think?
This is a sponsored conversation written by me on behalf of Sauder. The opinions and text are all mine.