10 Lessons Learned From SeaWorld San Antonio and AdventureCon13
Last June, the hubby and I spent a weekend at SeaWorld San Antonio and Aquatica…without the kids! This weekend we returned to San Antonio to attend AdventureCon 2013, as a family. Getting to share experiences with my family, with events like AdventureCon, is one of the best parts of my job. (Photo by Julie Pippert)
For anyone shaking their heads and wondering what is an "AdventureCon", it's an invitation only blogger conference for Texas bloggers. Well, that's the boring definition. Here's my version: it's a fun packed weekend where Texas bloggers share tips with each other, learn how to take our photography to the next level from experts like Bob French, Nan Palmero, and Sarah Hubbell and enjoy the "edutainment" inside Aquatica and SeaWorld with our families, plus so much more!
10 Lessons Learned During AdventureCon 2013 at SeaWorld
1. Kids and Safety: Write your child's name and your phone number on your child with a Sharpie before you enter the park! Most important part of this tip, use a Sharpie, because it won't wash off when your child gets wet or fade with time. Hopefully, no one finds your child and intends to harm them, but if that were to happen, Sharpie is harder to remove than a temporary tattoo or wristband. Also, if your child is old enough, make sure they know if you get separated to find a SeaWorld employee and ask them to call the number. Thanks Priscilla at The Wheelchair Mommy, for this helpful tip!
My family arrived to SeaWorld later than everyone else, and we didn't have access to a Sharpie. Midday, as I was getting ready to re-join the other bloggers for a photo walk, we got separated from our 2.5 year old son. Ironically, it happened while I was showing my daughter what SeaWorld employees wear and how to find one if she got lost. My husband and daughter continued to look for him in the splash pad area of Bay of Play, while I reported it to security. The 10-15 minutes felt like 3 hours, but security was amazing and prevented me from losing my mind.
2. Take a picture of your children, together and separately, before you enter the park. If they change clothes due to an accident, or into swimsuits, remember to repeat the photos. The first thing security asked me: what is your son wearing? I was able to describe the swimsuit we'd just changed him into, and we also had photos to share. If your kids are old enough, have a set meeting place if you're separated for more than 10 minutes. My parents always did this with us, and we never panicked when separated, because we knew we could go to the location and wait for them.
3. Creating Great Content: Want to be a better writer? Read, read, read. I used to be an avid reader, and then I became a Mom, and a blogger. Now, I spend more time writing than I do reading. Ashley O'Neill from The Savvy Source, reminded me that reading is a great way to fuel your creativity and hone writing skills. Another great tip from Ashley: print out your posts and read them out loud, it makes it easier to catch mistakes.
4. Photography: Like most hobbies, it takes practice. Don't use auto, or your flash. Sarah from Water Water Everywhere recommends everyone own a lens called the Nifty 50. (just FYI it doesn't cost $50). It's a prime lens that is set at 50mm so instead of zooming, you have to use your feet to get closer or crop. Remember that the best camera, is the one you have with you all the time. Facebook destroys your photos and resolution, use Flickr! Tip for smartphone cameras: instead of tap tapping, hold then release for better photos that aren't blurry!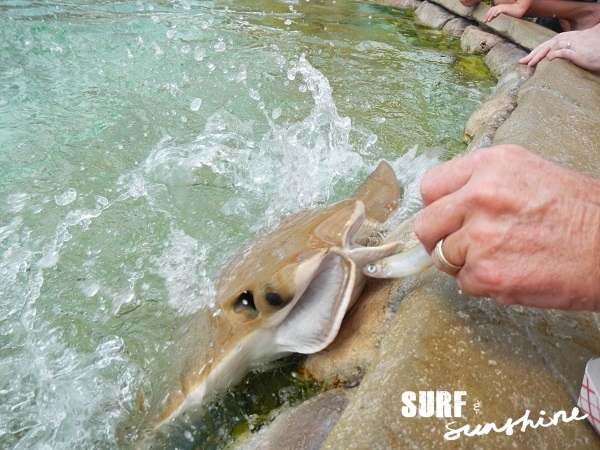 5. SeaWorld San Antonio & Aquatica: SeaWorld understands, emphasizes, and values relationships between people and animals. They want to encourage families spending time together, while having fun, being entertained, and learning about animals and the environment. One of their goals is to help children and adults connect with animals. Every employee we encountered was having fun so you almost forgot they were working. From the lifeguards that were joking around as they helped you on the raft at Stingray Falls to the animal ambassadors, their passion was contagious!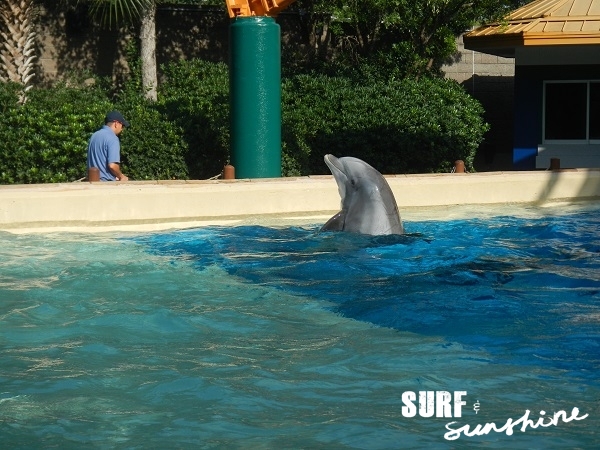 6.Animals: Dolphins are more active in the morning. On Sunday around 9 AM, as we were walking past Dolphin Cove, the dolphins were very active! While this may sound a little crazy, they seemed like they were dancing to the music playing over the speakers. It was AH-mazing, watching them splash, jump, swim and play. I was so awestruck, that by the time I pulled out my camera, they weren't as active. Trainers feed the alligators in Alligator alley fish on Wednesdays and Saturdays, so if you're in the park on one of those days check the schedule for feeding times!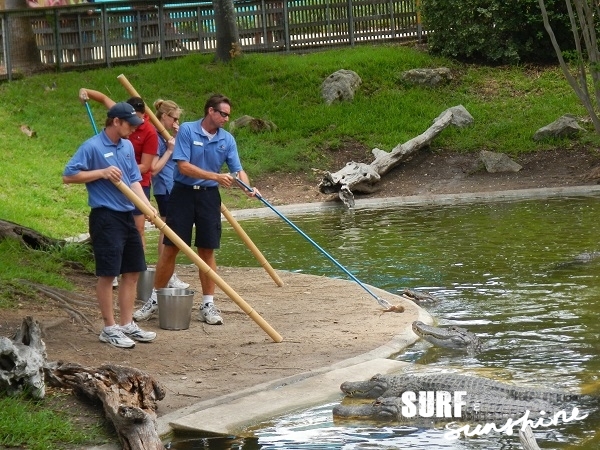 7. Dining: There are plenty of options for eating at both SeaWorld and Aquatica. Avoid the restaurants around the stadiums when a show is letting out, that's when they're the most crowded. Best restaurant to avoid the crowds: Rio Grille. Best place to find healthy choices: Sea Star Market & Cafe', they have wraps and fresh fruit.
8. Bloggers are Resourceful: It doesn't matter whether you've been blogging two months like The Late Farmer, or 12 years like The Wheelchair Mommy, every blogger has great tips and resources. Okay so I already knew this, but every time I speak with another blogger or attend an event I learn about a new tool, or something uber cool like the Evernote smart notebook that Mocha Dad uses to keep notes!
9. Road Trip Survival: Alright, so this lesson won't help you at all. But we learned that we can drive around town and run a few errands and the kids will fall asleep, but we can drive 200+ miles and they stay wide awake!
10. Have a Plan: Seems simple enough, right? Yet, I'm still shaking my head because in the 2 days we were in the parks, we only saw one show. Now, thank goodness the "Pets Ahoy" show was fantastic. Even though it was late in the day and the kids were getting cranky, their eyes were glued to the stage as they watched rats, geese, dogs, cats, and even a pig perform. Best part of this new show: they use rescue animals! I was unable to get a good shot with my camera, without using the flash, so this one is from the SeaWorld San Antonio Facebook page.
What we should have done was looked at the show's schedules and taken breaks during the ones we wanted to see. That way the kids were able to get a break from the heat and rest in between rides. (Maybe they don't need the breaks, but I know I could use some downtime, and the performances at SeaWorld are too good to miss)
I received discounted tickets to SeaWorld and Aquatica as a part of the AdventureCon conference tickets, which included quick queue passes. I was under no obligation to share my experiences, and as always all opinions are my own!