The 2013 Buick Discovery Tour Tantalizes All Your Senses
I was invited to attend the free Buick Discover Tour, and was under no obligation to write about my experience. All opinions are my own and no compensation was received.
Last night in Houston the rain was falling from the sky as if someone decided to drain all the oceans at the same time. As two of my girlfriends and I drove down to the Hotel Derek in Houston to the Buick Discovery Tour, my wipers were on overdrive. Not exactly the ideal conditions when you're trying to look your best, and have plans to test drive an unfamiliar vehicle like any of the five cars in Buick's luxury line.
Once we were sitting in a room, tasting local Chef Bryan Caswell's hot pocket, a flavorful seafood stew with shrimp and scallops, the downpour was a distant memory. I never imagined a chef as an entertainer, but Caswell's demonstration of how to re-create his stew, was full of tales of his background and his "coon ass" heritage, which had the room laughing with him. He says his Louisiana roots are what inspire him to want to fish and hunt, and take any critter from nature and make it taste good. Ahhhh, I thought, so he's like the Robertsons on "Duck Dynasty."
I should note that Caswell, was named one of the top 10 Best New Chef's by Food & Wine in 2009. Caswell's down to earth approach, sense of humor, and savory stew, have me wanting to try out his award winning Midtown restaurant "Reef". Most important lesson learned from Caswell: "spicy food is air conditioning," it makes you hot, then you sweat, and a breeze cools you down. I like the way he thinks.
Next, we were whisked outside to learn more about the 2013 Buick line-up. I used to associate the Buick brand with vehicles for senior citizens that wanted a cushy ride, big clock and odometer displays, and a large bulky body style. Not anymore, it seems Buick has undergone their version of an "extreme makeover" and the result: luxury vehicles, moderately priced with impressive features.
I took the Buick Enclave for a quick spin, due to the torrential rains, standing water, and short route around the block, I wasn't able to check out all of the features. But I was surprised by how well it handled the wet roads, compared to my Tahoe. I wish there had been a longer route, as well as more time to experience the IntelliLink system. Plus, I was a little disappointed the hologram display in the LaCrosse isn't available on the Enclave. Maybe I'm too much of a gadget geek?
Drive time was followed by a progressive pastry demo from Chicago's Baume & Brix Chef Ben Roche. Sadly we were seated right next to some people that talked, laughed and distracted me from hearing most of what he had to say.  Maybe when I'm in Chicago next week, I can swing by and try a few items on their menu.
Dessert was followed by a 20 week wine tasting course taught by wine & spirits master Michael Green. Yep, the amazingly talented and charismatic Green crammed 20 weeks of wine lessons into a little over 20 minutes. So what did we learn, other than Mr. Green is a ham that enjoys entertaining the crowd as much as he enjoy wine, never "fondle, cup, or caress your wine glass, hold it from the base or by the stem."
He also covered so much more, like how to know what a wine should taste like by reading the wine list, but what surprised me the most were two things: 1. food changes the way wine tastes, such as citrus with white wines and chocolate with some red wines, and 2. 12% of the population consumes 90% of our country's wine.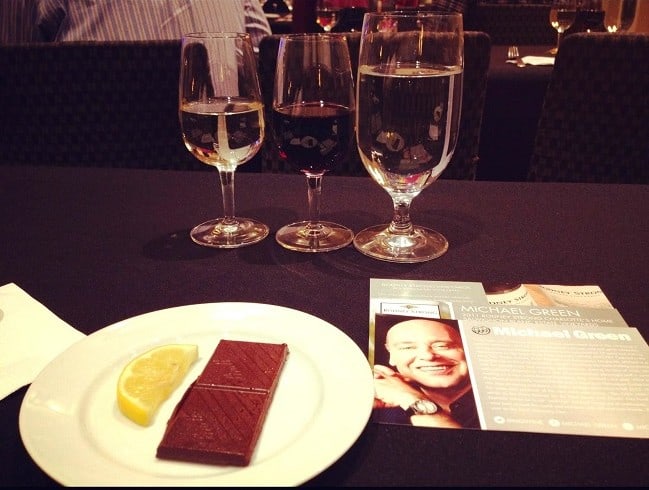 Our evening concluded with a cooking demo by celebrity Chef Michael Psilakis. Greek influenced Psilakis showed us how he thinks as a chef and takes ownership of a dish. He started with a burger, greek yogurt, pepperocinis, spices, and created a spicy gyro slider which had layers of flavor from mild to spicy. Owner of four restaurants, Psilakis answered the question we were all wondering "What do food and cars have in common?" his answer: absolutely nothing.
Why then, did Buick partner with Food & Wine magazine to create the Buick Discovery Tour? Simply to offer consumers a night to discover new food, new wine, and learn about Buick's new line-up.  Thank you Food & Wine and Buick for a wonderful night of food, fun, and a signed copy of Chef Psilakis new cookbook "How to Roast a Lamb." By the way, the chef's were kind enough to share the recipes of the items they prepared, who would like me to share them?