A Techie Geek Mom's Way of Keeping a Toddler in Their Own Bed
I love having our little monkey sleep with us at night, despite the occasional foot-to-the-face. We co-slept for 3 years but eventually a growing toddler started to take it's toll on our night of sleep. Eventually, Ben woke up with a foot in his back one two many times and demanded the bed was returned to mommy and daddy. I resisted (and actually relish the opportunities to snuggle when Ben travels out of town), but eventually caved. I tell you what though, this hasn't been the easiest habit to break! Just before the transition, I decided I wanted to make his room as much fun and "his" as I could so I did a makeover and painted Buzz Lightyear on his ceiling to keep him company. His bed is designed in such a way (due to space issues) that his toy box is actually IN the bed with him (at the foot), plus, with the addition of his own DVD player and iPad setup, he really has no reason to ever leave his bed. Or so one would think.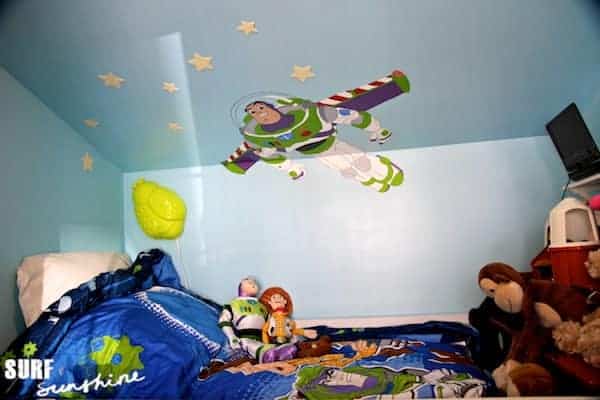 Unfortunately, he still finds a million excuses to get out of bed at night. You know, the standard ones about being hungry or thirsty or forgetting to brush his teeth. He also manages to find reasons to climb into our bed at night – 'it's too dark,' 'I heard a strange noise,' 'Did you call for me?', 'there's a monster outside'. So, when I was recently sent the NetCam HD Wi-Fi Camera Night Vision (as part of my Verizon #VZWBuzz Lifestyle Blogger Ambassadorship), I knew exactly just where to put it.
After a quick and easy install (no computer required!) in Whistlers room, we were live streaming to our iPads and Smartphones. Now that we have the Belkin NetCam HD, we can easily check up on him at bedtime and stop him BEFORE he climbs out of bed. It's like having eyes in the back of our head. I'll admit, we may have got a chuckle or two out of the momentary look of surprise on his face before he aims a defeated stare at the NetCam.
The handy red IR LED lights around the camera (they come on at night to assist in the night vision) remind him that we are watching and deter him from climbing out of bed. But more than just a deterrent, they're safety lights. Apparently having Buzz Light Year and Woody watching over him through the night doesn't make him feel safe enough. The lights remind Whistler to that we're there to keep the evil Zurg (and other monsters of his imagination) away.
I also like that you can also setup motion detection alerts that will snap a photo and email you when motion is detected. You will need to set this up via the website from your desktop.
When we travel, we turn the anti-Whistler device into our personal watchdog and give it a bird's eye view of our livingroom and front door. Although the Netcam basically only live streams 'round the clock, should someone break in, we would be notified immediately AND we will have a photo of the bandit emailed to us. Upon notification, we could then log in via our device and choose to record the crime as it unfolds because from the app, you can take snapshots and record video that will save to your camera roll.
You can also share your camera with friends. This could be a great way for relatives who don't get to see the kids much to sneak a selfish peek every now and again. Or if you have pets, it would be an easy way for your petsitter to check up on the dog to make sure he hasn't completely ripped the house apart. So what do you think, is this something you would have a use for in your home?
Proud to be a Verizon Wireless #VZWBuzz Lifestyle Blogger.