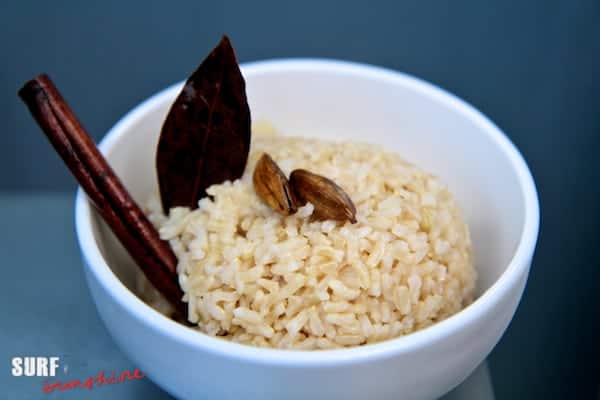 I absolutely LOVE fragrant basmati rice. I don't particularly care for brown rice. In recent efforts to make our family dinners a bit healthier, I've been trying to devise ways to incorporate brown rice into the mix. Although I normally make rice in my japanese rice cooker, I was recently asked to try Success® Rice and thought it would be a great opportunity to nail down an easy fragrant brown rice recipe.
While I don't mind cooking from scratch (and I often do), my days seem to be overwhelmed with wedding planning as of late and I just don't have the energy or time to devote to dinner. This particular recipe came to mind knowing that we had some delicious Chili Citrus and Cilantro chicken marinating in the fridge. I really wanted to make some fragrant basmati rice, but the easy 10 minute boil in bag of the Success® Brown Rice I had in the cupboard was calling my name.
So I decided to go ahead and try to merge the two and it actually turned out really good. Both the boys (who also dislike brown rice), didn't complain, cobbled it down and actually had seconds. The meal ended up truly being a Success in under 15 minutes flat! Here is my recipe:
Grab a 2 quart pot that you would normally boil water for rice in. Place about 1tbsp olive oil and saute 1 bay leaf, 1 cinnamon stick and 5-6 cracked whole cardamom pods until fragrant. (be careful not to overheat and burn the spices or oil)
Remove from heat and allow to cool slightly. Add about 1 quart of VERY HOT water, 1 or 2 bags of Success® Brown Rice and bring to boil. (**Remember that adding water to hot oil is DANGEROUS. Please be sure to allow oil enough time to cool and that the water you add is VERY VERY hot to help avoid excessive splatter)
Boil for 8-10 minutes as directed and then drain/serve. The spices will infuse the brown rice nicely to give you a delicious light, eastern flavor. Enjoy!
This was my own recipe, but you can visit www.successrice.com for quick and easy recipe ideas you can make any day of the week or like the Success® Rice Facebook page for more recipes and lifestyle tips to make mealtimes easier and more fun.
With 4 varieties available including: Success® Whole Grain Brown Rice and Success® White Rice, and globally-inspired aromatic varieties of Success® Rice, including fragrant Thai Jasmine or Basmati Rice, there's a variety everyone in your family will love. Try your own twist on one of your favorite recipes by swapping an aromatic variety into some of your go-to rice dishes. To accommodate various households, Success® Whole Grain Brown Rice and Success® White Rice comes in two different sizes – 14 oz. or 32 oz.

So what are you waiting for? Use this coupon for $.50 off your next box so you can add this staple to your kitchen pantry: http://bit.ly/YwIYtq
If you liked this, then you need to see...