Halloween Tempura Hot Dog Octopus Recipe
Halloween is such a fun time of year for food. I always love seeing how creative people can get with food and party decorations. This year I saw I super cute recipe featured on FOODNETWORK.COM called the Tempura Octopus. Aren't they adorable?
The moment I saw them, I knew I wanted to try and make them for Whistler. We have such a hard time getting that kid to eat a meal that I thought for sure these fun critters would make dinner time more fun and less of a fight. Turns out, I was right!
With permission from FOODNETWORK.COM, here is how to make Tempura Hot Dog Octopus.
*Note* I decided to make mine full sized. To make yours smaller like the photo above, just cut the hot dogs in half first, then create the legs. I also "cheated" and took a short cut by buying Tempura Batter in a box from the grocery store. Just add water and you're ready to roll.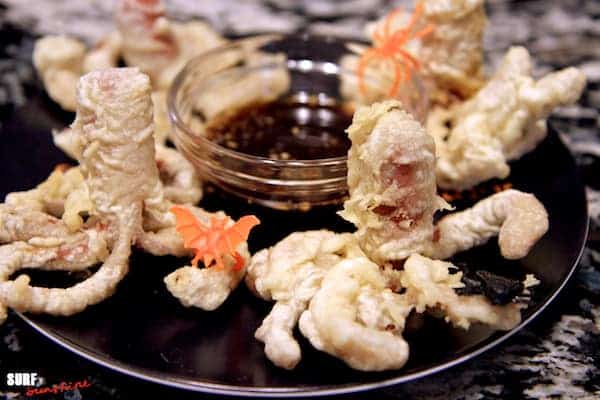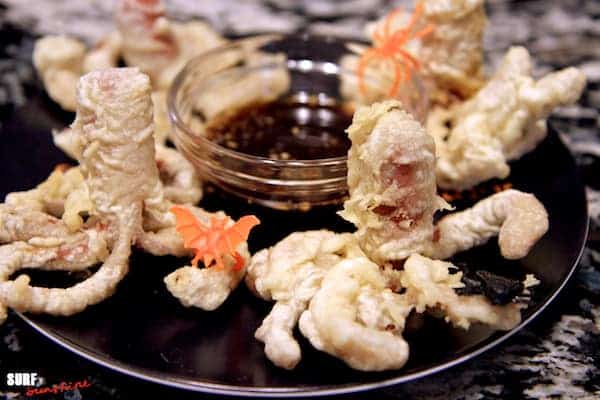 Halloween Tempura Hot Dog Octopus Recipe
2014-09-02 15:40:31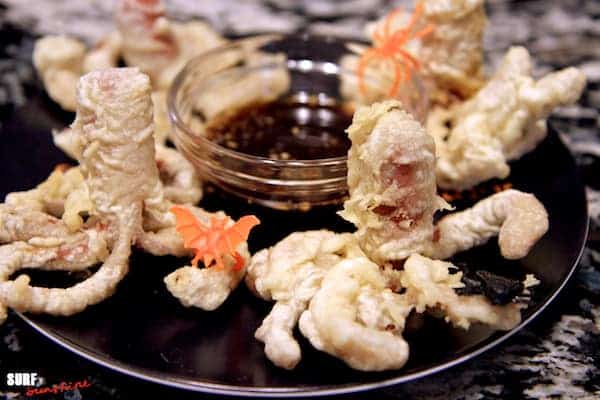 Serves 4
Adorably creepy, these octopus bites will fly--or swim--off the party table, with or without a plunge in the Asian-style sauce.
Ingredients
2 tablespoons freshly squeezed lemon juice
2 tablespoons rice wine vinegar
2 teaspoons soy sauce
2 teaspoons sugar
1 small red chile, such as a Thai bird chile, sliced and seeded
1 clove garlic, minced
24 beef cocktail franks
Vegetable oil, for frying
1/2 cup cornstarch
1 cup all-purpose flour
3/4 cup seltzer water
1 large egg
Kosher salt
1/2 cup ice cubes
Instructions
Stir together the lemon juice, rice vinegar, soy sauce, sugar, chile, garlic and 1 tablespoon water in a small bowl. Set aside.
Slice one cocktail frank almost all the way in half lengthwise, leaving the top quarter of the frank intact. Rotate 90 degrees and slice again so you have 4 strips attached to the unsliced top of the frank. Using a sharp paring knife, cut each of the 4 strips in half so you have 8 "tentacles."
Spread the tentacles and place upright on a microwave-safe plate. Repeat with the remaining cocktail franks, using 2 plates to lay out all the octopi.
Microwave one plate at a time for about 30 seconds, or until the cocktail franks sizzle and the tentacles curl slightly. Let cool. The franks will keep the shape that they were microwaved in.
Heat 1 1/2 inches of oil to 360 degrees F in a heavy-bottom pot or Dutch oven.
Place the cornstarch in a shallow bowl. In a second bowl, whisk together the flour, seltzer, egg and 1/4 teaspoon salt until smooth. Add the ice cubes to keep the batter cold.
Working in batches, dredge the octopi in the cornstarch, tapping off the excess, and then drag through the batter. Let the excess batter drip off so the tentacles stay defined.
Carefully add to the hot oil, holding each octopus by one of the tentacles for the easiest dipping. Fry, turning, until golden brown, 3 to 4 minutes. Transfer to a paper-towel-lined plate to drain.
Serve with the dipping sauce and sliced cucumbers
Notes
Serving suggestion: sliced cucumbers
Adapted from The Food Network
http://www.surfandsunshine.com/
Information/recipe provided by FOODNETWORK.COM. All opinions remain my own.