Hotel Sorella CityCentre is a Houston Retreat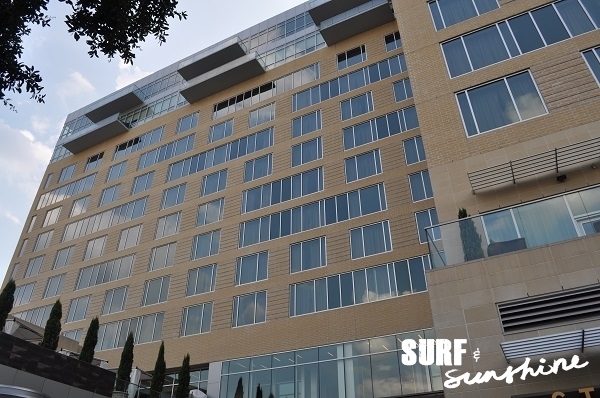 When someone told me there was a hotel in CityCentre, my reaction was, "Isn't that an odd place for a hotel?" Although, I will admit after driving past the Bentleys, Ferraris, and other sleek sports cars parked out front, I thought, I want to stay at the Hotel Sorella! 
How could I convince my girlfriends or my husband that we should spend a night or two at the Hotel Sorella, when we live just 20 minutes down the road? The problem was solved, when we were invited to join the GoHouston travel campaign, and experience a stay-cation at the swanky, chic Hotel Sorella CityCentre.
Our third floor room had a plaza view of CityCentre, and we were able to watch as crowds filled the area so they could enjoy the band and watch the 4th of July fireworks! The spacious rooms, 400 square feet, have floor to ceiling windows, dark hardwood floors (perfect for your child's rolling toys), a plasma television, and a minimalist design with a zen like vibe.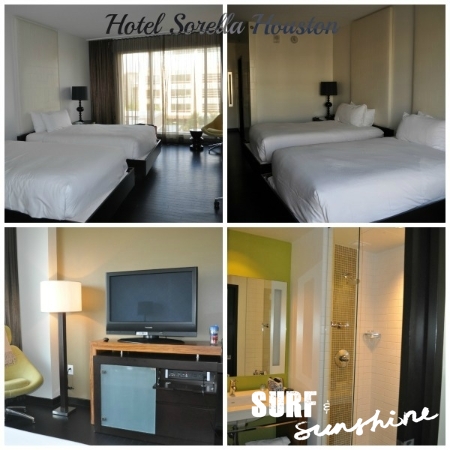 As far as location goes, they nailed it! Did I mention you are in the center of CityCentre? CityCentre Houston is one of my favorite places to spend the afternoon walking through the stores, meet friends for a drink on one of the restaurant patios, or just sit on the plaza and people watch. Staying at Hotel Sorella, you are mere walking distance to several restaurants, shops, etc., and the hotel also offers a complimentary town car service to anywhere within 5 miles.
With a convenient location,minutes away from the Beltway and I-10, this is a great place to stay when you don't want to rent a car and battle the Houston traffic. You can enjoy a romantic dinner at the Bistro Alex, listen to live music at the Monnalisa, catch a movie at Studio Movie Grill, and so much more.
Shortly after we checked in, not wanting to move my car and find another parking spot (free parking in the garage), we walked over to Town & Country for some shopping. Yes, Town & Country has even more shops, a Barnes & Noble, Starbucks, and a grocery store. Afterwards we had dinner at Bistro Alex, and then watched the 4th of July celebration from Money Saving Parent's suite on the 5th floor. I highly recommend booking a stay here for holiday celebrations, its a great way to avoid the crowds, and enjoy the experience in a safe environment.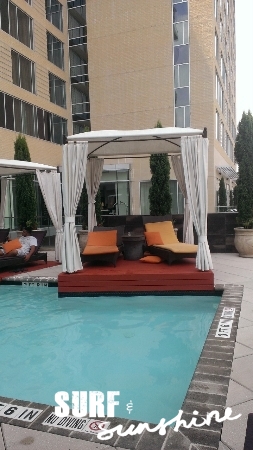 The rooftop pool offers a great spot to cool off, or you can relax like a rock star at one of their first come, first served cabanas. In the evenings when the sun goes down, the pool deck is hopping as live music from Monnalisa drifts outside, and guests sip on cocktails, like the signature drink made with blackberry infused vodka and secret ingredients.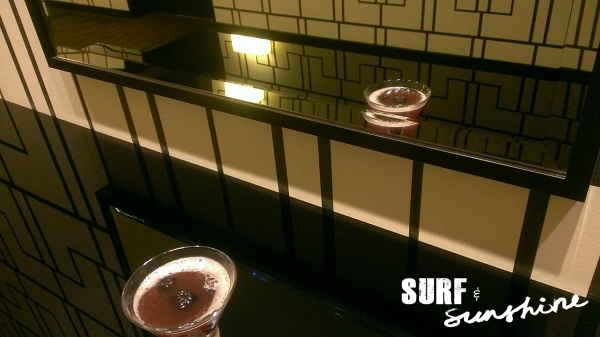 I fell in love with their apothecary bath amenities, and the five star continental breakfast. Typically, I'm not a big fan of eating breakfast, probably because I'm not a morning person, but the complimentary continental breakfast at Hotel Sorella, is AH-mazing. They have plates stacked with fresh, hot pastries, large bowls of watermelon, cantaloupe, and fresh berries with several fresh squeezed juices or your choice of coffee, cappuccino, or espresso. Plus, on the weekends they offer mimosas and bloody marys. (for an additional charge) You can sit at one of the tables in the lobby area and eat, retreat back to the quiet of your room, or sit outside and look out over the plaza.
A few tips to make your stay more enjoyable:
If you have young children or go to bed early request an upper level room, so you won't be disturbed by music from Straits or the plaza
Park in the garage on the third level, its complimentary and there's a walk bridge
Internet access is included with your room, but a bit slow, I recommend you bring a hotspot if speed is an issue
Also, Hotel Sorella was recognized this year by Condé Nast Traveler's Gold List as one of the World's Best Places to Stay, and U.S. News & World Report's Best Hotels in the USA. Whether you're visiting Houston for business or pleasure, or a local like me, check out Hotel Sorella's special packages and promotions to save a few dollars on a luxurious stay.
"Like" Hotel Sorella on Facebook and follow them on Twitter @HotelSorella for the latest promotions and information!