Sample daily homeschool schedule template for 4th grade. Fully editable in Microsoft word. Free to download!
You guys. I am NOT an experienced homeschool teacher. But due to the recent school closures, I have had to scramble to come up with a gameplan to further my son's education while also trying to work from home.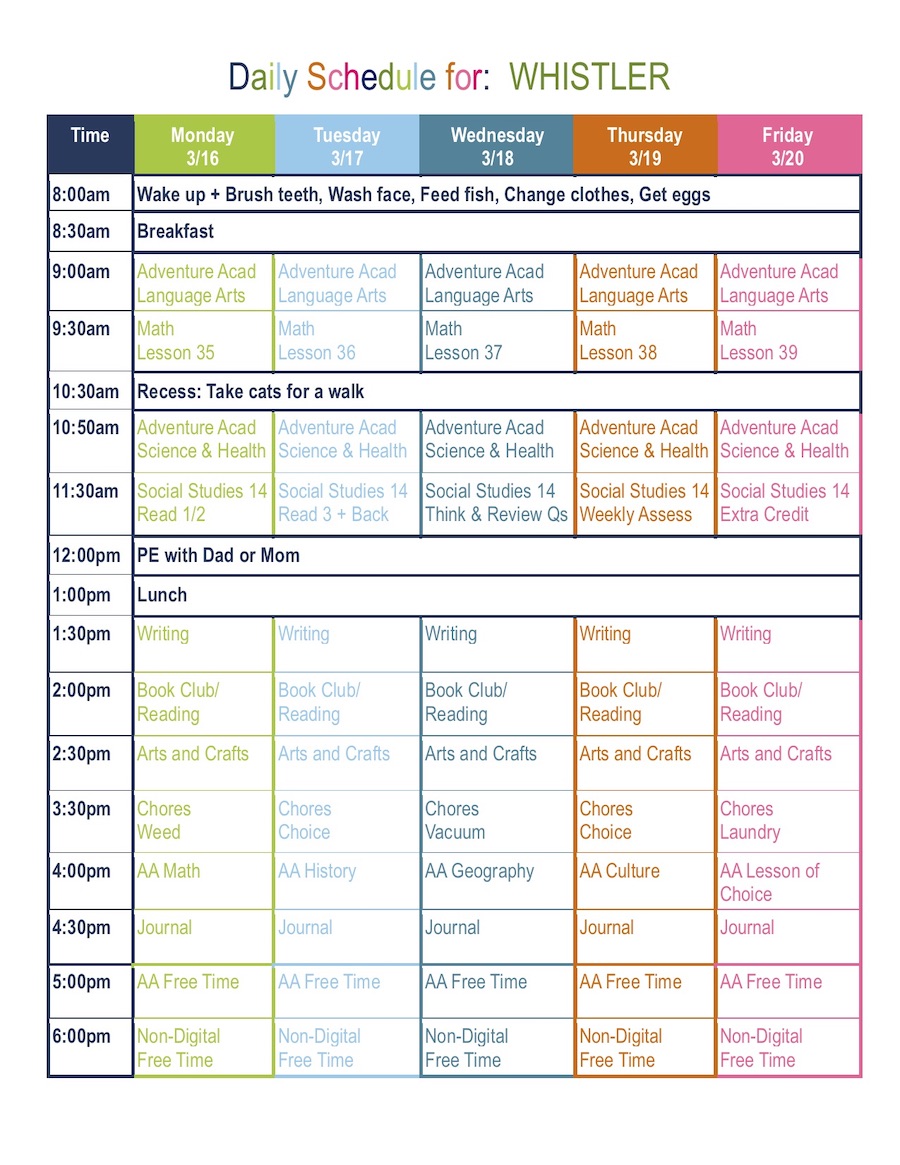 While his regular teacher has sent home worksheets for math and social studies, she has also mentioned that the goal during this time would NOT be it learn new material, but to instead reinforce concepts and materials that have already been taught.
---
Need creative ways to entertain and educate your kids? We lots of free printable activities here!
---
While I completely understand that this may be the easiest course of action with the least amount of strain on everyone involved with such an abrupt change, I'll admit I'm concerned that this closure may last longer than the next two weeks and our students may fall behind.
You can download the 4th Grade Daily Homeschool Schedule template printable for FREE from my shop here.
This 4th Grade Daily Homeschool Schedule template is a result of my effort to:
Create a daily routine. I feel this will not only help us accomplish our daily goals efficiently but also reduce the number of arguments and whining. With a set schedule to follow, there is no room for negotiations.
Mimic (loosely) his existing schedule at school. It's something he is already used and will be returning to so it's a good idea to keep them as similar as possible.
Mix analog learning (worksheets from school + others I found online) with digital educational tools. More on this below (see Adventure Academy section), but since I also work from home, the time spent with his digital "teacher" gives me time to complete my own work.
I created a Daily Writing Worksheet Template to use each day.

You can download the Daily Writing Worksheet Printable for FREE from my shop here.

I am using some ideas from this 300 Creative Writing Prompts for Kids article to fill in the writing prompt. (The download file is a PDF form where you can fill in the date and writing prompt section. The rest of the sheet is fixed/not editable.)
Add in breaks and fun activities he can look forward to each day. Be sure to mix in your own. Our "PE" activity each day will be something different – gardening with mom, playing soccer with dad, doing a family home workout with weights and a jump rope, etc. Do what works for you and your family!
I've mixed in some chores towards the end of the day. I will be using the Neatlings Chore Chart System to manage this and create an opportunity for rewards.
Do you have more free educational printables I can download for my child?
Yes, we do! I love creating free printables for children of all ages. Some are educational and some just just plain for fun. You can see them all in my Free Printables section of the blog. Be sure to check back often as I add new free worksheets weekly!
Adventure Academy
We just downloaded/installed Adventure Academy to supplement Whistler's at-home learning and he's really into it.
If you have an 8-13 year old that you'd like to get hooked on an EDUCATIONAL game that teaches things like vocabulary development, reading comprehension, essay structure, science, health, culture, history, social studies, common core math concepts (even fractions!), I highly recommend it!
Adventure Academy is from the creators of the Award Winning ABCMouse (for ages 2-8).
Having some of the lessons be virtual in a manner where your kids will WANT to do them without complaining and you can check progress is AMAZING.
The program is essentially an online gaming community so he can "play" with friends. But don't worry, you can also disable the chat function or limit it to pre-approved canned responses if you'd rather not have them interact with others.
Definitely check it out. One of the best parts of the program is that in order to "level up" you MUST complete the academic lessons and there is no skipping to the end or cheating!
They are offering a 60% off special at just $45 for a year (One account can be used by up to 3 kids!). You can also choose to do their usual first-month free program, but then it's $9.99/mo after which is not as good of a deal.
I think $45 for a year is a steal considering it will help continue his progress in school during this crazy time, as well as give me some much needed free time to get done what I need to do. He practically begs to do the lessons so it's a guilt-free way for me to let him get in his screen-time.
How to Download the Free Templates
In case you missed the links above, just click on each file below to download.
You can download the Daily Writing Worksheet Printable for FREE from my shop here.
You can download the 4th Grade Daily Homeschool Schedule template printable for FREE from my shop here.