Happy Earth Day! Celebrated every year on April 22, Earth Day is a time to appreciate our planet and all that it provides for us. It's also a time to take action to protect our environment.
In this blog post, we will discuss some fun and easy ways for kids to celebrate Earth Day. We will also provide a link to some free printable activities that can help educate children about the importance of earth day!
Many schools and organizations offer events and activities for kids on Earth Day, but you can also do a lot at home to teach your children about being eco-friendly.
Check out some of these ideas:
Plant a garden
This is a great activity for kids of all ages – they all love getting their hands dirty! Help your child pick out some flowers, vegetables, or herbs to plant. If you don't have a lot of space, you can even grow plants in pots on your porch or balcony.
Choose plants that are easy to grow and care for, such as tomatoes, green beans or cucumbers. Not only will they learn about caring for plants, but they'll be able to enjoy the fruits of their labor too!
Start a compost bin
Composting is a great way to reduce your family's waste and help the environment. It's also a perfect activity for kids, as they can learn about decomposition and earth science while helping out around the house. This is also a fun way to teach kids about recycling and earth-friendly gardening.
You can find compost bins at your local hardware store, or you can make your own. You can use an old plastic bin or container with holes drilled in the bottom for drainage.
The key to successful composting is learning how to layer your materials. Start with a layer of "brown waste" – like leaves, shredded paper, cardboard, or paper egg cartons. Next comes a layer of food based "green waste" on top of that like fruit, vegetables, bread, coffee grounds and even grass clippings. You DON'T want to use meat, bones or dairy products. Repeat this layering process until the bin is full.
Now that you've started your compost, all you have to do is wait! In a few months, you'll have earth-friendly fertilizer for your garden.
Make recycled paper
This is a fun activity that kids will love – they get to make a mess AND end up with something they created.
A great activity for older kids who are interested in arts and crafts, it's also a perfect way to teach them about recycling!
You'll need:
old newspapers or magazines
water
blender
strainer
wax paper
cookie sheet
First, tear the paper into small pieces and soak it in water overnight. The next day, blend the paper until it forms a pulp. Pour the pulp into the strainer and press out as much water as possible.
Next, lay out a piece of wax paper on the cookie sheet. Pour the pulp onto the wax paper and spread it out evenly. Use your hands or a roller to flatten it out as much as possible. The thinner the better – you don't want it to be too thick or it will take forever to dry.
Once it's flat, you can add any recycled items you like – dried flowers, ribbon, leaves, glitter, etc. Be creative!
Let the paper air dry for 24-48 hours, then peel it off of the wax paper and voila! You've made your own recycled paper.
Recycle old toys and clothes
This is a great way to declutter your home and teach kids about recycling and how to live a zero waste lifestyle. Go through your old clothes and toys and donate them to a local thrift store or charity.
You can also have a garage sale and let your child keep the money they make from selling their things. This is a fun way for them to learn about being eco-friendly and responsible consumers.
Make Earth Day crafts
There are tons of Earth Day crafts that you can do with your kids. You can make recycled art by having your kids collect old newspapers, magazines, cardboard boxes and other recyclable materials to make art projects. They can create sculptures, paintings or collages.
If your little one likes animals, try this DIY Ladybug Craft for Toddlers to learn more about these helpful garden insects.
Take a nature walk or go birdwatching
This is a great way to get outside and enjoy the earth. Go for a walk in your neighborhood or local park and look for birds, flowers, trees and other animals.
If you have binoculars, bring them along and see how many different types of birds you can find. Kids can learn a lot from being outside and observing the natural world around them.
In the hustle and bustle of everyday life, it's important to take a step back and enjoy the simple things. Going for a nature walk or birdwatching is the perfect way to do that with your kids.
You can get some exercise, learn about your local wildlife, discuss things you can do to help wild animals and bond with your children all at the same time.
Try Earth Day printables
There are many easy ways for kids to celebrate Earth Day, and using printable activities is a great way to get them involved in the process. There are lots of fun activities available online that can help educate kids about being eco-friendly.
Try printing out some coloring pages, word searches, crosswords or other puzzles. You can also find earth day worksheets that teach kids about conservation, recycling and other topics.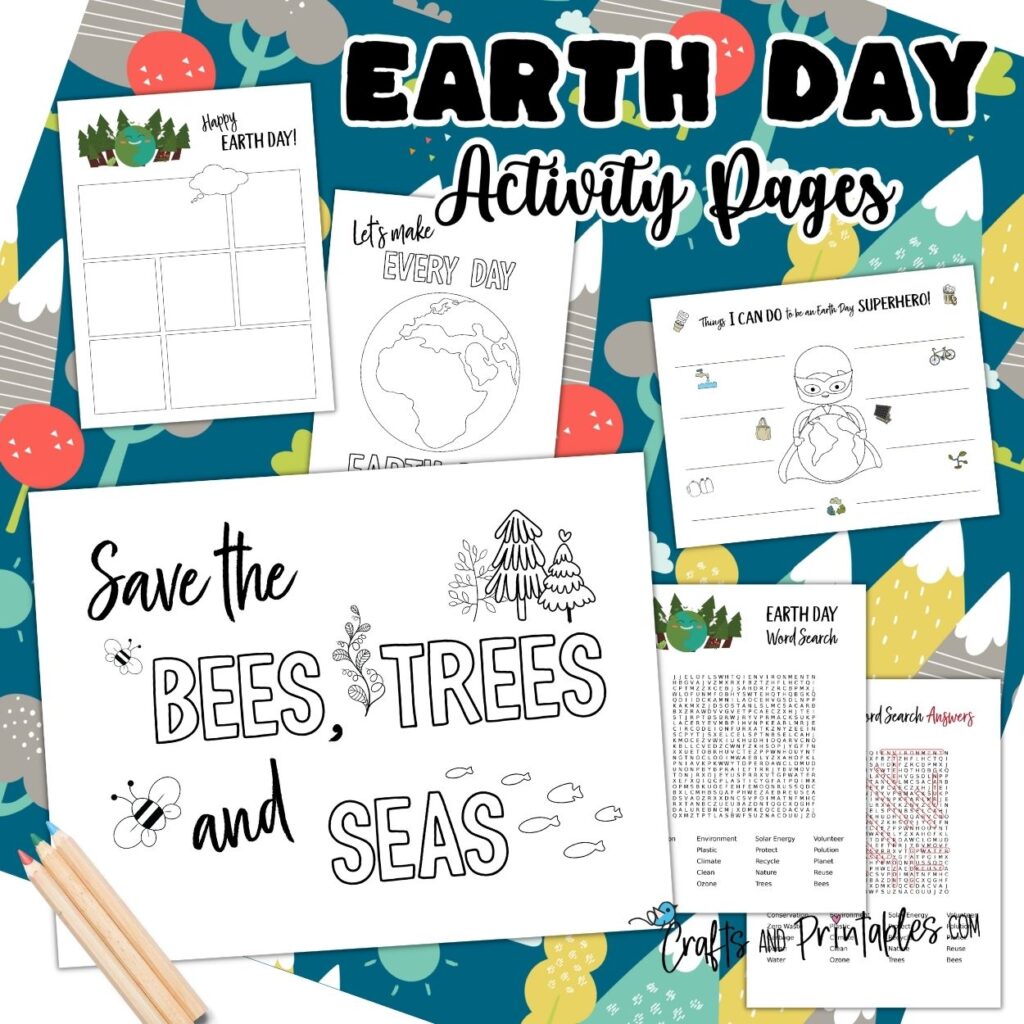 Download and print our free Earth Day activity pages featuring:
Things I can do to be an Earth Day Superhero fill-in-the-blanks
Save the bees, trees and seas coloring sheet
Make your own Earth Day comic
Let's make every day Earth Day coloring sheet
Word search with separate answer sheet