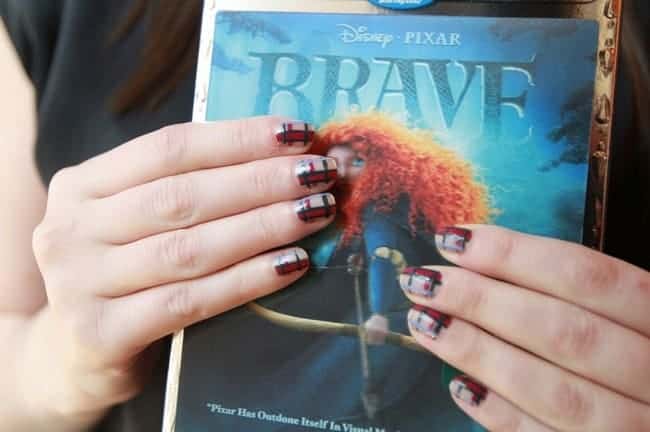 Everywhere you look these days, nail art on ladies and girls is the trend! Disney*Pixar and butter London have created a custom nail bar so you lasses can achieve the Scottish tartan look. The custom design, inspired by Brave, was created by Katie Hughes, butter LONDON's Global Color Ambassador. (It sounds like she has a fun job!)
Here's the DIY tutorial so you can achieve this look  at home! You'll need: butter LONDON's flawless base coat nail foundation, butter LONDON's Queen Vic lacquer, butter LONDON's Stag Do lacquer,  butter LONDON's Sprog nail lacquer, butter LONDON's Matte Finish Topcoat, nail lacquer remover, and a thin, long nail art brush.
Step 1: Paint two coats of butter LONDON's Nail Foundation Flawless Basecoat for a beautiful, natural looking nail.
Step 2: Paint a brush-width strip of butter LONDON's Queen Vic down the outside part of your nail.
Step 3: Using a thin, long nail art brush, paint a thin line of butter LONDON's Stag Do down each side of Queen Vic. (Is anyone else giggling about the lacquer names)
Step 4: Next using the same brush and color, paint two small horizontal lines below the cuticle (try to keep the lines from going as low as the middle of the nail).
Step 5: Clean the brush with acetone or nail lacquer remover and paint two horizontal lines of butter LONDON's Sprog at the tip of the nail, and one vertical line down the right side of the nail.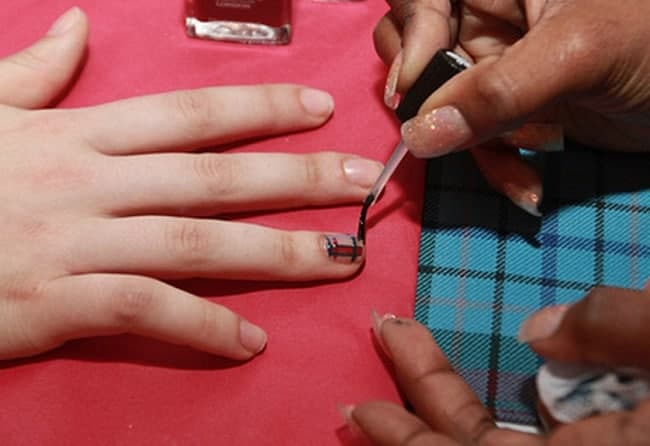 Finally, apply butter LONDON's Matte Finish Topcoat.
Now, you're ready for a night out on the town with your handsome lad (kilt optional) or to host a Brave DVD viewing party. (For the record, I don't recommend serving your guests haggis.) But, it might be fun to host a viewing party and before the movie, everyone could paint each other's nails! What do you think, are you ready to be brave?
Brave is available on Blu-ray and DVD combo pack at Amazon now.