I wouldn't trade this crazy traveling lifestyle I live for anything. In the last few years, I've added over 20 countries to my passport but I think I just had my busiest travel season yet. After spending three weeks cruising Antarctica exploring places like South Georgia Island, The Falkland Islands and meeting some of the cutest sea lion pups and penguins ever, I was home all of 5 hours before heading to Park City, Utah for a well deserved family ski trip. It was time for vacation with my favorite boys! Upon returning from there, I promptly boarded a plane bound for The Big Apple – so basically, my life is a constant crazy whirlwind.
While I enjoy every minute of this hectic life, I do find myself craving the normalcy of home from time to time, especially whipping up delicious meals for my boys. It's hard to believe, but I actually miss cooking when I travel. And what is more normal and satisfying than a family-friendly Sunday brunch?
This is a sponsored campaign on behalf of Sweet Scarletts and Millennial Blogs.
But of course, we can't go getting too normal around here. This isn't Stepford after all and we're a family that likes to color outside of the lines. I like to think that my recipe for Homemade Grapefruit Waffles using Sweet Scarletts is just the right amount of outside the lines to stay family friendly. I know what you might be thinking, "Grapefruit in a waffle?!?" But surprisingly grapefruit adds just the right amount of sweet citrus flavor without being all in your face about it, forgive the pun.

If you do need just a bit more sweetness, I suggest a smidgeon of honey drizzled on top with added fresh grapefruit.
Sweet Scarletts Grapefruit Waffles
2016-03-30 13:36:30
Ingredients
1-2 Sweet Scarletts ruby red grapefruit
2C of your favorite waffle mix
1.25 -1.5 cups of slightly warmed milk or milk alternative (we used almond milk)
1lg egg, preferably at room temperature
2TBS coconut oil that is soft plus more for the waffle iron
Optional: honey to drizzle on top
Instructions
Whisk the egg until completely scrambled and then combine with most but not all of the warm almond milk and 2 TBS soft coconut oil.
Slowly add the waffle mix in and stir just until combined, if needed add in a little more of the almond milk at a time.
Set aside and let rest for a few minutes while you heat the waffle iron and cut the grapefruit.
The warm almond milk will help the mix start to rise just a bit which will give you a waffle that is fluffy inside, if you use a liberal amount of coconut oil, the outsides will be crispy, a perfect combination!
We sliced 1 grapefruit in half and then flipped it over so it was cut side down.
Next cut away the rest of the peel to remove the pith. Then just pull out he perfectly pink sweet flesh.
Break up the flesh and mix it into the waffle batter. I used about ¾ of a cup of this.
When the waffle iron is hot, add in a liberal amount of coconut oil, I use quite a bit as we love the crispy edges! You can make them as large or small as you like.
Cook until golden brown and sizzling around the edges.
We stacked up even more of the grapefruit flesh on top and drizzled just a little raw honey on top.
Surf and Sunshine https://www.surfandsunshine.com/

Tip: I like to lay the waffles out on a cooling rack instead of stacking them up as they finish. This keeps them perfectly crispy until you're ready to enjoy them. I also recommend making extra of these and storing them in the freezer for busy weekday mornings or crazy travel days.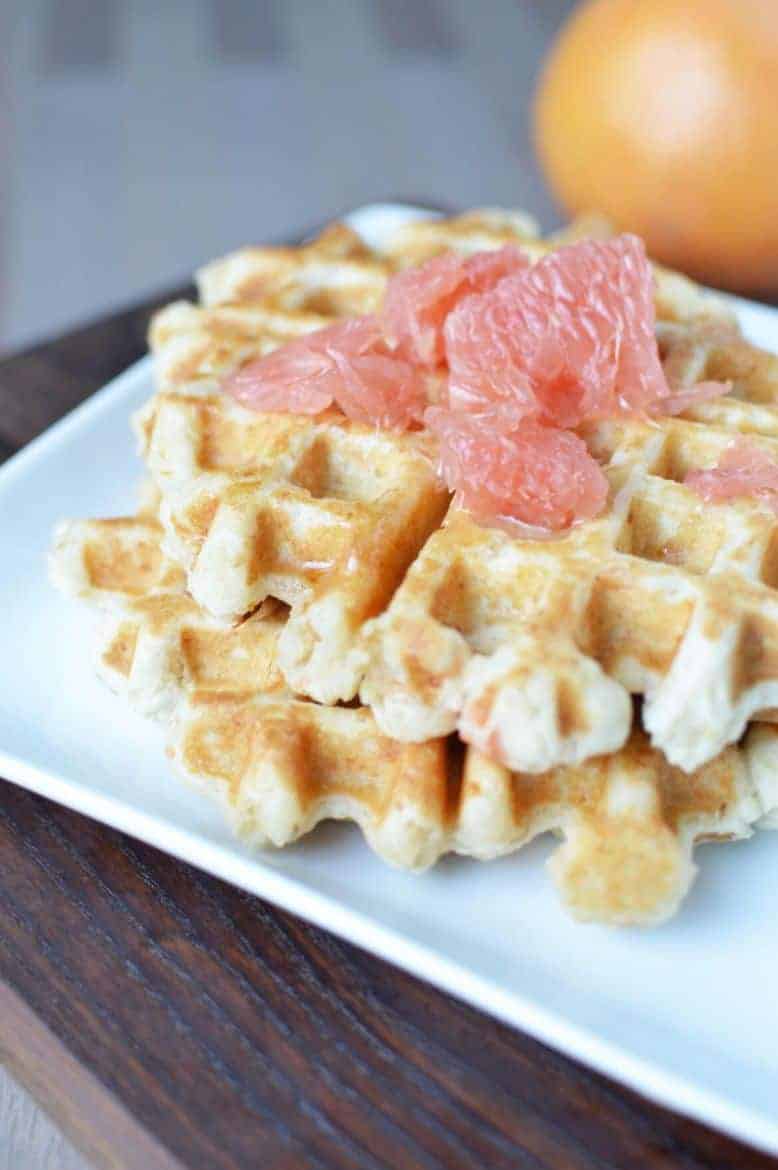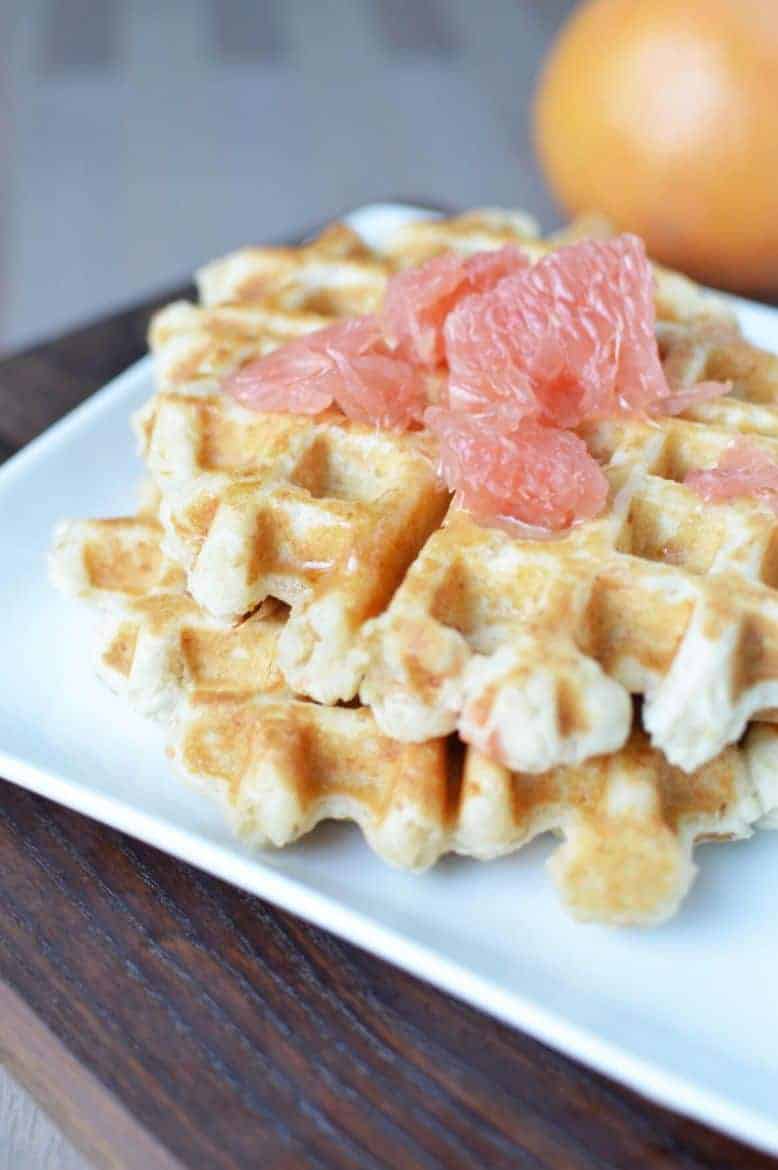 Try Sweet Scarletts, the sweetest Texas red grapefruit. Check out the Sweet Scarletts Facebook page for more from the reddest, sweetest, and best grapefruit you've ever tasted.