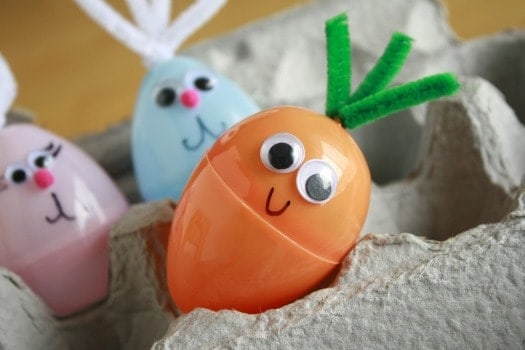 For Whistler's first Easter as a toddler (16 months old), I decided that it would be easier to do the Easter Egg Hunt with plastic eggs filled with goodies rather than decorating "real" eggs. Maybe its just me, but I think most toddlers would get much more enjoyment out of shaking and rattling eggs and opening them up than having 20 days worth of hardboiled eggs for breakfast :)
At the time, we had been really good about not introducing candy to Whistler AT ALL. We wanted to provide a healthy but still fun Easter that was void of candy.
So I racked my brain about WHAT exactly to fill these plastic easter eggs with – while completely AVOIDING candy and any choking hazards. This wasn't easy!! Here is my list – I hope you find it useful and PLEASE feel free to add any ideas of your own.
Cheerios, Toddler Puffs, Pops or Fruit Loops (whatever your kiddo likes)
Yogurt Melts (like these)
Character Band-Aids
Stickers
Playskool Weebles or Fisher-Price Little People (fits in larger plastic eggs)
Animal Crackers
Those magic compressed towels where you just add water (fits in larger plastic eggs)
Money (open under supervision, of course!)
Socks (yes, those adorable super cute little toddler socks totally fit!)
Pretzels
Goldfish
A coupon to get a book from the store :)
PSSTTT!!! Feel free to DECORATE your plastic eggs! Yes – no need to have ugly plain ones. Paint them, attach felt or colored pipe cleaners and make animals, etc. Marie over at Make and Takes has a tutorial for these super cute eggs!