With my mother being Korean, I grew up eating mostly rice and Kimchi. My favorite meals are various noodles, soups and BBQ meats. If you would have asked me what a casserole was prior to high school, I probably would have replied that it was some sort of tool. I've actually never baked a casserole in my life, so when I was asked by Mom Central to create a recipe featuring Country Crock spread, I was delighted. I love to cook and am constantly dreaming up new concoctions, like my Pizza Casserole Recipe. This campaign really hit home because my mom actually never used real butter either. We always had Country Crock in the fridge so it's what I've used all my life! (and at 70% less fat and 30% fewer calories than butter per serving, I have no plans of switching.)
With Ben's love for pizza, this was the first thing that came to mind. It may not be what grandma would consider a traditional casserole, its quick and easy and great for back to school. I promise you it will be a hit with your family and friends too.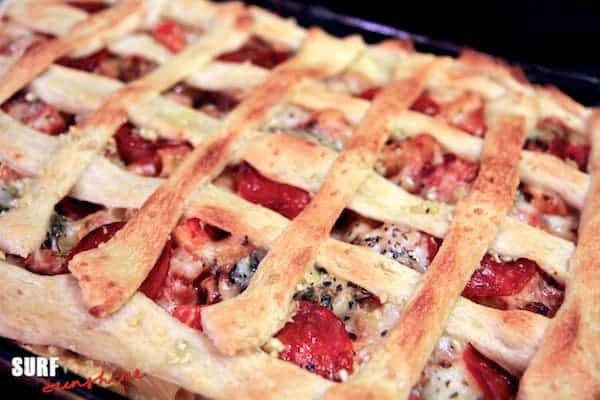 Pepperoni Pizza Casserole with Garlic Breadstick Lattice Recipe
Author:
Prep time:
Cook time:
Total time:
An easy pizza inspired pasta casserole featuring a delicious garlic breadstick lattice topping!
Ingredients
16 ounce package of rigatoni pasta
1/2 pound Italian turkey sausage, casings removed
1 jar (14 oz) pizza sauce
1 tbsp Country Crock spread, original
1/2 onion, chopped
2 cloves garlic, minced
2 brown mushrooms, sliced
2 tomatoes, chopped
4 ounces pepperoni
1 package (2 cups) italian 4 cheese blend, shredded
9 basil leaves, fresh
1/2 teaspoon italian seasonings
1 can refrigerated breadstick dough
4 cloves garlic, minced
2 tbsp Country Crock spread, original, melted
Instructions
Cook pasta as directed on package, minus 3 minutes. Drain and set aside.
Saute 1 tbsp Country Crock, onion, 2 cloves garlic and brown mushrooms about 3 minutes. Add tomato and saute for another 2 minutes.
Remove from heat and mix in pizza sauce and 3 ounces of pepperoni. Set aside.
Place about half of the pasta in the bottom of a large baking dish. Spoon about half of your sauce mixture evenly over pasta. Cover evenly with about half of your cheese.
Layer the rest of the pasta and then the rest of the sauce. Add layer of basil leaves before topping with rest of the cheese. Add the last 1 ounce of pepperoni to top and sprinkle with italian seasoning.
Cover in foil and bake in a preheated 350F for 20 minutes.
Remove from oven and remove foil. Create criss cross lattice with breadstick dough and then brush generously with melted Country Crock plus garlic mixture.
Bake at 375F until the cheese has melted and the breadsticks start to turn golden brown (about 18 minutes).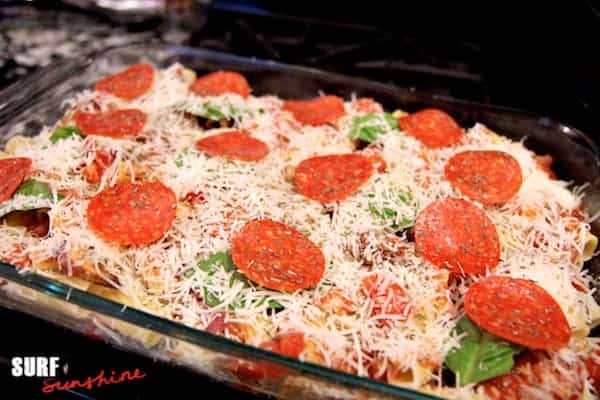 If you'd like to make this without the breadsticks, simply bake in foil for 25 mins and then remove foil and bake an additional 10 minutes, til cheese is golden brown.