Clarkson Potter sent me a copy and is partnering with me for a giveaway.
Thanksgiving is a time for friends, family, good food, and of course, football. It's no argument that when you can't be at the field, attending a Homegating party is the second-best thing. As avid Seahawks fans, my family has had a lot to celebrate about the last couple of years.
While I love coming up with my own recipes, having a favorite cookbook or two on hand can also be great for really wowing your guests. I recently received Bobby at Home: Fearless Flavors From My Kitchen and it has been my goto book for the past 2 weeks. With 165+ recipes, Bobby Flay opens up his home and shares his bold, approachable style of cooking for family and friends, along with his no-nonsense, essential advice for home cooks. I can't get enough of these amazing dishes!
How to Host the Ultimate Homegating Party
1. Serve appetizers and finger foods
Appetizers are perfect for munching on throughout the game but oftentimes they're just not filling enough. Try to throw in some hearty finger foods with pork or beef sliders, wings or pizza bites for some more filling options.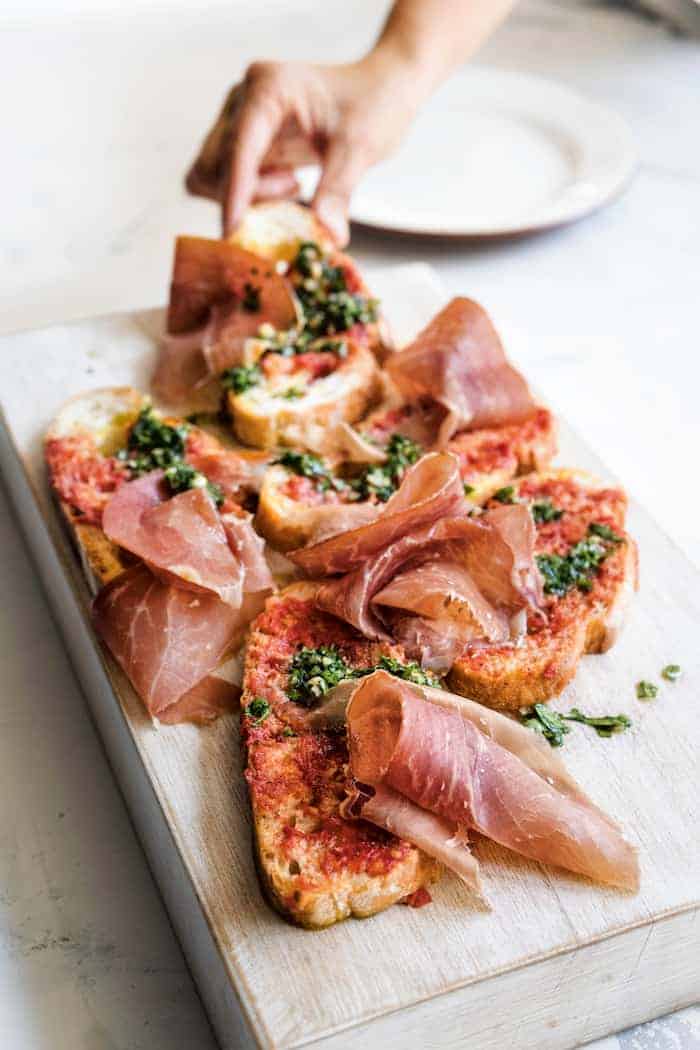 Bobby Flay's Tomato Bread with Serrano Ham and Parsley Pesto (found on page 59) will be the winner for us this year. You see pan con tomate—"bread with tomato"—in every tapas bar in Spain, with good reason: it is delicious. It also happens to be one of the easiest appetizers you will ever make. Like so many simple recipes, though, keep in mind that when there are so few ingredients, each one must be perfect. That's especially true of the tomato in this dish: it needs to be overly ripe and practically bursting with flavor. For almost all of us, that means this is a very season-specific dish, best served in late summer when tomatoes are at their peak.
Tomato Bread with Serrano Ham and Parsley Pesto Recipe
Serves 4 to 6
PARSLEY PESTO
⅓ cup extra-virgin olive oil
2 garlic cloves, finely chopped to a paste using the side of a chef's knife and ¼ teaspoon kosher salt
Kosher salt and freshly ground black pepper
¼ cup tightly packed finely chopped fresh flat-leaf parsley leaves
1 tablespoon finely chopped pine nuts
OTHER INGREDIENTS
3 overly ripe large beefsteak tomatoes
Kosher salt and freshly ground black pepper
Pinch of crushed red pepper flakes (optional)
1 loaf ciabatta, cut into ¼-inch-thick slices
2 large garlic cloves, sliced in half
¼ cup extra-virgin olive oil
¼ pound thinly sliced serrano ham

Make the parsley pesto:

Stir together the oil and garlic in a small bowl and season with salt and pepper. Add the parsley and pine nuts and mix until just combined. Set aside.

Cut the tomatoes in half horizontally. Place a box grater in a large bowl. Rub the cut side of the tomato halves over the large holes of the box grater, using the flattened palm of your hand to move the tomatoes back and forth. The flesh should be grated off, leaving the skin intact in your hand. Discard the skin and season the tomato pulp with salt, black pepper, and red pepper flakes (if using). Let sit at room temperature while you prepare the bread.

Heat a grill to high or heat a grill pan over high heat. Grill the bread, cut-side down, until lightly charred and golden brown, about 1 minute. Flip the bread and grill for 30 seconds more to just heat through. Rub the cut sides of the garlic cloves over the cut side of the bread and brush with the olive oil.

Spoon liberal amounts of the tomato pulp onto the bread and drizzle with the pesto. Top with the ham slices. Serve at room temperature.
Reprinted from Bobby At Home. Copyright © 2019 by Boy Meets Grill, Inc. Photographs copyright © 2019 by Ed Anderson. Published by Clarkson Potter, an imprint of Penguin Random House, LLC
Party favorites from the past have been my Lasagna or Bacon Mac and Cheese Cups or if you want to get fancy try these Bacon and Spinach Goat Cheese Bites.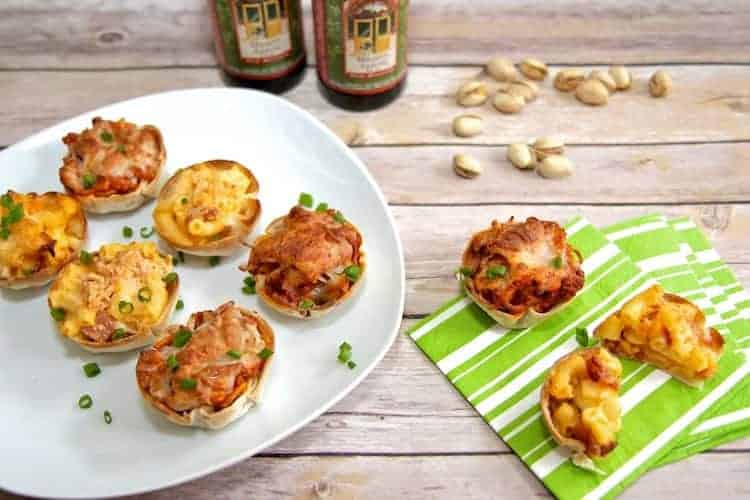 2. Do more than wear your gear
Show your team spirit and love for the game with products others than your favorite jersey. While knick knacks or large foam hands have their place, the best marriage of team branding has to be NFL kitchen or food and drink items. After all, it's the food and drink can make or break your Homegating party! Any proper homegating party stock should include festive glasses, trays and bowls, coasters, and decorations.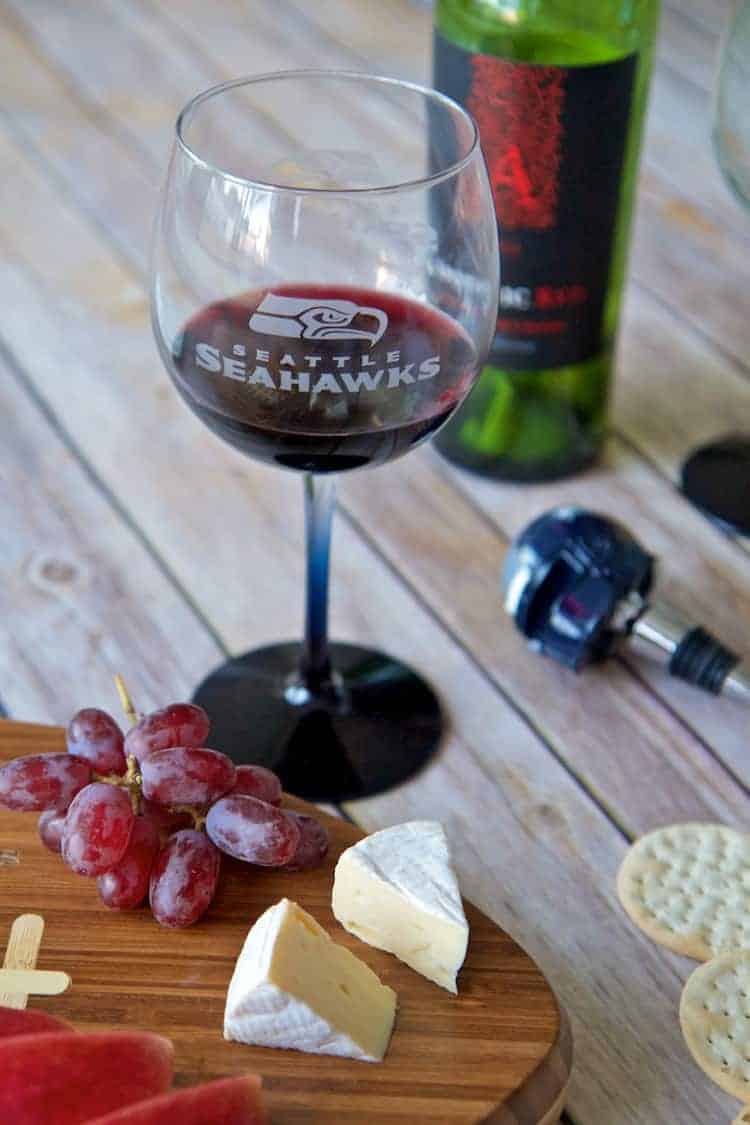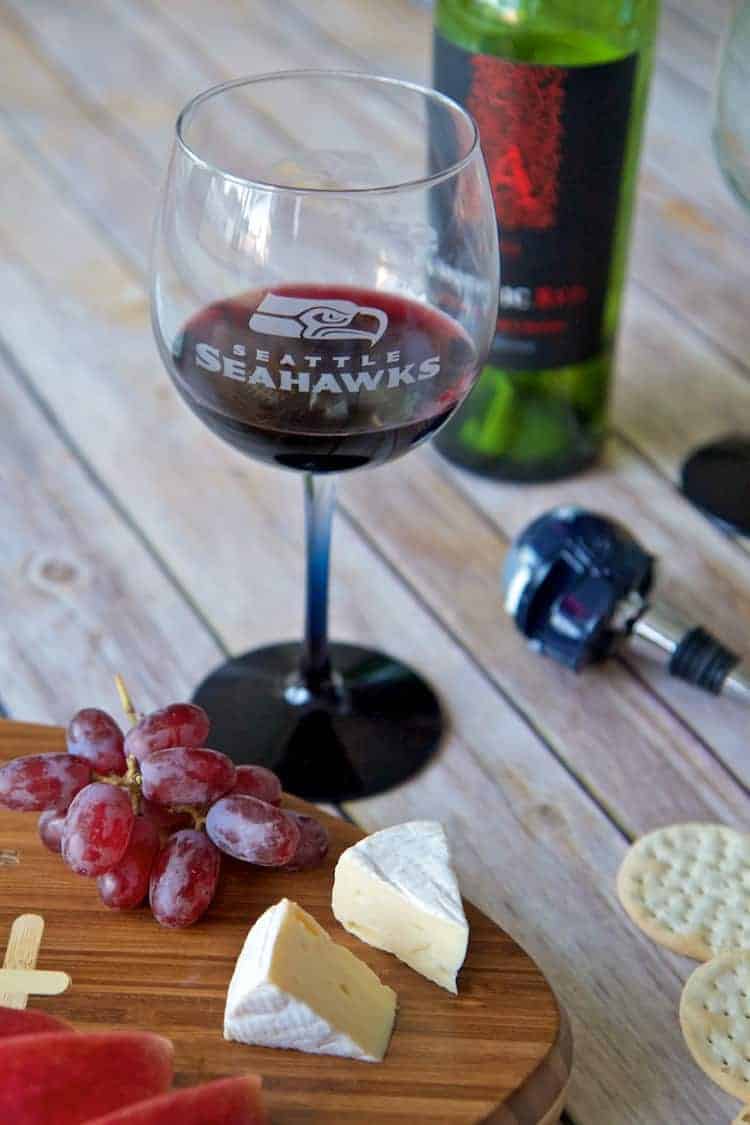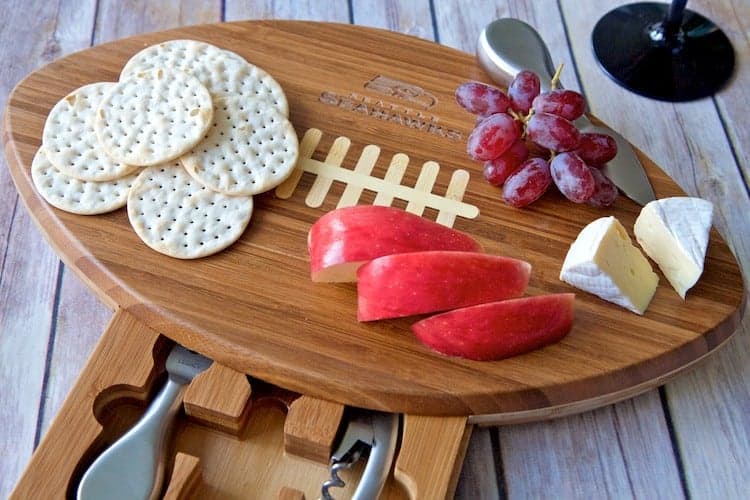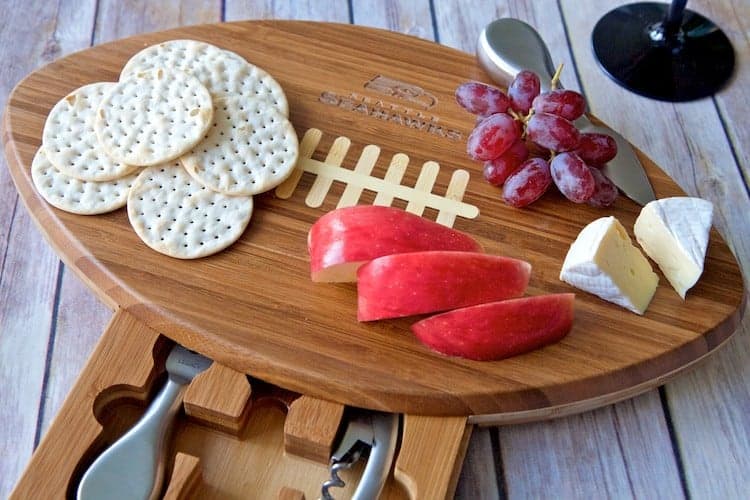 3. Serve a Signature Drink
It's super easy to whip up a drink for your home team, it's just a matter of getting the colors right. I found some really fantastic drinks in honor of our team, the Seattle Seahawks, to serve in our Seahawks glassware.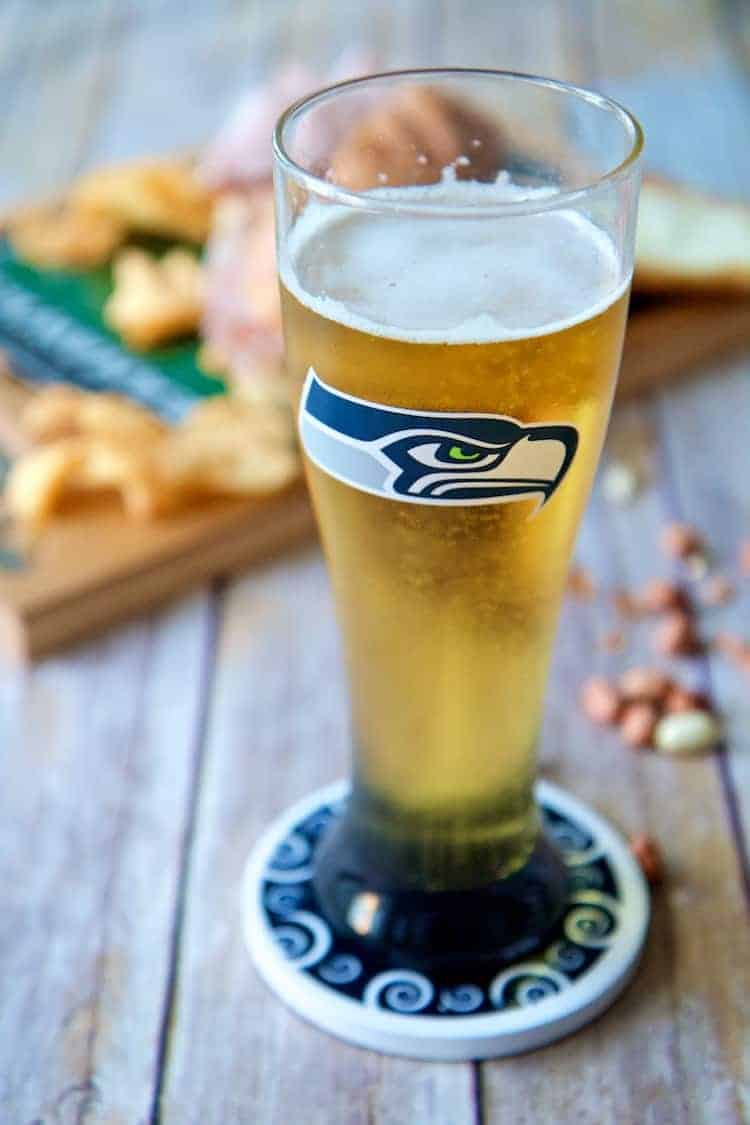 4. HD Surround Sound
It's an insult to host a Homegating party with anything less than a large, flat-screen, HD TV. Help your guests feel like they're right in the middle of the action with great sound too. Surround sound booming from a high end 7 speaker system is always a bonus but never fret – even low-end HD TV's allow you to adjust your sound settings in order to best match sports games. Just browse through your settings menu and look for the sound settings.
The Giveaway
Enter for a chance to win this awesome Bobby at Home: Fearless Flavors From My Kitchen prize package!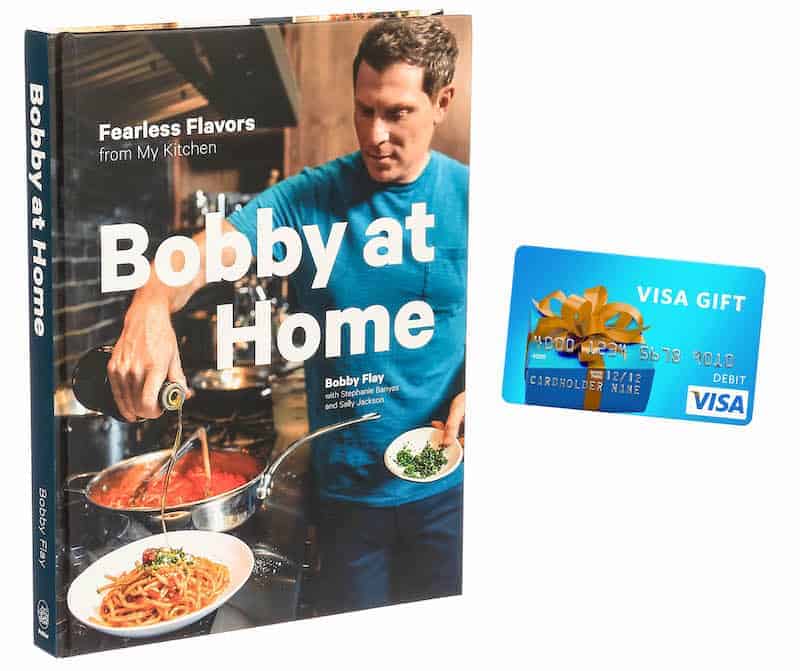 One (1) winner will receive:
A copy of

Bobby

at Home: Fearless Flavors From My Kitchen
Plus a $50 Visa gift card to stock up on ingredients and start testing flavors.
Giveaway open to U.S. addresses only. Prizing and samples provided by Clarkson Potter.
Step #1: Please leave a comment here on the blog with your own Homegating tip or favorite recipe to serve your football fans.
Step #2: Use this easy giveaway form below to record your entries – good luck!! The comment entry is the only mandatory one you must complete to enter. All others are purely optional for those that really want to win!