A good roast turkey recipe is essential for any traditional holiday meal. Why not try one of these 9 unusual and unique turkey recipes (that are also crazy awesome!) to shake up the menu?
Gobble, gobble, gobble! Roast turkey is probably the most popular holiday meal for both Thanksgiving and Christmas.
But have you ever thought about WHY we eat turkey on Thanksgiving? We did too and this is what we found out.
Why do we eat turkey on Thanksgiving?
Turkeys are native to North America and they were widely available to early settlers.
Turkeys are large enough to feed multiple people and aside from their meat, they don't have much other use! For instance, other farm animals provide other edibles or uses like eggs from chickens, milk from cows, wool from sheep. Turkeys are just turkeys, so it may have made sense to use them for this reason.
Some historians think that it might have something to do with the popularity of Charles Dickens and A Christmas Carol. When the book was published in the 1840s, it introduced the idea of a turkey being something extra special. It's what the Cratchit family wants to share most in the world, and shortly after this turkeys started gaining popularity.
The actual celebration of Thanksgiving dates back officially to 1777 when an act of the Continental Congress declared it a real holiday. Then again in 1863 during Abraham Lincoln's presidency, Thanksgiving was declared a nationwide holiday again. Lincoln had started the tradition with an unofficial Thanksgiving dinner that featured roast turkey, his favorite meal.
So we've basically had roast turkey dinner for almost 250 years.
The same old plain roast turkey your mom made, and her mother made, and her grandmother made. Ugh.
I mean those are probably good turkey recipes, but some new turkey recipes might be just what you need this year.
If you're tired of the same old, same old turkey dinner recipes – why not surprise your family and guests with a unique twist on your turkey dinner this year? We've round up some mouth watering turkey ideas to try.
Best turkey recipe in the world
Roast turkey is both traditional and delicious, but there are so many unusual and unique holiday turkey recipes to shake up the menu.
You never know, after taking a look at our favorite unique turkey recipes, you just might find a new family favorite of your own!
Maybe find the best turkey recipe in the world? (Pst if you do, be sure to let us know and we want to know about the funky turkey recipes too!)
Whether you're a fan of dark meat or white breast meat, just looking at this ancho scallion basted turkey should get anyone's mouth start watering.
This Apple and Sage turkey dinner recipe from The Food Network takes it home with sweet and savory.
You can find the recipe for this Adobo Roast Turkey with Red Chile Gravy at Gourmet.com. The roasted bird looks so delicious on its own, you barely notice the disposable roasting pan.
Calling all bacon lovers, check out this Maple-Roasted Turkey with Sage, Smoked Bacon, and Cornbread Stuffing from Tyler Florence. I'm thinking this will go perfectly with mashed potatoes and melted butter.
For another southwestern spin on your Thanksgiving turkey recipe, skip the cranberry sauce and try this Mole roasted turkey with masa stuffing and chile gravy.
Impress your guests with this gourmet Bobby Flay turkey recipe for Black Pepper-Pomegranate Molasses Glazed Turkey.
The key to this recipe is during the last 15 minutes of roasting, you will need to stop basting with chicken stock and instead brush on a pomegranate glaze. Yum!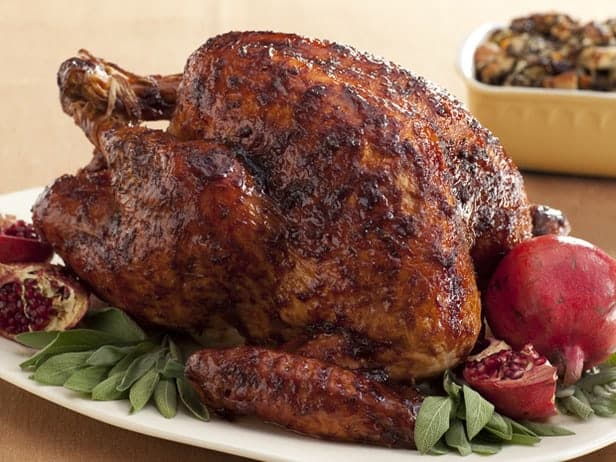 If you're a fruit lover, you'll love this roast turkey dinner with fruit and nut stuffing that includes prunes, apricots, raisins, currants, apples, cranberries, walnuts, macadamia nuts, and cashews from Martha Stewart.
You've heard or beer can chicken, why not beer can turkey?
This butterflied turkey with apple cranberry glaze on the Food network, gets rave reviews for its flavor.
Now it's your turn to share – What is the best holiday turkey you've ever cooked or eaten?
Which are your favorite unique turkey recipes? Have you tried any of the above? How did it turn out?
Is this the year you're finally going to try deep frying a turkey? Afraid you might burn something down…like your garage? That is definitely a legitimate concern!
We got you covered though with our step by step How to Deep Fry a Turkey post.
What should you make with leftover turkey?
The great thing about roasting a turkey for dinner is that even if you host a large dinner party, you will almost certainly have turkey leftovers. Lots of turkey leftovers.
Which means you need an arsenal of lots of leftover turkey recipes. (Or maybe just one really good one?)
Unfortunately turkey tends to really dry out when reheated. Luckily, we kept that in mind with our easy turkey hand pie recipe which is an awesome way to use all of that leftover turkey!
How to Make Turkey Hand Pies from Thanksgiving Leftovers