8 Underrated Movie Couples + Universal Pictures Prize Pack Giveaway
If you're a bird, then you definitely missed these guys and gals whose big screen romances have been pushed aside by Ryan Gosling's face and general desirability.
1. Woody & Bo Peep – Toy Story
Bo Peep was a perfect lady and cared so much for Woody's safety, but most of her storyline was overshadowed by the adventures of her beau and Buzz. Bummer that Andy didn't think she was good enough to keep around through the trilogy.
2. Frenchy & Doody – Grease
With a name like Doody, it's no wonder we skimmed over most of his arc. Sweet Frenchy and equally goofy Doody were a match made in Rydell. They're like the Phoebe and Joey that actually got together.
3. Cassandra & Roland – Saved!
All thanks to stupid Mary's dramatic pregnancy, we hardly had any time to spend with Roland and Cassandra. The two Christian school misfits got together in such an organic way that you almost forgot that Macaulay Culkin wasn't really paralyzed. Preach that, Hilary Faye!
4. Brandy & Cameron – The To Do List
When they weren't fumbling skorts, Brandy and Cameron were actually making a real teenage relationship. No shorthand texting or photoshopped nudes; their story ended at just the beginning. Maybe people need to watch it on DVD to understand.
5. Janet & Brad – The Rocky Horror Picture Show
That diva Frankie was such a show stopper that most of the audience forgets how much Brad and Janet really love each other. Brad commits cannibalism and performs in fishnets all in an attempt to whisk himself and his bride-to-be back home. Plus, he deals with a lot of her BS in the sequel.
6. Cameron & Bianca – 10 Things I Hate About You
Okay, so maybe they aren't that underrated of a couple, but what started out as Cameron's movie sort of turned into Patrick and Kat's poetic escapade. Really, I just wanted an excuse to put JGL's face on this list.
7. Mike & Brooke – Magic Mike
Whether or not you were paying attention, there was something to Brooke. And if you were paying attention, then you know exactly why she was into him, because it was the same reason we all were into him.
8. Mary & Tim – About Time
Though they haven't made their official debut yet, Mary and Tim are so perfect for each other. Tim has a beautiful accent, and I just want them to have babies for ever and ever. Mary and Tim will be the source of your emotions in select theaters starting November 1st (get a sneak peek here). Take that, Ryan Gosling!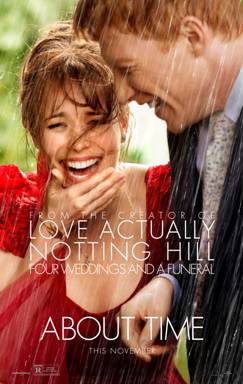 Visit the official website
Like About Time on Facebook
Watch the trailer on YouTube
Follow @AboutTime on Twitter #AboutTime
The Giveaway
Thanks to Universal Pictures, one (1) lucky winner will receive this movie prize pack:
How to Enter to Win
Step#1: Answer this question in the blog comments below: Who is your favorite movie or TV show couple and why?
Step #2: Use this easy giveaway form below to record your entries – good luck!! The comment entry is the only mandatory one you must complete to enter. All others are purely optional for those that really want to win!