Eight Wacky and Crazy Wedding Cakes
Oh the directions you can go with a wedding cake – or not a cake at all. For my wedding we served giant cupcakes with a vanilla creme frosting and "ivory glitter" made out of sugar. At the wedding of Surf and Sunshines owner/editor Jeana, she went with a classic cake design and the most adorable topper of a bride and groom in a tropical paradise. (Personalized from a picture via this very talented artist on Etsy!!)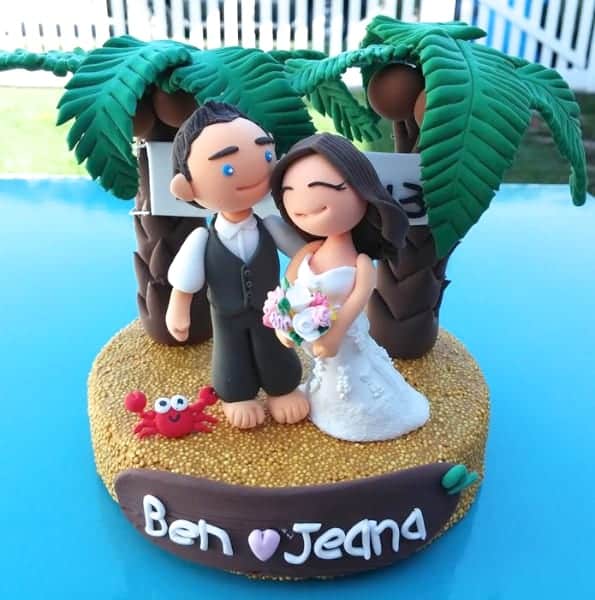 Some people accent their cakes with ribbons, flowers, or pear design. Some couples outfit it with their monogram or pearls. In short, there are many ways you can go with your cake design. These couples went outside the box, perhaps way outside the box with these 8 Crazy Wedding Cakes.
Not sure I would want a mushroom as my wedding cake, although the topper is cute.
Oohh the things you can think…
I think about the Zombie Apocalypse as much as the next girl but I'm not sure I would want to think of it always…
Alright… I have to admit I kind of love this one. I wouldn't want it for my wedding cake but perhaps an anniversary? PS Black Cherry Cake Company specializes in 'different' wedding cakes.
This cake was made at the brides request. She always wanted a doll in her likeness and having never got one, she requested her cake be made in her likeness. My question is – how is it even standing?!
I just.. I don't even.. I don't even know what to say about this.
Okay, I sort of like this one too. I mean how can you go wrong with super heroes? Oh yes, put them on your wedding cake.
Speechless.