What Does Your Purse Say About You?
Isn't it funny how much information you can gain from a woman by peering into the contents of her purse? I'm not talking about happening upon a drivers license or social security number. My purse will tell you I have a weakness for Coach handbags. Take a deep breath and smell the mint from my steady supply of gum which over powers the smell of quality leather – no easy task. I'm not big on makeup, instead, I carry around two varieties of lip balm. I'm a mother, so at the bottom of my purse you will find a child's sock, one half of a pair of earrings and insurance cards that are not my own. You will see that I'm not a stickler for cleanliness given the ink stains and paper wrappers floating within the pockets.
But there are also things that my purse does not say about me. It does not say that I volunteer. It does not say that my daughter and my husband are my world. It does not say that I'm against animal cruelty. It does not say that I support victims of domestic violence, but the Purple Purse from Allstate DOES.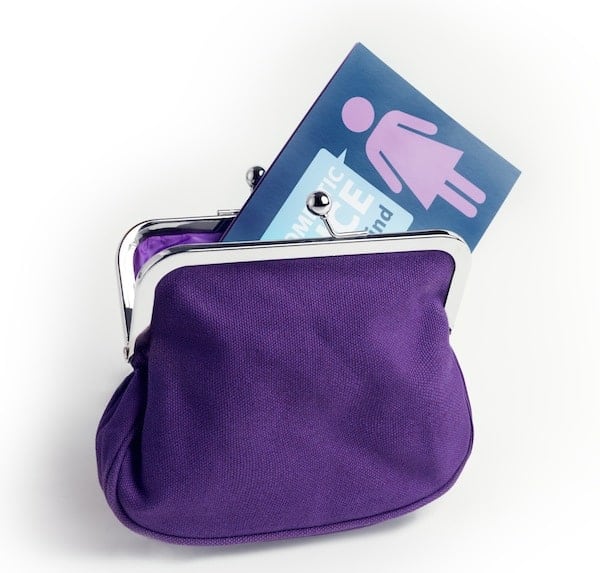 As part of Domestic Violence Awareness Month in October, over 1,000 Purple Purses will be given to Allstate employees and agents, local YWCAs, government officials, celebrities, media and domestic violence leaders. I was one of the lucky ones to receive one. We were tasked with passing this Purple Purse carrying domestic violence information, to friends, family members and coworkers. For every Purse passed and checked in at PurplePurse.com, The Allstate Foundation will donate $5 to YWCA. 
In total, The Allstate Foundation will donate up to $350,000 to YWCA for programs that support victims of domestic violence and build financial empowerment.
Best of all, I don't have to physically send you my Purple Purse to support this worthwhile cause. You can contribute by taking 2 seconds of your time to enter the code from Virtual Purse Pass Card above (0030) and your zip code at PurplePurse.Com.
Domestic violence affects one in four women in their lifetime and happens more than 145 times each hour in the U.S., so please, do your part to help by passing it on – share this post and the Virtual Purple Purse, spread the word to your friends, and enter the code at PurplePurse.com.