We are a family of grilling fools. Lucky for us, it doesn't have to be summer to fire up the grill with our year round southern California sunshine. But the thing about grilling dinner 5 days a week is that sometimes it's easier to just make the same old same old, than to try something new. We were recently stuck in this dinner rut, that is, until I swung by our local Fresh & Easy.
I've always been a huge fan of their simple layout, fresh produce and easy self-service checkout.
Since I normally cook from scratch, what I never realized was that they have a great selection of Ready to Cook items – everything from main meat dishes, to veggies and side dishes. I was thrilled to see that many of these are made especially for cooking on the grill!
Yesterday was filled with wedding planning frustrations, so the very last thing I wanted to do was think about, much less cook, was dinner. But with Fresh & Easy, my family's dinner didn't have to suffer one bit. Our meal consisted of these four components that cost me just $11.99 (using the coupon below)!!
I basically opened up the packages and after adding plenty of garlic to the veggies and flatbread, threw everything on the grill.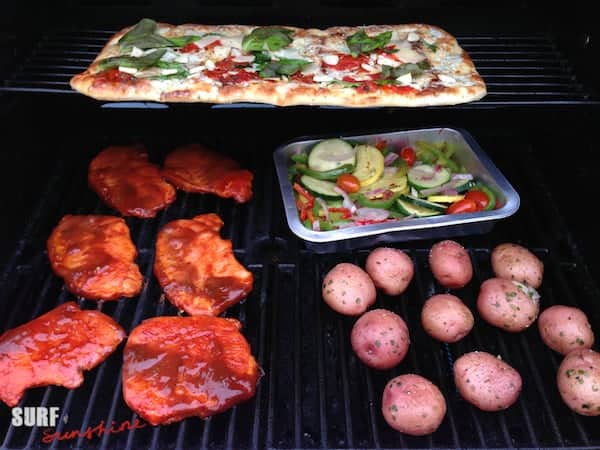 I was delighted that the potatoes appeared to be partially pre-cooked and quickly dismissed the directions to microwave them. What? Why would I do that when I can throw them on the grill? And even though the instructions for the flatbread said to bake it in the oven, it cooked up perfectly on the top rack of the grill.
In the end, it was the easiest no brainer dinner we had all week AND it was probably one of our favorites we've had in a while.
Here's a tip for those of you that shop at Fresh & Easy – make sure you sign up for their Friends Rewards program. It's free and you'll earn points towards $5 gift certificates. Even though their prices are already outstanding, you can save even more by adding specific product discounts electronically to your card as well as printing out their regular $ off purchase coupon. Right now you can get $5 off a $20 purchase (um thats 25% off groceries – hello!!!) with this coupon (expires 6/23).
I was selected for this opportunity as a member of Clever Girls Collective and the content and opinions expressed here are all my own.
If you liked this, then you need to see...