When the weather gets too cool for walks in the park and cranking up the heater becomes a nightly routine, escaping to the movies is one of my favorite things to do. No matter how cold it is, I love getting an cherry slushy and licorice, and camping out in the dark theater. Before 2013 comes to a close and awards season hits, catch these movies on the big screen.
1. Anchorman 2: The Legend Continues
In Theaters: December 20
Have a Friends Night Out as Ron Burgundy (Will Ferrell) returns to the news desk with his wife, Veronica Corningstone (Christina Applegate) to launch the first ever 24-hour news network. Don't worry, weather man Brick Tamland (Steve Carell), man on the street Brian Fantana (Paul Rudd) and sports guy Champ Kind (David Koechner) will all be there to help Ron navigate uncharted territory.
Buy Anchorman 2: The Legend Continues tickets now!

2. The Wolf of Wall Street

In Theaters: December 25
Martin Scorsese directs the story of crooked stockbroker Jordan Belfort (Leonardo DiCaprio) and his wingman Donnie Azoff (Jonah Hill) in one of this year's most anticipated films. This sexy adaptation follows the career events of Belfort before his indictment for fraud and money laundering.
Buy Wolf of Wall Street tickets now!
3. Saving Mr. Banks
In Select Theaters December 13, All Theaters December 20
Don't be fooled by the Disney name, Saving Mr. Banks is a dramatic story about P.L. Travers and her stubbornness in the writing process of the film Mary Poppins is surprisingly deep. This movie also reflects on P.L. Travers' life as a child of an alcoholic and how that influenced fun-loving Mary Poppins. Bring your parents to this one.
Buy Saving Mr. Banks tickets now!
4. American Hustle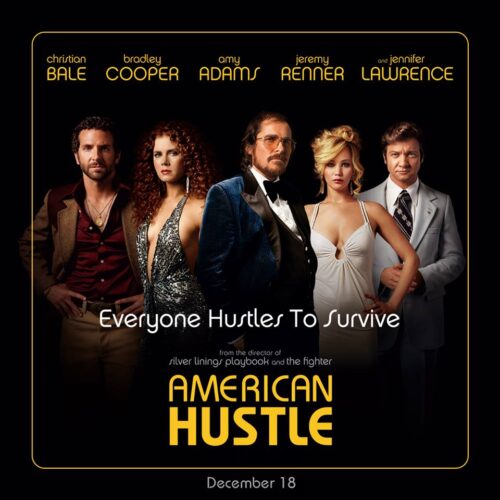 In Theaters December 18
Con man Irving Rosenfeld (Christian Bale) and his British lover, Sydney Prosser (Amy Adams), are forced to work for screwy FBI agent Richie DiMaso (Bradley Cooper). This film is based on the ABSCAM FBI public corruption investigation of the late 1970s and early 1980s.
Buy American Hustle tickets now!
5. Inside Llewyn Davis
In Theaters December 20
Folk musician Llewyn Davis (Oscar Isaac) navigates his way broke with his cat through the cold of 1961 in New York as written and directed by the Coen brothers. Joel Coen described the film with, "The film doesn't really have a plot. That concerned us at one point. That's why we threw the cat in."
Buy Inside Llewyn Davis tickets now!
It's always better to give and receive … and with Fandango, the more you give, the more you receive!
Give a Gift, Get a Gift on Fandango.com (November 25 – December 25, 2013) - Spend $50 and get a free movie ticket! Get started here.
Everybody loves the movies, so give the gift of movies this holiday season with Fandango Gift Cards! Available in amounts from $15 – $100 and redeemable for any movie tickets available on Fandango.com. That's over 21,000 screens nationwide including AMC, Regal, Cinemark and Carmike.
Like Fandango on Facebook and follow on Twitter
#TheGiftofFandango
The Giveaway
One lucky winner will win a $30 Gift Certificate to Fandango.
How to Enter to Win
Step#1: Answer this question in the blog comments below: Which of our 5 movie picks above is your favorite?
Step #2: Use this easy giveaway form below to record your entries – good luck!! The comment entry is the only mandatory one you must complete to enter. All others are purely optional for those that really want to win!