Valentine's Day is next week, is anyone feeling crafty? I found some great craft ideas from Family Fun and wanted to share them with you.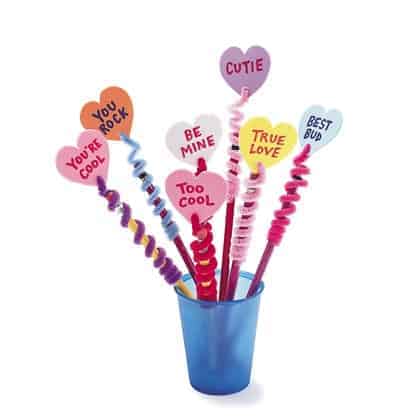 Valentine's Pencil Toppers– Fun to make with the kids so they can take to school and share with friends. You'll need: scissors, craft foam, Permanent markers, pipe cleaner and a pencil. Follow the step-by-step instructions here.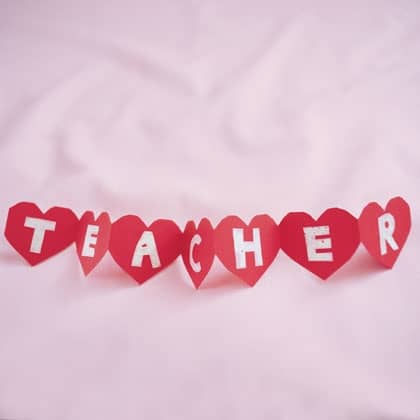 String of Hearts– Make a string of hearts and customize it with your child's name/teacher's name or a Valentine message. You'll need: paper (red/pink/purple construction), scissors, markers, cookie cutter and glue. Follow the step-by-step instructions.
Clap Happy– Give your teacher a round of applause with this craft. You can be creative and put a small gift inside like lotion, hand sanitizer, a baked treat, etc. You'll need:Card stock, marker, tube of lotion/hand sanitizer/candy and double sided tape. Follow the step-by-step instructions.
Sticky Hands, Warm Heart– You've heard the expression "cold hands, warm heart", how about sticky hands, warm heart? Make a heart ornament with yarn and cornstarch that you can hang in the house for decorations! You'll need:Yarn, cornstarch glue, water, heart-shaped cookie cutter and parchment paper. One of the great things about this craft is making the cornstarch glue which is non-toxic! Follow the step-by-step instructions.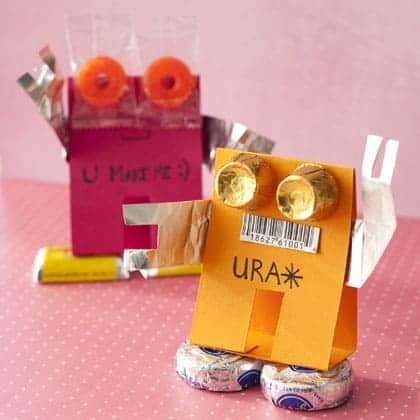 Treat Transmitters– This one is my favorite, be the hit of the party with something fun to make and different! You'll need: robot template, card sock, aluminum foil, candy and double sided tape. Follow the step-by-step instructions.
Heart Art– How about a craft for a bigger kid? Maybe a fun craft that Dad might be interested in helping with that involves using a hammer and nails! You'll need: small piece of wood, acrylic paint and brushes, sandpaper, eight cut nails, hammer, flexible wire (like lead free solder wire), ball chain, pencil,
old magazines or newspaper and glue. Follow step-by-step instructions.
Lollipop Flowers– Cute, fun, easy and something little girls will love to make! You'll need: Red and green construction paper or card stock, scissors, lollipops (for the craft and some to enjoy while crafting) and a glue stick. Follow step-by-step instructions.
On-a-Roll Scroll– Wrap up a sweet treat in a sweet message, "Let's roll baby!" "Save the last bite for me" "You're a lifesaver" This is a fun craft that can be used with breath mints, lifesavers, sweet tarts, etc. and a great way to use left over gift wrap or recycle wrapping paper. You'll need:colorful wrapping paper, roll of candy, stickers and tape. Follow the step-by-step instructions.
Heartstring– Do any of you save your cardboard tubes from wrapping paper, paper towels and toilet paper? We recycle ours but the heartstring is a great way to re-purpose them! You'll need: cardboard tube, paintbrush and red paint, pushpin, needle, embroidery thread and beads (with holes large enough for the needle to pass through). Follow the Step-by-step instructions. While they recommend you make love tokens and then string them, you could also make the heart tokens and attach small candy to them without stringing them!
Napkin Rose-Real roses have thorns, must be kept in water and will eventually die, so why not make a paper rose from a napkin? All you need is a square paper napkin and step-by-step instructions.
Animal Attraction– Another cute and fashionable craft for the tween in your house, animal wrist bands, make a fashion statement and tell your BFF how wild you are about them. You'll need:Cardboard tubes,stapler,black elastic,tacky glue, animal-print felt, ribbon and card stock. I think this would be a super fun craft to do this weekend at a slumber party with the girls to wear to school next week. Follow step-by-step instructions.
Lovely Details– These are "lovely" accessories you can make to perk up your daughter's outfit or give as gifts! You'll need:Pinking shears, scissors,felt, ribbon, hair tie, shoelaces, belt, or button. Follow the step-by-step instructions.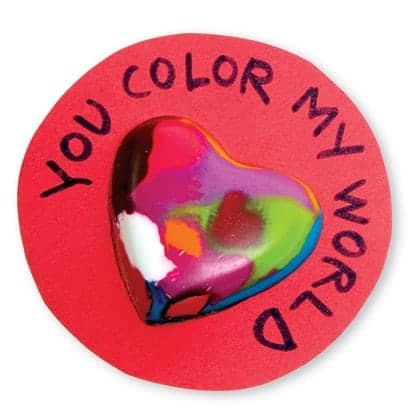 Crayon Hearts– What a creative way to use broken crayons! I always throw away our crayons when they break but now I'm going to start saving them in a box and use them for crafts. You'll need:Crayon pieces, heart-shaped metal cookie or muffin tin (our hearts are about 1 1/2 inches across), scrap paper, double-sided foam mounting tape, Scissors, colored card stock and a marker. Follow step-by-step instructions.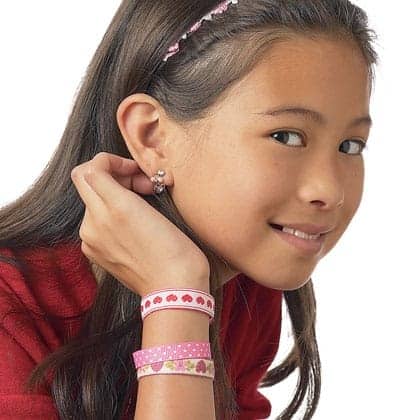 Lovely Ribbon Bracelets– What girl doesn't love to get and wear jewelry? Make these bracelets and customize with a message. You'll need: Ribbon, Scissors, Self-adhesive Velcro (buy precut circles or squares or long strips to cut yourself),Tacky glue (optional), White office label and a pen or marker. Follow step by step instructions.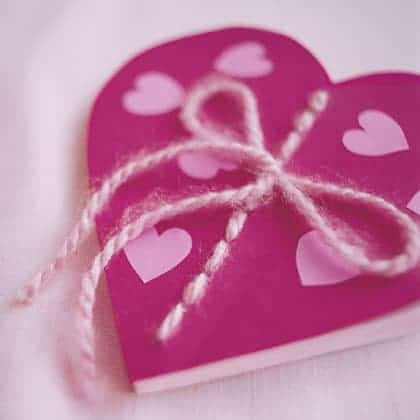 Book of Love– This cute notepad would make a fun place for your child to doodle, practice writing their name or I think it would be fun to write down the one thing they "loved" most about their day. You'll need: Red paper, white paper, scissors, tapestry needle and yarn. Follow step-by-step instructions.
If you make one of these, let me know which one of if you have suggestions to improve or make them easier. My favorite is the treat transmitter. Which one is your favorite?