With each new release, Disney's Descendants just keeps getting better and no kid seems to be immune. Even mine! I won't be surprised at all if our neighborhood is filled with little Carlos, Mals, Evies and Umas this Halloween, especially with the release of Disney's Descendants 2 on DVD Aug 15th. Here are a few Disney Descendants costume ideas to help you get a jumpstart on your costume this year.
Disney's Descendants Halloween Costume Ideas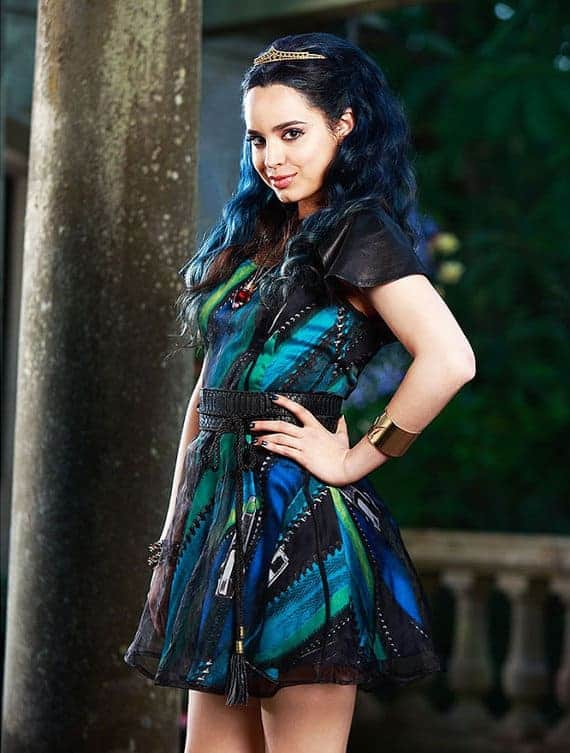 Custom Made Disney Descendants Evie Dress Costume
How awesome would it be for your little to wear a replica of the dress worn by the character Evie from Disney's Descendants. The dress is custom made of a similar black, blue and green fabric with a black sheer overlay. The small attached cape and belt will be made of black faux leather.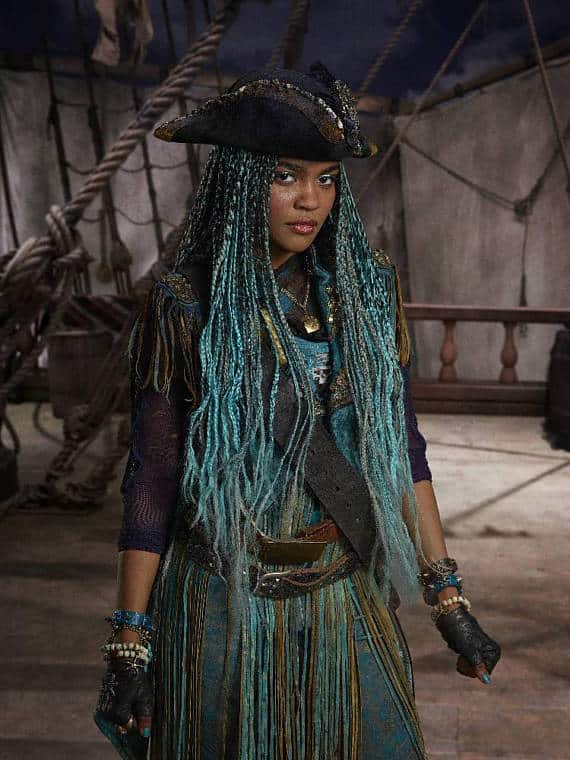 Disney Descendants 2 Uma Costume
Get this cosplay worthy Uma dress and jacket custom made just for you!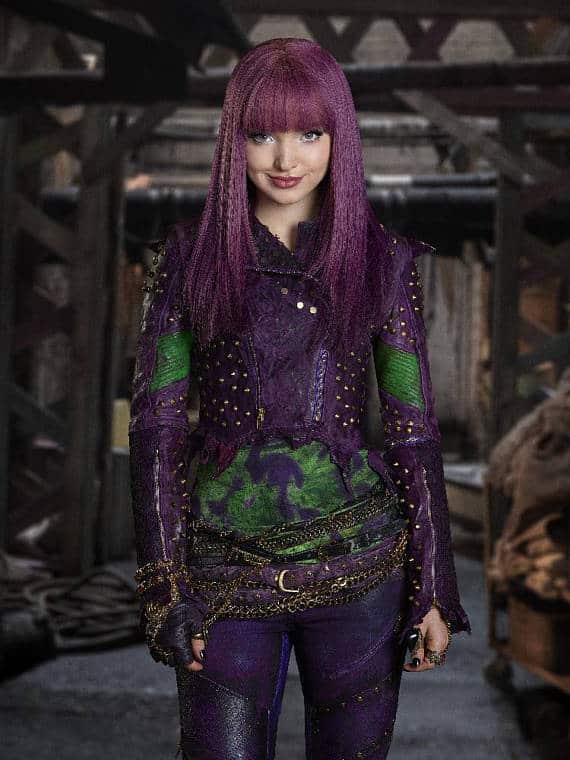 Disney Descendants Mal costume Custom
This one of a kind cosplay Mal costume is amazing. It includes custom jacket and pants.
Disney Descendants 2 Uma Necklace
Get Uma's replica necklace to add to your costume.
Disney Descendants Uma Hat for Girls
This Disney Store original is a formed felt-like Uma pirate hat to finish off your Uma costume.
Disney Descendants Disguise Mal Child Gloves
These Disguise Mal Child Gloves are the perfect size for young hands.
Disney's Descendants 2 Mal Wig
Mal isn't Mal without her signature pink hair. This Mal wig comes in child size!
Disney's Descendants 2 Evie Wig
Get Evie's rockin' blue look with this Disney's Descendants 2 wig.
Disguise Carlos Deluxe Descendants Disney Costume
This Deluxe Carlso Descendants costume comes with a velcro jacket. Just pair with black jeans and high tops to complete the outfit. Maybe even spray their hair white!
Disney Mal Deluxe Descendants 2 Costume
This Mal Deluxe Descendants costume comes with jacket, tunic, leggings and one right-hand glove.

Disney Evie Costume Descendants 2
This Evie Descendants costume from the comes with a faux leather grain trench coat, leggings and a glove.
Disney Mal Classic Descendants 2 Costume
Looking for an easy, no brainer costume? This one piece Mal Classic Costume is a single tunic with attached vest and leggings.
Disney Uma Classic Descendants 2 Costume
This Disney Uma Classic Descendants costume is easy peasy. It includes a dress with attached vest, detachable belt and pirate hat.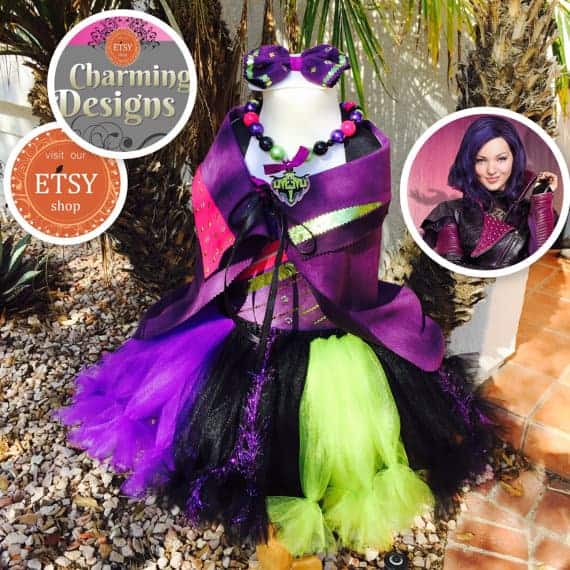 Mal Inspired Dress
This Mal inspired dress comes with a dress, cape, necklace and petticoat. It's SUPER cute for Halloween or dress up.
In Descendants 2 the villain kids are back and the stakes are even higher in the highly anticipated sequel to the Disney Channel Original Movie "Descendants"! The story deepens in the music-driven sequel to the global smash hit "Descendants," as the teenage sons and daughters of Disney's most infamous villains try to find their place in idyllic Auradon. When the pressure to be royally perfect becomes too much for Mal, she returns to her rotten roots on the Isle of the Lost where her archenemy Uma, the daughter of Ursula, has taken her spot as self-proclaimed queen of the run-down town. Uma, still resentful over not being selected by Ben to go to Auradon Prep with the other Villain Kids, stirs her pirate gang including Captain Hook's son Harry and Gaston's son Gil, to break the barrier between the Isle of the Lost and Auradon, and unleash all the villains imprisoned on the Isle, once and for all. Bring home all the mischief on DVD August 15th!
Also, you can visit DisneyMovieRewards.com and enter to win a Disney Channel 5-movie collection including "Descendants" and "Descendants 2"!