Whether it's 1/20 scale cities or life size Lions you can put your head in, a visit to
Legoland
is full of cool new things to see. So many people that visit discover that they never want the day to end, and now we don't have to. The ultimate LEGO experience culminates with the new
LEGOLAND Hotel
that just opened on April 5th. (
My family and I were invited to stay and experience the LEGOLAND Hotel at no charge as a preview to it's grand opening. All opinions remain my own.)
We were invited to check out all the fun and
adventure
as a preview on April 3rd and it was so much more than I expected.
I'll be honest, when I saw it from the outside a few weeks earlier, I was very underwhelmed. It just didn't look like much to me and I was prepared to be disappointed. I was SOOOO wrong and I realized this IMMEDIATELY upon walking into the lobby and being greeted by this dragon.
There was a long line of media and press guests checking in when we arrived, but the large jump-in LEGO pit in the middle of the room kept the kids occupied while the adults waited.
And I have to admit – even I was visually entertained by the lobby. I LOVED the wall of figures behind the front desk and was mesmerized by the bicycle and surfboard moving back and forth. The beach theme reminded me where I was and I kept finding myself saying, "Oooo….look at that!"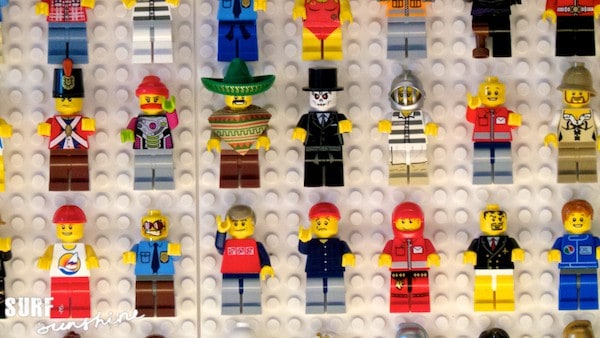 The themes takes up every square inch of the hotel. There is so much more for the kids to do and fun surprises along the way. From the ever-hilarious secret whoopee cushions,
disco themed elevators, complete with mirror ball and flashing lights (which we may have pushed every floor button and went up and down at least 3 times the first time we got in!)
to tight-rope walking marching guards and even exploding toy boxes!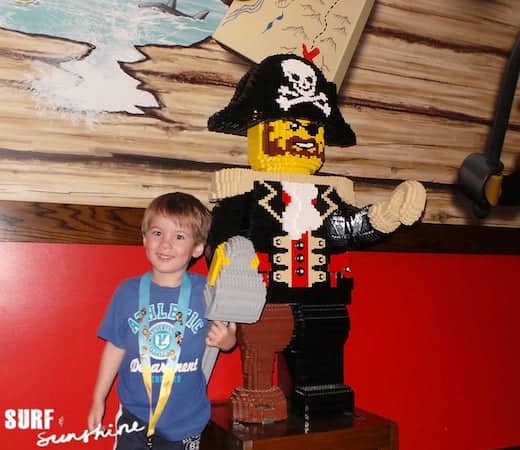 I think it took us almost an hour to actually get to our room – not at the fault of the LEGOLAND Hotel staff…but definitely at the fault of the hotel itself! All 250 guest rooms are themed with one of three LEGO lines – Pirate, Kingdom or Adventure. We were able to stay in the Pirate room – ahoy matey! The rooms were ah-mazing.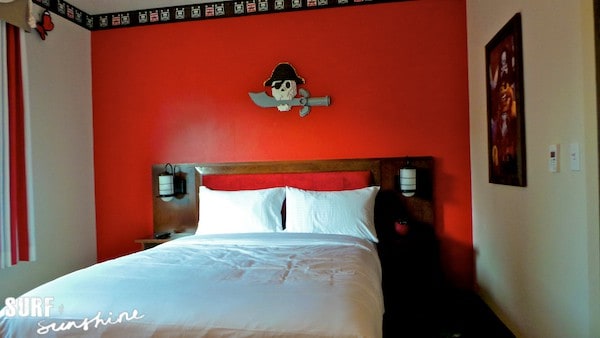 The whole ship, I mean room, is decked out with pirate bedding, curtains and wallpaper. It even completes complete with fun LEGO accents!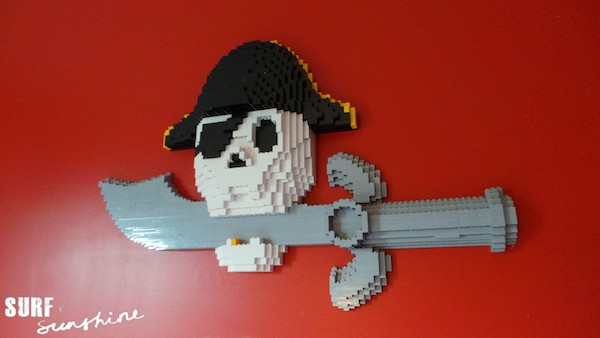 In addition to all the swashbuckling Pirate decor, the rooms come with an HD Flat screen TV, air conditioning, mini fridge, coffee maker, hair dryer and yes – even FREE Wi-Fi!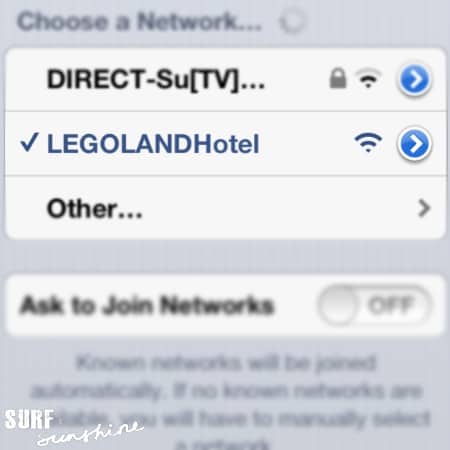 For the grown-ups there is a queen sized bed, but what it has in store for the kids is even more special. The kids get their own semi-private sleeping area complete with a bunk bed, pull-out trundle bed and even a TV.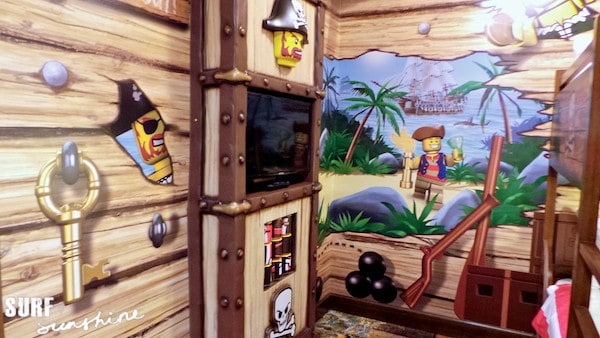 Even more exciting are the LEGO bricks for kids to build with during their stay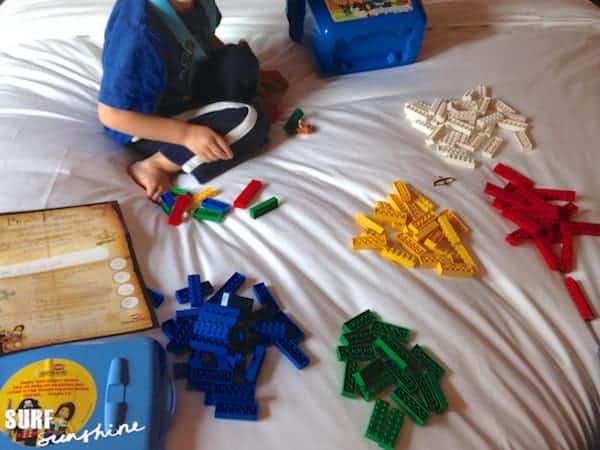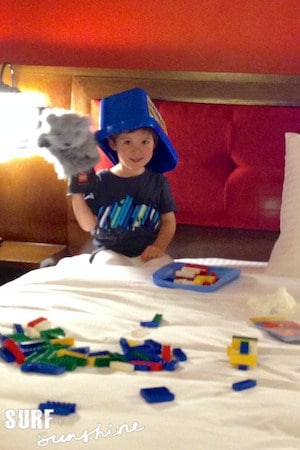 and even their own in-room treasure hunt with LEGO prize!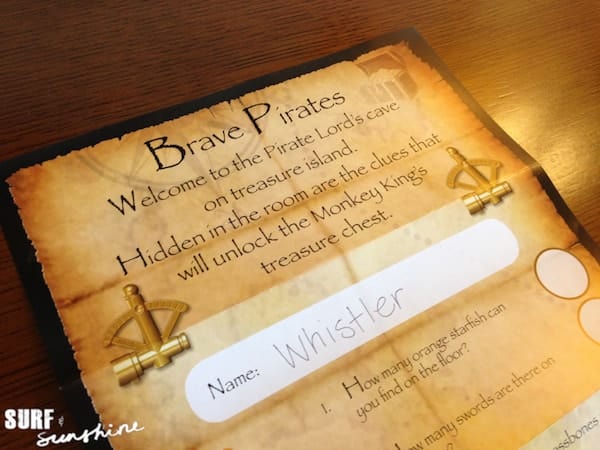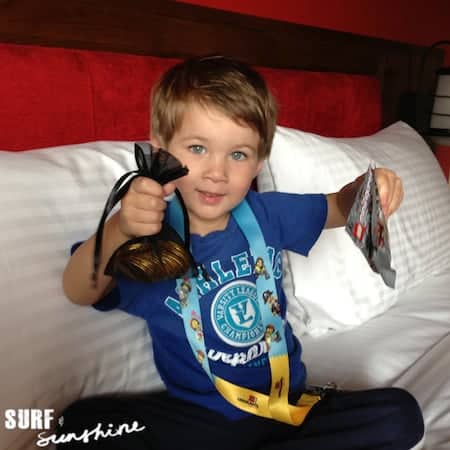 If you upgrade to a Premium Themed room, the theming and LEGO features are even more elaborate. Plus there is an extra LEGO gift for each kid in the treasure chest.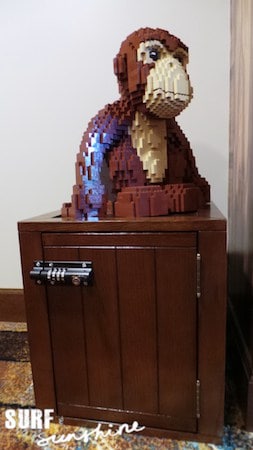 I was actually thoroughly impressed by the bathroom.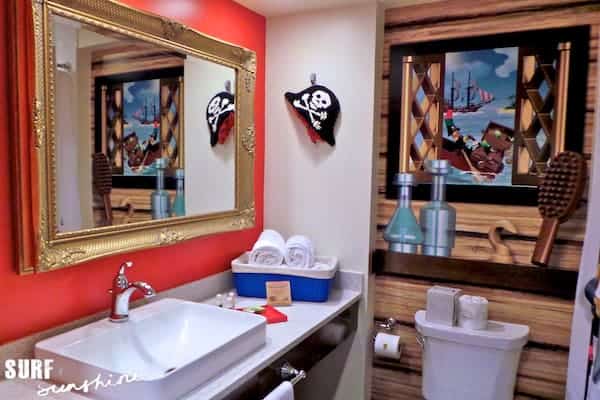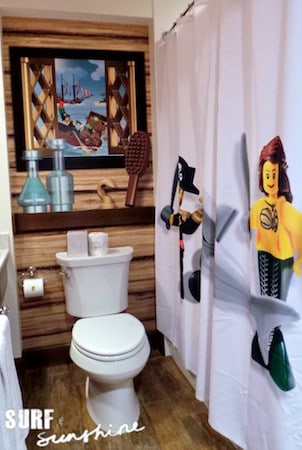 Specifically that the toilet seat was one of these ultra cool NextStep Built-in Potty Seat. LOVED this so much that I actually immediately ordered one for our home and my parents home on Amazon!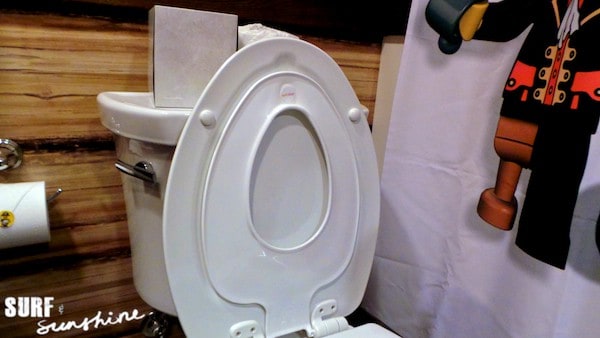 I also appreciated the free water and juice and totally laughed at the cute LEGO head ice bucket (where can I get one of those?!?!)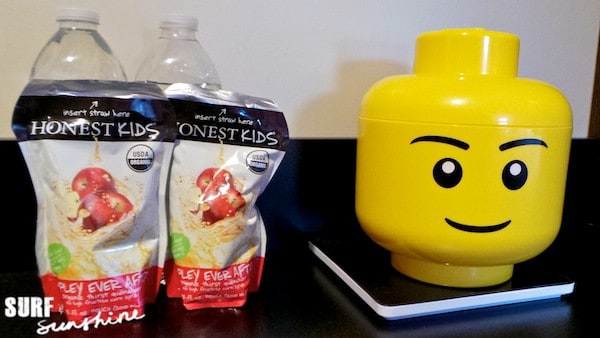 Can you believe this was all before we even got to the play area?! Located just off the lobby, and protected by giant burping ogres, the towers of a knight's castle castle stand tall.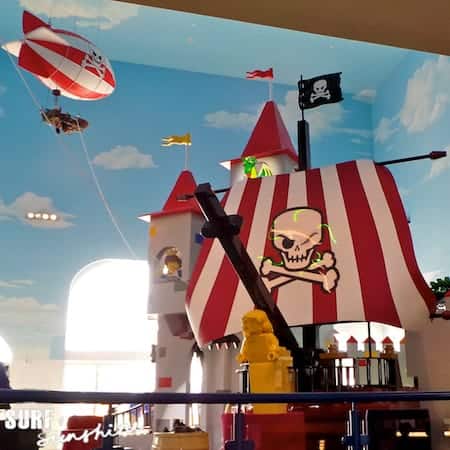 Bursting through the castle walls is a 32foot high pirate shipwreck, complete with the sound of Canon blast, where kids can play. There are, of course LEGOs everywhere, but there are also building stations, benches, things to climb on and a large chalkboard.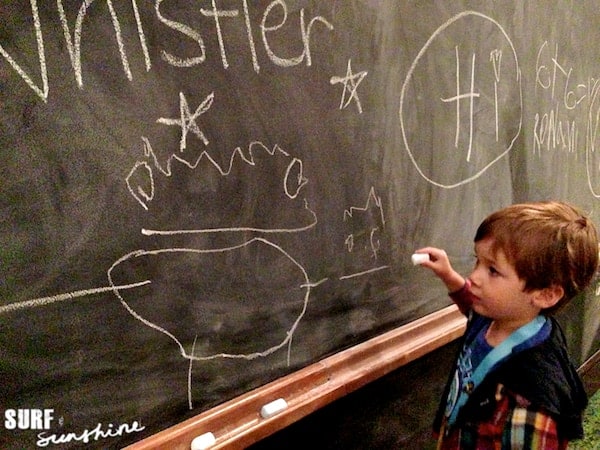 They also hosted a live kids interactive show for about a hour in the evening where they were asked to get up and dance and sing and play with everyone there. It was REALLY cute and everyone had a blast.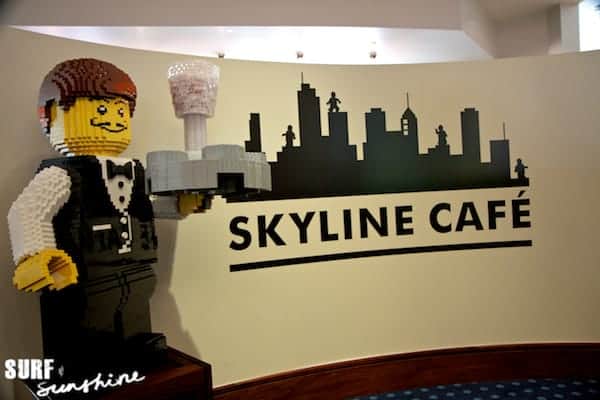 There are two restaurants located on site, The Skyline Cafe (a loungey atmosphere for adults to have a drink or two) and the Bricks Family Restaurant (buffet). There is also a pool and plenty of outdoor seating.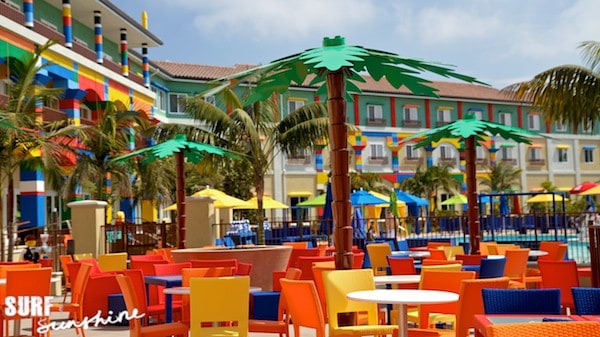 To top it all off LEGOLAND Hotel guests get entry to select LEGOLAND rides and attractions before the Park officially opens. I was super impressed by how much FUN this hotel was and I can definitely recommend it to anyone who comes to visit LEGOLAND. Go ahead and make it extra special and stay at least one night in the hotel – you'll be glad you did!