Sometimes life gets so busy that we have to learn to slow down, spend time with family, and really enjoy nature. On a recent visit to the San Antonio Zoo, Whistler and I spent the day bonding and exploring, while learning more about the animals. (Thank you to The San Antonio Convention & Visitor's Bureau along with the San Antonio Zoo for providing me and my son with complimentary entry. ) When you're three years old and short, sometimes its the smaller, more interactive experiences that really capture your attention. Little did I know, that spending a $1.50, and a couple of hours in a natural butterfly habitat, would be the highlight of our day.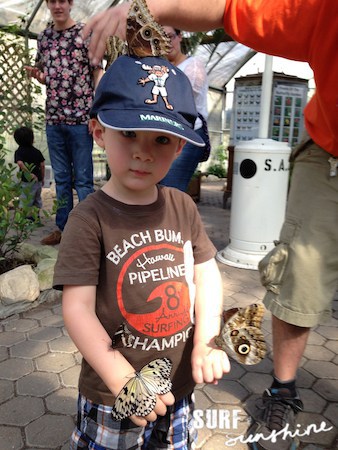 Whistler could have spent the entire day playing with butterflies at the Butterflies! Caterpillar Flight School. This exhibit, open from March-November, gave us time to interact with 15-20 different species of butterflies for just a $1.50 fee. As the fragile creatures fluttered about, landing on our hands, heads and arms, we learned some fun facts about the beautiful insects.
Did you know butterflies have an average lifespan of 2-3 weeks, but monarch butterflies average 6 months or longer? Were you aware that butterflies are most active on warm and sunny days? Whistler laughed as the butterflies landed on his hands, arms and head, and I smiled as I captured his delight with my camera.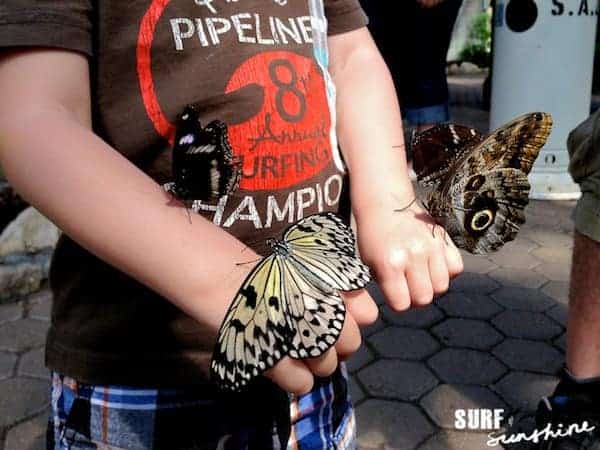 All of the butterflies at the Caterpillar Flight School are purchased from local butterfly breeders in their countries of origin.The San Antonio Zoo spends over $25,000 on butterflies each year, and uses the $1.50 fee to re-stock the butterflies. The financial support from the SA Zoo has provided the breeders with an improved standard of living.
Whistler loved this experience so much that I was beyond thrilled when I was asked by Disney to share the release of their newest Disneynature film, "Wings of Life". Starting today, it is available for purchase on Blu-ray combo pack and presents a close up look at butterflies, bees and birds. It's the perfect way to continue enjoying the butterflies and memories of our day at the Zoo at home.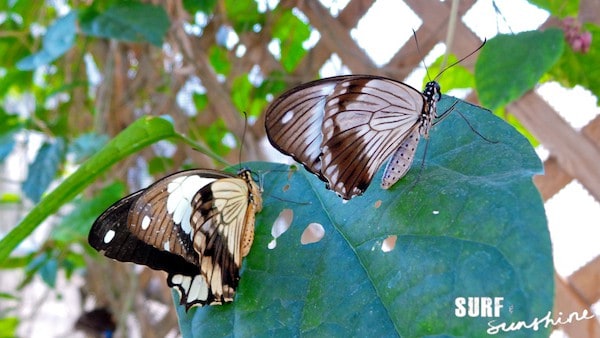 Narrated by actress Meryl Streep, the film takes an intimate look at the "most important relationship on Earth" in stunning detail. Learn more about the fragile balance between pollination and human existence, in this high definition documentary. "Wings of Life" was filmed in multiple locations including, the El Rosario Preserve in Michoacán, Mexico, and Organ Pipe Cactus National Monument Park in Arizona.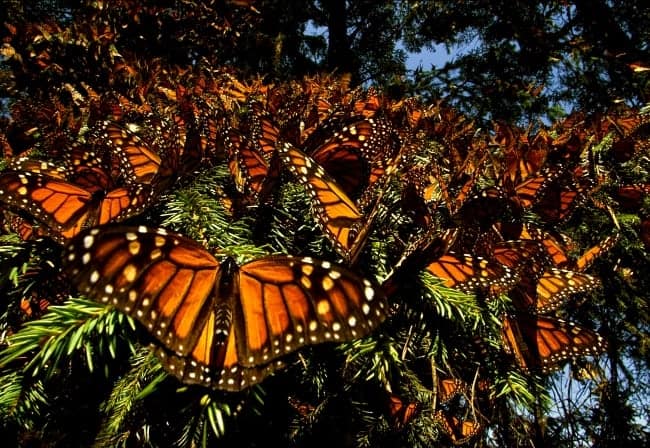 In celebration of the release of the film, Disneynature made a contribution to the Disney Worldwide Conservation Fund (DWCF) to protect pollinators worldwide. To date, the DWCF has supported over 20 projects across North America designed to protect pollinators and their habitats. You can pre-order "Wings of Life" now on Amazon, or purchase it at local retailers on April 16.