I think we can all agree that life is full of, well, life. You never know what tomorrow, or even today, will bring. Whether it be hectic, joyous, disappointing, exciting, stressful or satisfying – I'm always looking for more.
More what? More experiences. More food. More laughter. More discoveries. More life.
Hence, my never-ending wanderlust.
Thing is, since I've lived in pretty much the same area my entire life, I tend to seek adventures as far from home as possible. I've been known to say that if I don't have to get on a plane, I'm not interested in going.
Knowing how much I love where I live and have no desire to ever live anywhere else, this statement is a bit ludicrous. I mean, these are words spoken by a So Cal Spoiled Brat, accustomed to perfect weather and beautiful scenery year-round.
So, realizing that I live where others dream of vacationing, I've decided to take some time to explore more of my own "back yard".
A few weeks ago we spent the weekend in the most awesome little town you've been never heard of, just a short 2.5 hour drive south east of home. This time, with some enticement from Kia Motors America, I headed the opposite direction, about 2.5 hours north to the lovely beach city of Santa Barbara, California, for some luxury, wine and adventure.
Let's be honest though, I'd follow you anywhere with the promise of wine.
Known to most as a "college town", Santa Barbara is a place I've always wanted to visit but somehow just never really ended up in. The city itself has a population of only about 90,000, but it hosts millions of visitors each year. Why? Well there is literally something for everyone in or near Santa Barbara. You ready? You could…
With so much to do, see and eat – here is my recommended recipe for the perfect weekend getaway in Santa Barbara.
Where to Stay
Nestled quietly away in the hills of the Lower Riviera, right smack on a butterfly migration route for Pete's sake, you'll find Santa Barbara's only Forbes Five-Star resort.
The iconic Belmond El Encanto is a sprawling 7 acre ranch-like property with a certain charm that comes with it's unique and some would say, legendary history.
I love that each of it's 92 suites and bungalows offer slightly different layouts (many with balconies or patios!), offering posh amenities and touches for even the most discerning guest.
While I could spend all day splashing around the salt water infinity edge pool, there is also a beautiful spa, to be sure to save some time for. Drawing from the surrounding landscape to create their soothing, signature treatments, my favorite are the ocean-inspired therapies infused with calming sea elements.
If your back and shoulders are riddled with knots from all that relaxing, go for the deep tissue massage – the therapists really know their craft and will have you back to lounging in no time.
TIP: Hop on one of the resort's complimentary electric bikes to explore the town!
800 Alvarado Pl.
Santa Barbara, CA 93103
Phone: (805) 845-5800
Where to Eat
Loquita Santa Barbara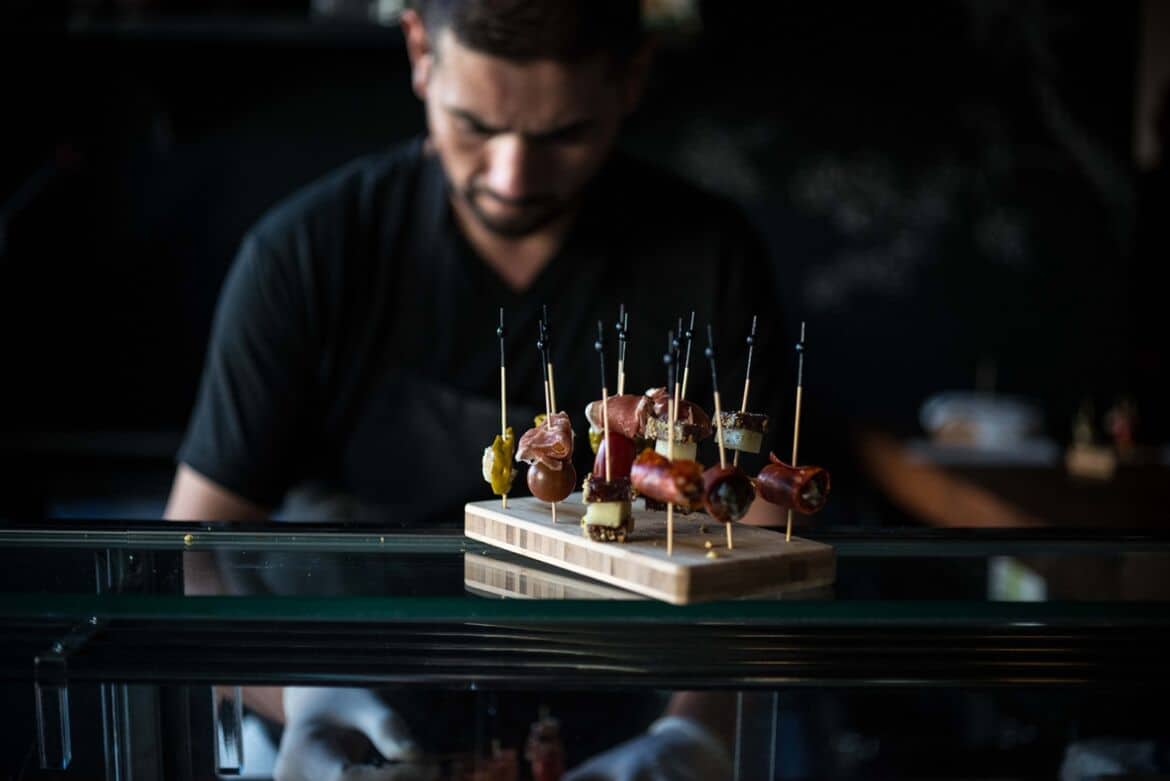 If you're craving Spanish tapas or love charcuterie and cheeses, then you have to try Loquita Santa Barbara.
Showcasing the flavors and traditional cooking methods of Spain with hot and cold tapas, wood-fired seafood, grilled meats and three types of paella, you can choose to enjoy your meal al-fresco on the large patio or inside where the vibe is a bit more funky.
Open nightly 5pm to 10pm and Sunday Brunch 11am to 2pm.
MUST TRY MENU ITEMS: Charcuteria, Gambas al Ajillo, Mariscos Paella and the Ibiza Handcrafted Cocktail (Cirtus Infused Vokda | Spiced Honey | Mezcal Mist | Firewater Bitters)
202 State Street
Santa Barbara, CA 93101
Phone: (805) 880-3380
Channel Cat Dinner Cruise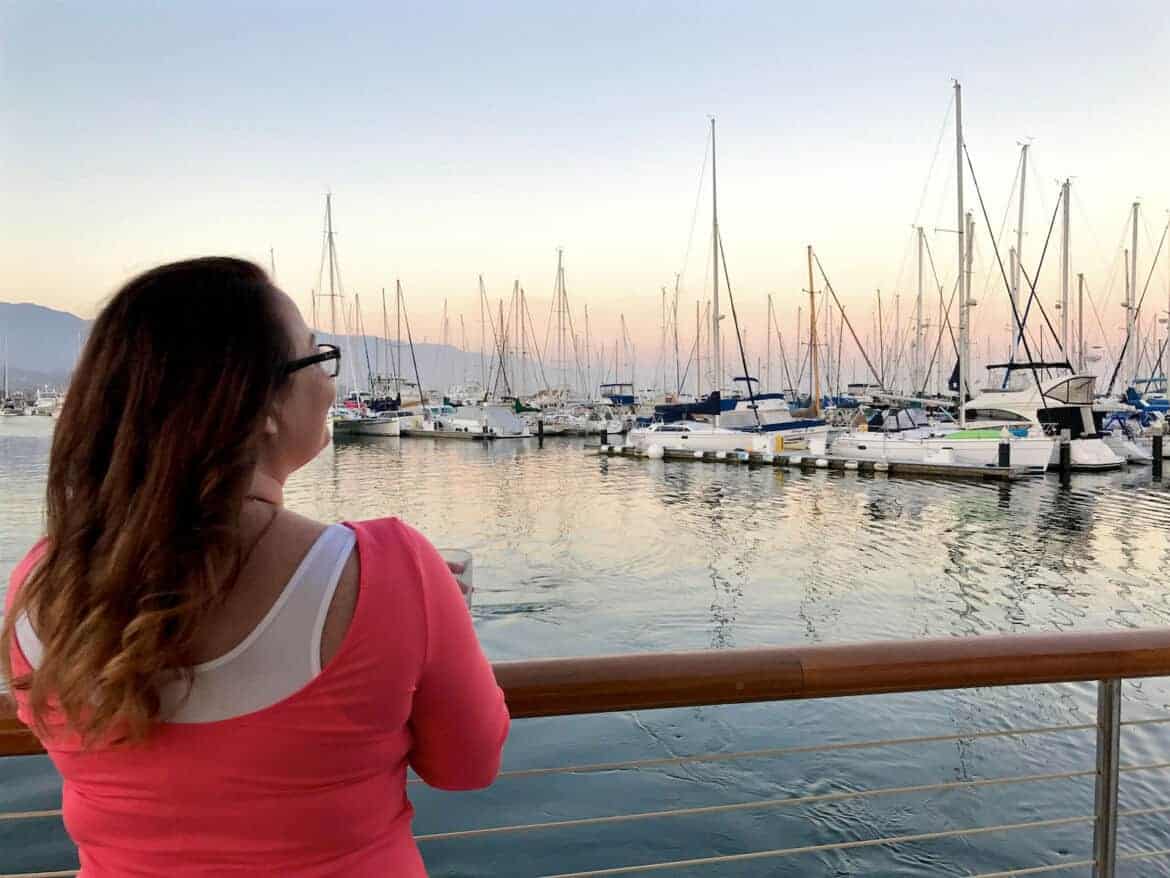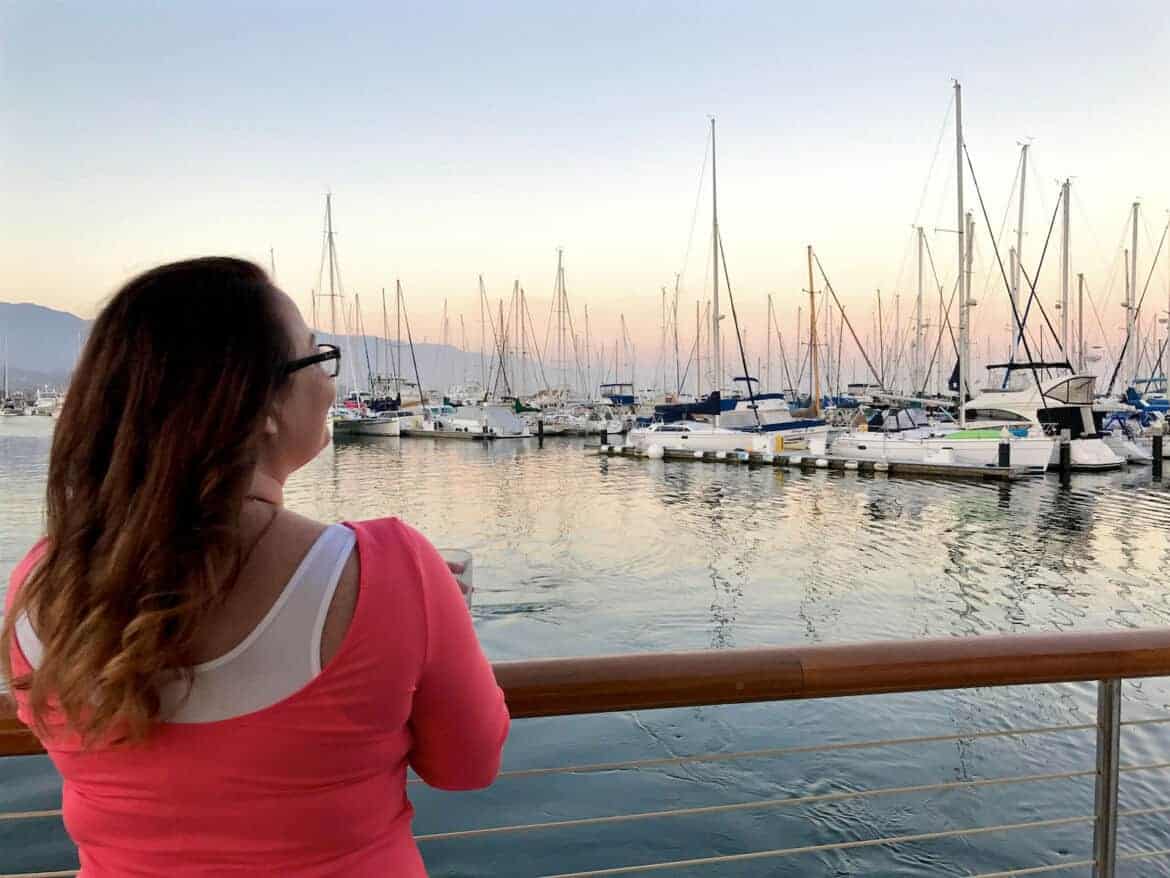 One of the best views for a sunset in California is undeniably while on the ocean. If you're looking for something extra special (and are hosting a group or special event) you may want to look into chartering the largest luxury sailing catamaran ship in Santa Barbara Harbor, the Channel Cat, for a stunning sunset dinner cruise.
Available for special occasions or corporate events, you'll be impressed by the food as well as the views.
TIP: It's your dinner, order what you want, but I'd say if you don't include the Rincon Potatoes Au Gratin (with caramelized red onions and three cheeses), you'd be missing out on one of the best dishes I've ever had. Ever.
Santa Barbara Sailing Center
Santa Barbara, CA 93109
Phone: (805) 898-1015
What to do
More Vino, Please
If you're a wine aficionado (yes, 2 Buck Chuck counts), then definitely plan on indulging in some wine tasting seminars or walking vineyard tours offered by one (or nine) of the amazing family owned wineries in Santa Barbara.
It's a no-brainer that drinking and driving is not a good idea, so they've come up with a bunch of creative ways that you can tour a few of the over 100 wineries in the area, aside from the usual limo or bus – like by jeep, bike, train and for the adventurous, by hot air balloon.
Grassini Family Vineyards
Passed down through generations, the Grassini Family Vineyards pairs its crisp wines with beautiful scenery so amazing that the private estate winery in Santa Ynez has been featured in such publications as Martha Stewart Weddings.
In this Valley's eastern edge is the area known as Happy Canyon – where the days are warm and there are cool marine influences that don't have many variations.
About 45 minutes from downtown Santa Barbara, this Happy Canyon where the Grassini Family Vineyards Private Estate resides, creates rare, tranquil conditions to make their rich, flavorful wines.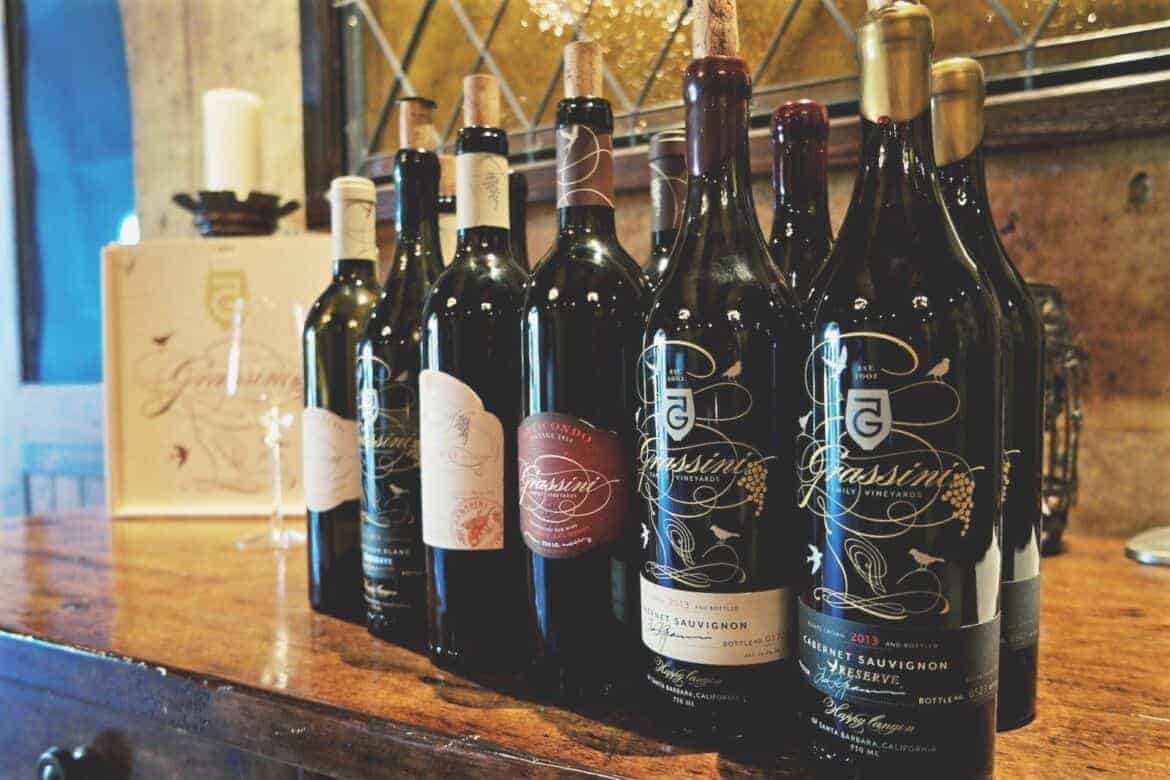 If you want to experience this winery without leaving downtown Santa Barbara, take a trip to their tasting room in the historic El Paseo shopping center. While you sip on those amazing wines you can also enjoy homemade truffles.
Then, take a trip to the Presidio Neighborhood where you can have your pick of dining selections and enjoy the sights of downtown.
My favorite wine from our tasting was the 2013 Reserve Cabernet Sauvignon, bottled from the best nine barrels in the Grassini cellar. This wine embodies aromas of tobacco, leather, figs and ripe cherries in its rich bouquet.
813 Anacapa Street #6,
Santa Barbara, CA 93101
Phone: (805) 897-3366
Sunstone Vineyards & Winery
In the sun-filled Santa Ynez Valley, Sunstone Vineyards & Winery is a retreat built from stone and shale that is like a summer oasis. Visitors can take a walk in the courtyard filled with lavender and rosemary while they sip on wine or explore the stone barrel aging caves then have lunch in the shade of the giant oak and olive trees.
Sunstone is also available for private events like a culinary retreat where a guest chef teaches your group how to create a delicious meal while everyone gets to enjoy wines created from the highest standards in organic viticulture.
They offer hosted events as well with a Grape Stomp in October and Eros Weekend in February.
When you join their membership club, you can have their elegantly created wines delivered to your home and enjoy discounts on wine, olive oil and merchandise. You will also have exclusive access to the members only lounge known as "La-Cav". The wines of Sunstone have an even tone and soft mouth feel that appeals to everyone from novice to connoisseur.
If you like big red cabs definitely give the "Mason" Cuvee a go. Named after the founder's 11 year old grandson who is said to have created the recipe, this wine is a blend of 50% Cabernet Franc, 40% Merlot and 10% Syrah.
125 Refugio Road
Santa Ynez, CA 93460
Phone: (805) 688-9463
Brave the Shark Infested Waters
About a 45 minute drive south of Santa Barbara, you can catch a ferry to the Channel Islands National Park. Made up of five incredibly beautiful islands, their unique location has isolated them from modern development while creating a variety of wildlife that is only found within the islands.
The islands are only accessible by air and boat. Island Packers Cruises offers several ferries daily to the islands, as well as numerous day cruises for whale watching.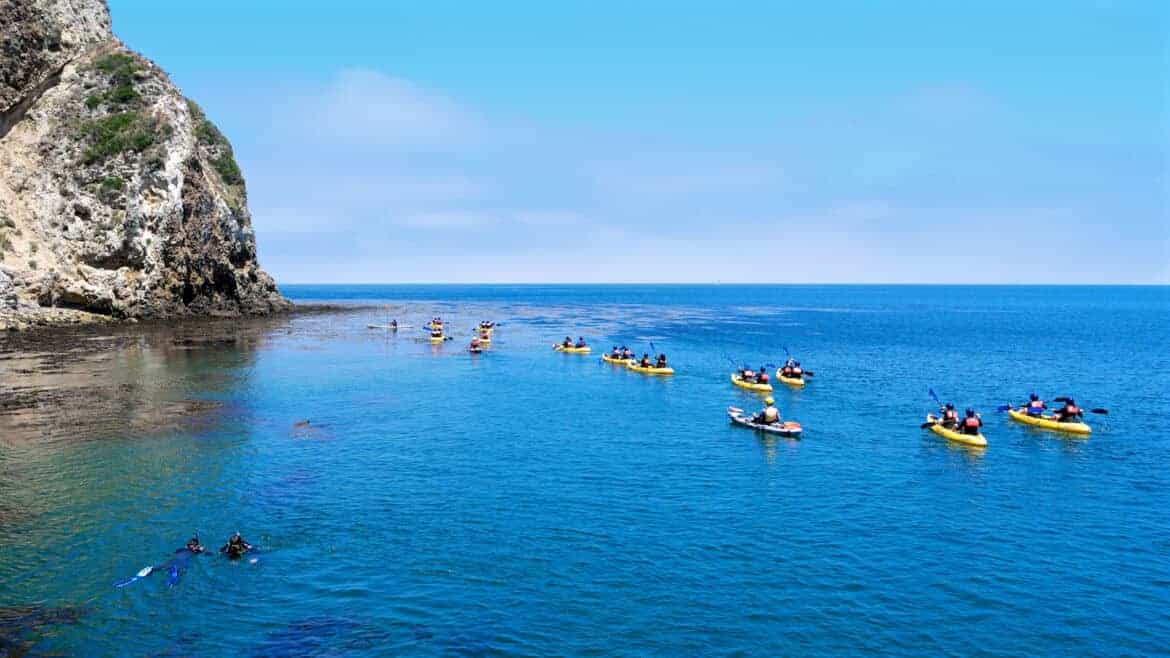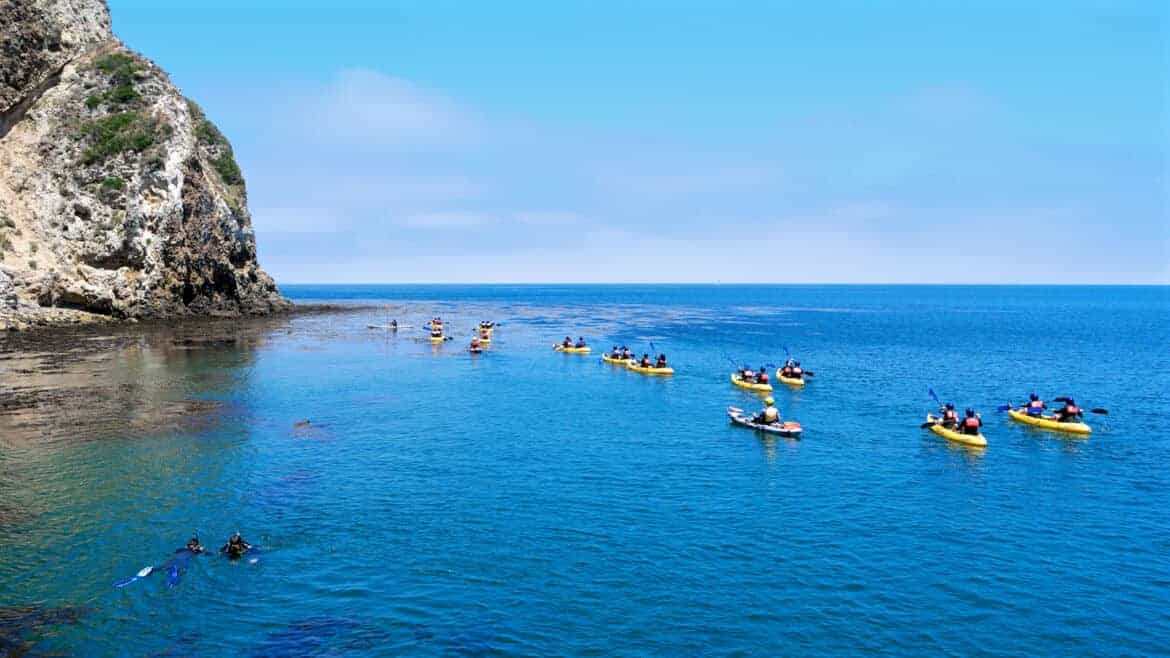 The Channel Islands offer more sea cave kayaking than any other park, and Santa Barbara Adventure Co. has an Discovery Sea Cave Kayaking Tour that is a perfect trip for first timers and allows for the chance to do multiple activities on the island. This shortened tour only has about 1.5 hours of paddling, leaving some time to go snorkeling, hiking or simply exploring on the islands.
The tour meets on Santa Cruz Island daily at 10:30am AND 1:30pm. The earlier tour requires a ferry departure of 9 am or earlier from Ventura Harbor. However, if you want to go later in the day, you'll need to be on the ferry by noon or earlier from Ventura Harbor with a return time from the island at 4:30 or later.
NOTE: While it is possible to tour the caves on your own, the conditions can make it difficult and even dangerous. A guided tour is highly recommended, and Santa Barbara Adventure Co. has multiple sea cave kayak tours to accommodate your skill level.
Phone: (805) 884-WAVE
Checklist of what to bring and wear on the ferry with you for an ocean kayak trip. *If you take a tour with SB Adventure Co, you will be required to wear a helmet and life preserver, and if desired, they will loan you a wetsuit, dry jacket or water shoes. You will be able to store your bag in lockers at their campsite.
Swimsuit – wear it under your clothes to save time
Water shoes
Waterproof Sunblock
Brimmed Hat (You can wear a baseball cap under your helmet!)
Sunglasses with a floating retainer
Refillable water bottle
Backpack
Change of Clothes
Towel
Watch
Camera (preferable waterproof and with a wrist leash)
Hiking Shoes (there are amazing views from the islands and quite a few hiking trails from easy to difficult to choose from)
Cash (to tip your tour guide)
Food – There are no food vendors on the islands so you should pack your own lunch, drink and snacks. There is one other option to order a gourmet sandwich/salad which I HIGHLY recommend. It's lovingly hand made, a large portion and quite delicious!
How to Get There
Seeing as we're talking about a weekend getaway from Los Angeles, the answer here is to drive, of course! But, remember how I said I don't like going anywhere I don't have to fly to? Well I take that back in this instance.
Getting the chance to enjoy the entire getaway driving a plush 2017 Kia Cadenza was just icing on the cake. No one likes to drive in Los Angeles traffic, and as cheesy as this sounds – the Cadenza honestly makes the drive actually enjoyable (well, as enjoyable as it can be, anyway).
I've had the opportunity to drive this beauty on many occasions, and each time I find new reasons to fall madly in love with it.
I mean, don't even get me started on how flat out SEXY she is with that tiger nose grill or the sweet "z" shaped lines that accent the headlights AND taillights. While you can't really see what I'm talking about in the above picture, check out these pics I took the first time I laid eye on her over a year ago…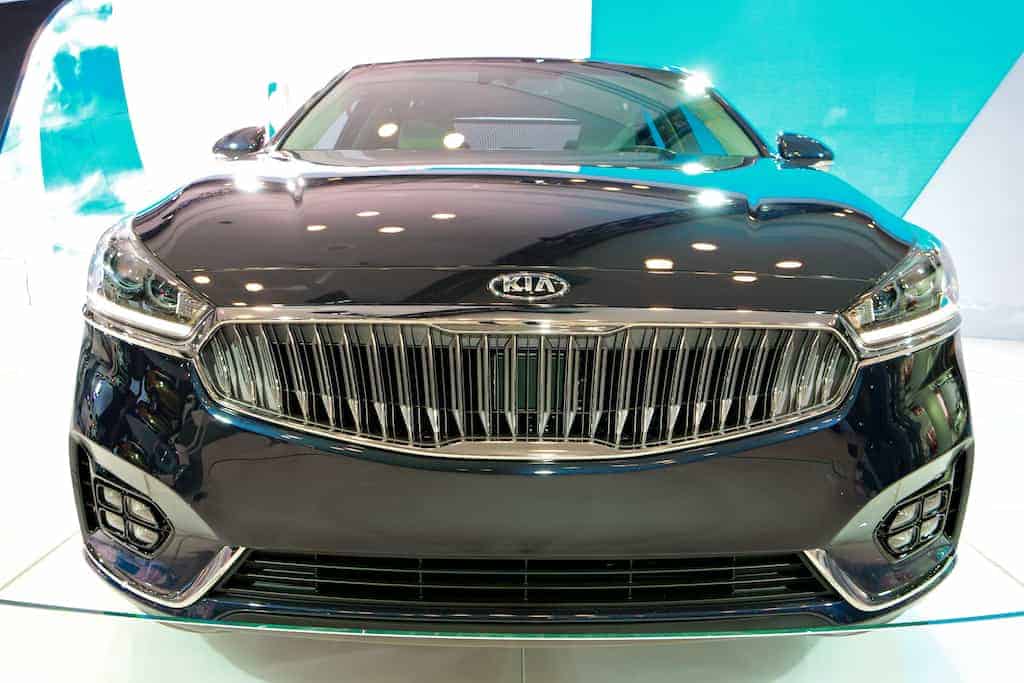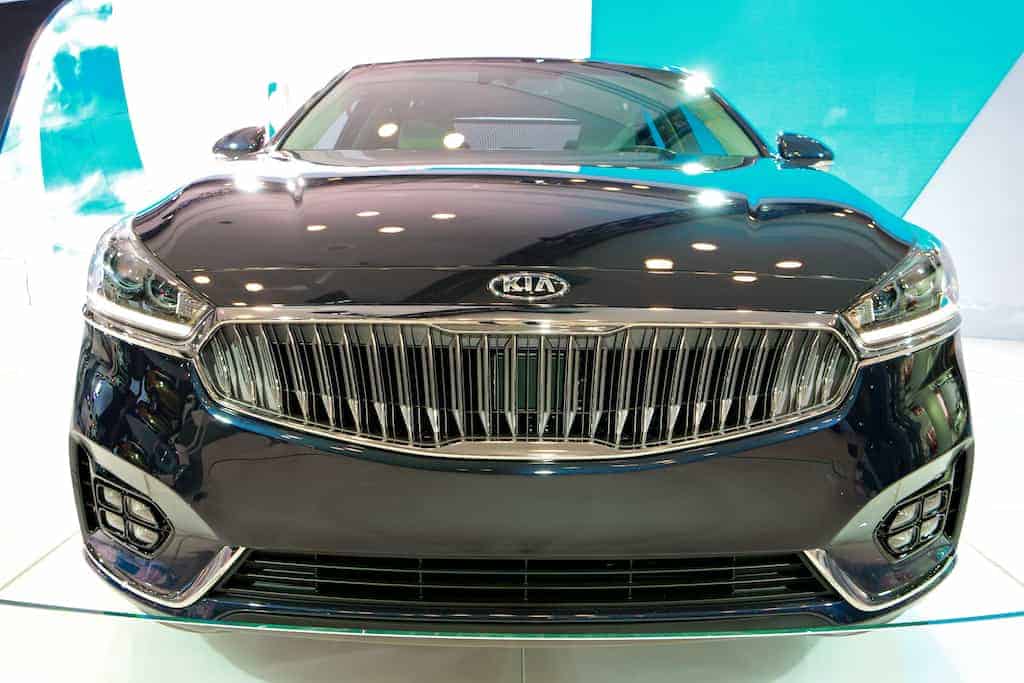 Boom goes the dynamite, right? And the best part is, her beauty is absolutely more than just skin deep with luxurious diamond stitched Nappa leather seats – heated and cooled, of course.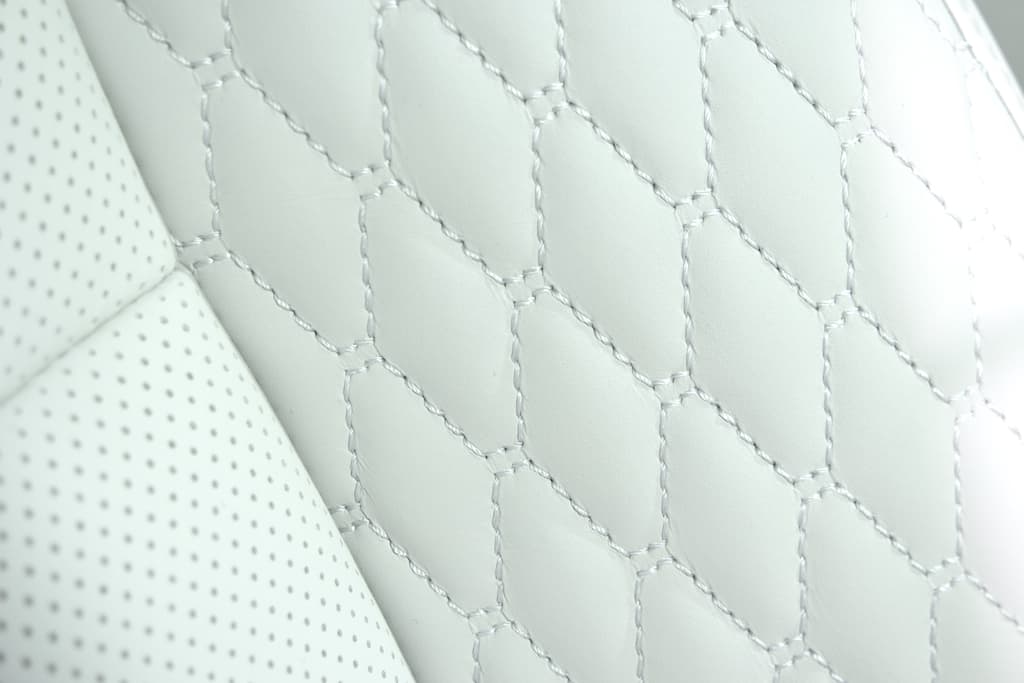 Digging a bit further we find out that the 2017 Kia Cadenza has also earned a major honor from the Insurance Institute for Highway Safety (not surprising!). When equipped with the optional front crash prevention and specific headlights, it performed well in five crashworthiness tests earning the 2017 Kia Cadenza the Top Safety Pick Plus joining many other Kia vehicles that have also earned this, the highest safety rating offered.
The 2017 Cadenza is built with more than half Advanced High Strength Steel which is more than twice the amount used in the older model, and is available with a variety of driver assistance systems that aid in safety.
The first Kia to be sold in the U.S. under the DRIVE WISE sub-brand, some of the cutting-edge driver assistance features the Cadenza offers include
Advanced Smart Cruise Control with stop-and-go functionality
Forward Collision Warning
Autonomous Emergency Braking
Lane Departure Warning
and the one feature I probably use more than I should admit, the Smart Blind Spot Detection System. This one senses unintentional drifting toward an adjacent vehicle and automatically brakes the opposite side front wheel to help maintain the vehicle's intended course….which is to Santa Barbara, of course!
I love that no matter where my wanderlust heart leads me, I can depend on my Kia to get me there safely and in style. Thanks guys!
I was hosted by Kia Motors America. All opinions remain my own.