It's no secret that Ben and I like to entertain. In fact, we're currently turning our back yard into an oasis for entertaining our family and friends. We have big plans that include a little slice of the beach, plenty of seating for everyone and of course the ultimate grilling space. While we're always looking for an excuse to have family and friends over, football season offers the prime opportunity.
Last year, we attended our fair share of Sunday Fundays while watching our boys, the Seattle Seahawks take down their opponents, which gave me plenty of opportunity to get into the kitchen to create a few delicious game day recipes. Now that the season is back, I'm in the kitchen again whipping up some scrumptious new delights. If you've been around the blog any length of time, you'll notice that I love to give recipes a unique Asian spin and the more spice in my dish the better. I may even be known to carry around my own varieties of hot sauce when I travel…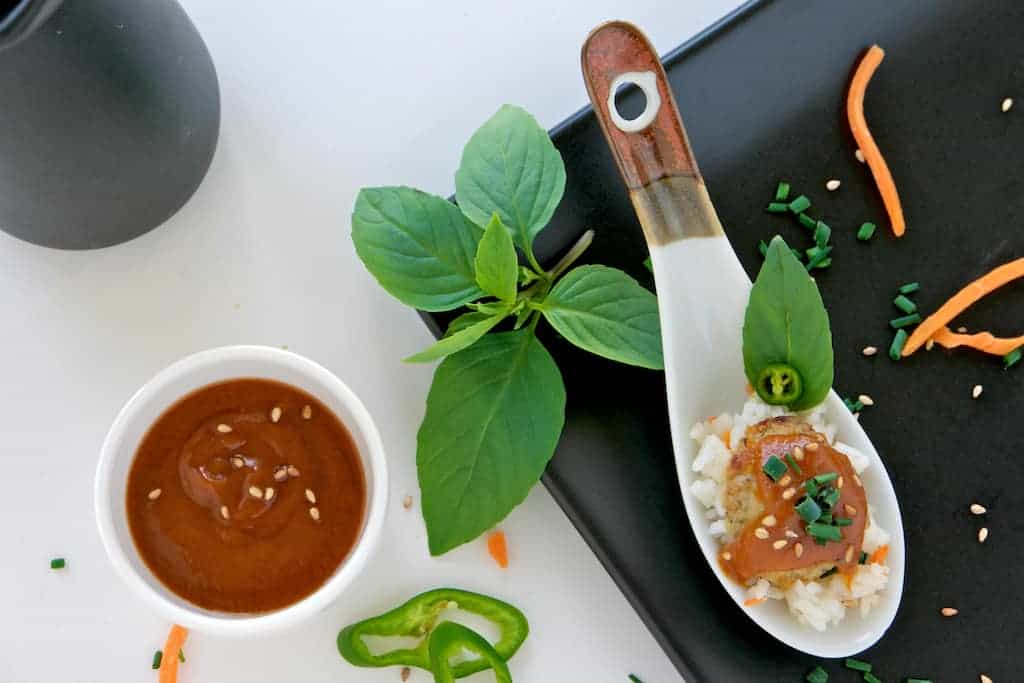 So it's only natural that I would come up with this Spicy Asian Meatballs and Rice Recipe for a quick, easy and TASTY game day appetizer. What's unique about this recipe is how quickly it comes together thanks to ingredients like al fresco Chicken Meatballs and Minute Rice. The spicy peanut sauce is made from scratch and gives just the right kick of spice, savory and sweet.
The al fresco Chicken Meatballs come in three flavors and are precooked which really cuts down on prep time. They also boast 60% less fat than leading beef meatballs, plus they're all natural, and gluten free. Just don't tell Ben they're healthier than his usual! If you've ever cooked with Minute Rice then you know how quickly that cooks up too. In fact, both ingredients cook up in about the same amount of time once you have the oven preheated.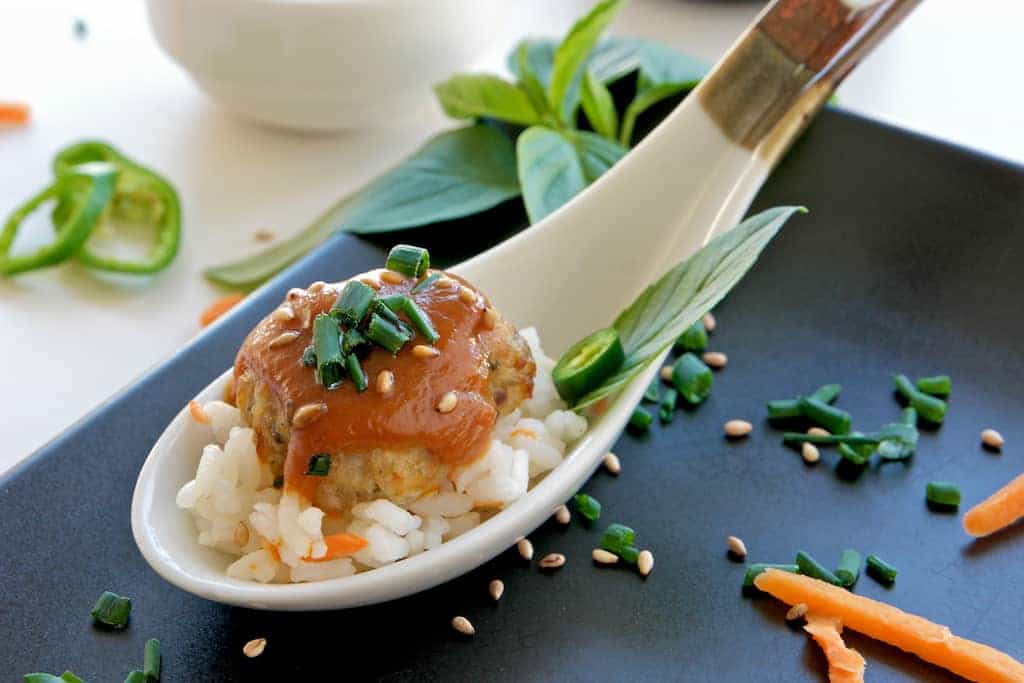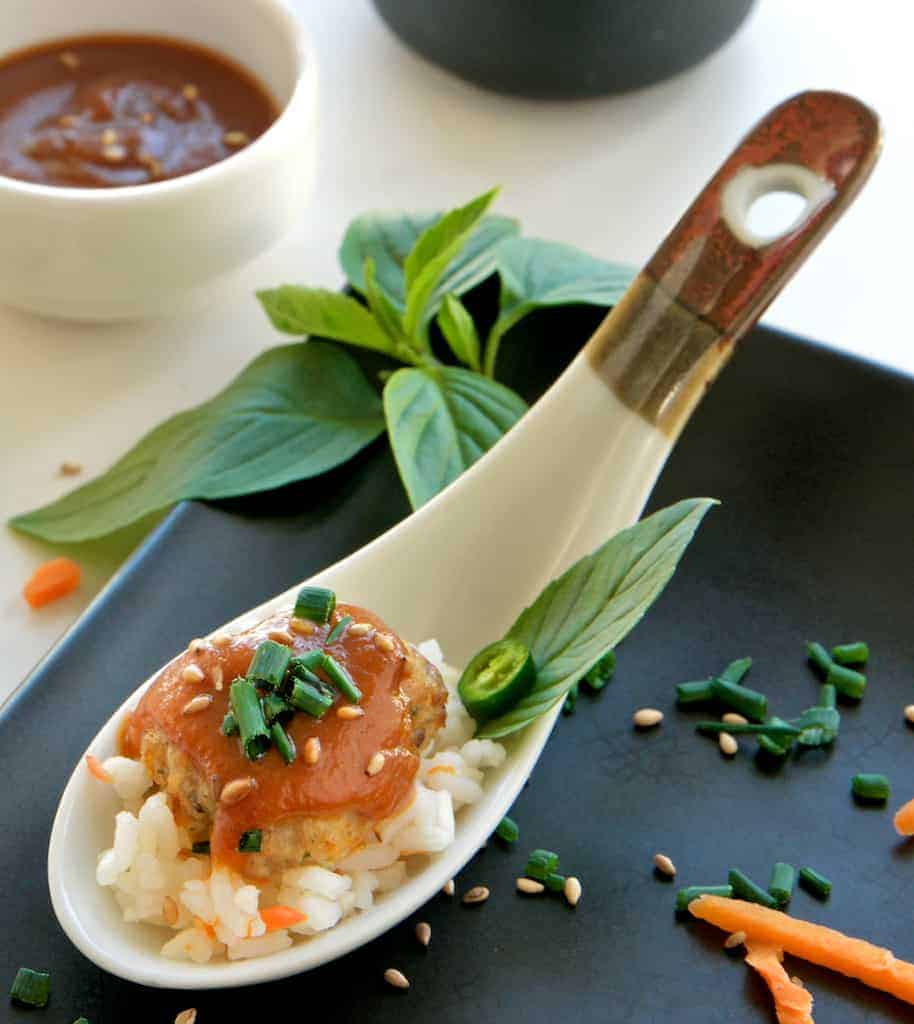 Spicy Asian Meatballs and Rice Party Appetizer
2015-09-30 18:10:21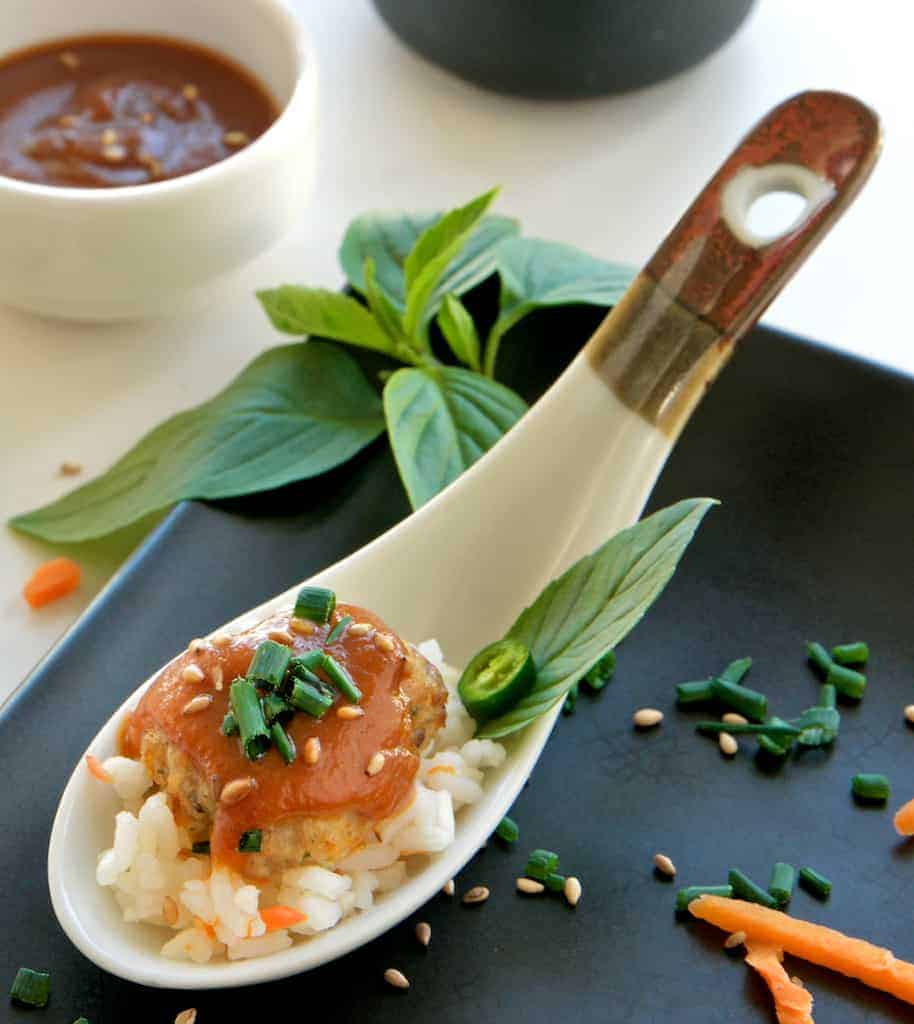 A quick and easy appetizer that's sure to be the hit of any party!
Ingredients
1 package al fresco Chicken Meatballs (you can use any flavor but I like Spicy Jalapeno & Pepperjack the best!)
2 tsp corn starch
1 cups water
1 cup Minute Rice
2 tbsp carrot, minced
2 tbsp peanut butter
1 tbsp honey
2 tbsp sesame seed oil
1-2 tbsp sriracha (to taste)
Fresh Thai basil, minced green onion, jalapeno and roasted sesame seeds for garnish
Instructions
Bake meatballs at 375 degrees as directed, 8-12 minutes or until fully heated through.
While those are baking, combine water and cornstarch in a small saucepan and bring to boil. Once mixture boils, add Minute Rice and carrot. Stir well, cover and remove from heat. Allow to sit untouched for 5-7 minutes.
Stir rice after 5-7 minutes and check for desired consistency. It should be "sticky" but not watery. Combine peanut butter, honey, sesame oil and sriracha in a small microwave safe bowl. Mix thoroughly and set aside.
When meatballs are finished cooking, slice in half.
Warm spicy peanut sauce in microwave about 15 seconds.
To assemble, add about 1 tbsp rice onto oriental soup spoon and place half meatball on top. Drizzle with spicy peanut sauce and garnish with Fresh Thai basil, minced green onion, jalapeno and roasted sesame seeds.
Surf and Sunshine https://www.surfandsunshine.com/
You can find more Al Fresco products and tasty recipes at alfrescoallnatural.com. While you're there be sure to vote for your favorite al fresco® and Minute® Rice dish for a chance to win $1,000! You will also win one al fresco® prize pack including a bamboo trivet, spatula, pot holder and a years' worth of al fresco® product, issued in the form of 16-FREE coupons AND one years' worth of Minute® Rice product, issued in the form of 16-FREE coupons. Entering is easy. Just fill out the form, vote for your favorite al fresco® and Minute® Rice dish and share with your friends!
This post is brought to you by al fresco and Minute Rice. All opinions remain my own.