10 Best Baby Diaper Cakes
Diaper cakes make beautiful centerpieces at a baby shower, and are also practical gifts for the parents to be. The days of round, white cakes consisting of just diapers and ointment are history. Today, diaper cakes are being made in all shapes and sizes, with everything from bottles, pacifiers, diapers, bibs, burp cloths and more! I'm amazed at how creative and elaborate some of the cakes have become, like the Princess diaper cake with candy!
Motorcycle diaper cakes work for boys or girls, and can be customized with stuffed animals and colored ribbons. You can see step by step instructions on how to make this adorable money cake at Sweet Aprils.
This adorable transportation inspired cake covers the diapers with bibs, burp cloths, and other fabric to make it even more colorful and original. Of course, the more you add the more expensive the cake is, but you can always make it a group gift.
Source: Mackey Madness
I really like the way the square cakes look, and this fire truck themed cake is adorable!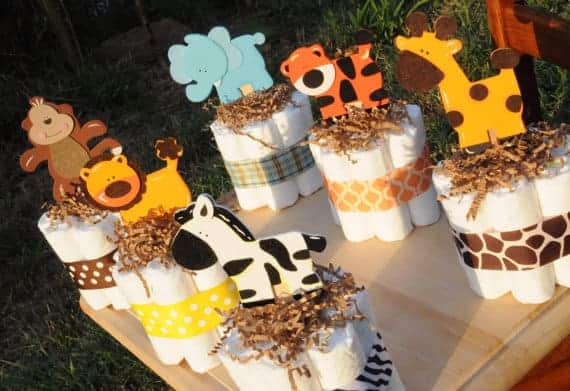 Source: Lolasitas on Etsy
Small or mini-diaper cakes have become very popular at baby showers used as decorations or centerpieces.
Source: Dianna's Diaper Cakes
This design is different from a traditional diaper cake, but they're so cute wrapped in swaddling blankets.
Source: Dianna's 
Woodlands themes are very popular and this is one of the cutest cakes with woodland animals, like the fox, moose and squirrel.
Source: Dianna's
It's a party favorite, its M-I-C-K-E-Y M-O-U-S-E!
Source: Betty Cakes Bakery
Owls are so in right now, and this baby owl diaper cake with bib, is cute as a hoot! I think instead of the flowers as eyes, I would use pacifiers!
Source: Domestic Diva Designz
The brown and orange giraffe theme is so cute, it would look great displayed in the nursery! Which cake design is your favorite?
If you liked these, be sure to check out our second round up of even more DIY Baby Shower Gift ideas!