9 Amazing New Twists on How to Make S'Mores
Disclaimer: This conversation is made possible by Lunchbox. As always, all thoughts and opinions remain my own.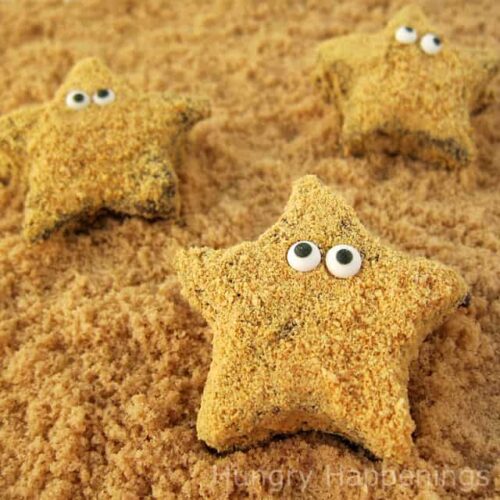 Do you have some foods that you associate with fun childhood memories? I always loved making S'mores as a child. No matter how we made them it was always an ooey-gooey time with laughs around the fire or fire pit. I think the best part of S'mores, other than eating them of course, is making them and allowing the kids to be a part of creating their own treat!
As summer approaches and you find yourself enjoying the great outdoors more, or just grilling out with friends, here are some unique twists for making S'mores. Like how much fun would the kids have making S'mores shaped like starfish while on vacation at the beach? (Source: Hungry Happenings)
For the serious chocolate lovers, how about using chocolate marshmallows for double the chocolate goodness?
Source: Cooking Classy
Lemon anything makes me s'mile, so I think I'm going to have to try these lemon meringue s'mores.

Source: Cooking Classy
For those with young children that often end up wearing more of their food than they get in their mouth, making S'mores in a jar might be a great solution!
 Source: How Sweet Eats
Who wants to make a S'mores pizza? This pizza made by Our Tables for Seven includes a recipe for homemade pizza dough.
I'm willing to bet that there are few things that are tastier than S'mores cupcakes!
Source: Bakerella
Love marshmallows? Then you might enjoy these fun inside out s'mores.
Source: The Wilson World
Doughnuts and s'mores, do I really need to say more?
Source: Handle the Heat
S'mores cookies are a great variation to make for a party or a cookie swap.
Source: Crazy for Crust
S'mores aren't just for special occasions or camping trips, everyday is a good day to share s'mores with your family!
make 'em. s'mile.™ n' win.
Upload a photo to Walmart.com of one of your family's fun everyday moments—from simple laughs, to fancy forts, to gooey s'mores—for a chance to win up to $500.
Prizing:
Grand Prize — $500 Walmart Gift Card (To be eligible for the grand prize your photo must include s'mores)
1st Prize — $250 Walmart Gift Card (All photos featuring family-friendly everyday moments are eligible!)
2nd Prize — $150 Walmart Gift Card (All photos featuring family-friendly everyday moments are eligible!)
Don't have a recent photo of your family making S'mores? No worries, you can save on S'more ingredients at Walmart by printing  a $1.25 coupon on the 
Walmart S'mores website
to save on all your S'mores ingredients! Head to your local Walmart and use your coupon with Walmart's everyday low prices to save even more on a treat everyone will love making and eating.
So, What's your favorite way to make and eat S'mores?