Iceland is one of the most mysterious and fascinating countries in the world. Known as the land of fire and ice, it has about 30 active volcanoes as well as massive glaciers that make the center of the country a vast wasteland of ice and snow. The dramatic environmental contrasts and its historic sagas make the country a place of wonder and adventure, providing some really interesting and crazy places to stay in Iceland. If it isn't at the top of your bucket list, put it on there right now. Go ahead…I'll wait.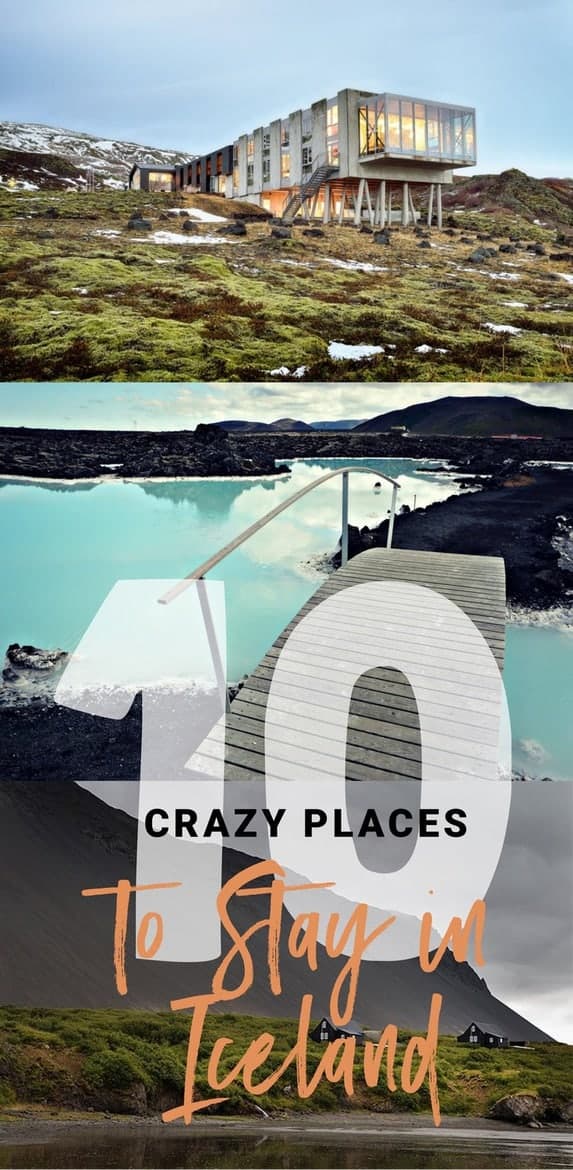 Pin this for later!
If you need a little trip inspiration, check out these ten crazy hotels you can book in Iceland for the trip of a lifetime. That could be you exploring glaciers and sleeping in a bubble!
The Buubble
Have you ever wanted to sleep in a bubble? Maybe not, but you can do just that in Iceland. There are five outdoor bubble structures available to stay in. The transparent inflated bubbles have a bed and space heaters, and they allow occupants to sleep right out in the middle of nature where you have complete view of the stars and northern lights. There is a service house with a shared bathroom and self-service kitchen area just a short walk from the bubbles. Iceland is known for its incredible scenery so why not spend at least one night completely immersed in it.
Ion Hotel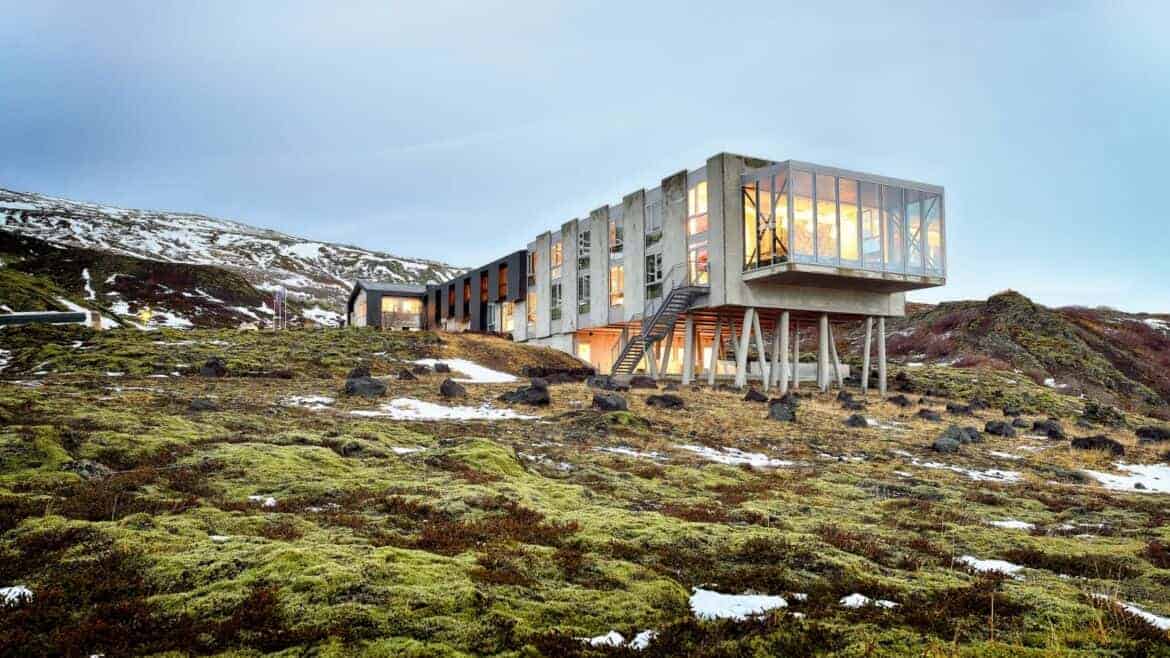 The award winning ION Adventure Hotel is the perfect place to stay for beautiful views and luxury amenities. Its close proximity to the Golden Circle Tour makes it a convenient choice close to some Iceland's major attractions. However, it is the views of endless lava fields and the breathtaking northern lights, that truly attract guests. After a long day of exploring Iceland, you can relax at the Lava Spa before enjoying a nightcap at the award winning Northern Lights Bar. It captures the essence of Iceland and offers everything you might need along the way.
Hotel Viking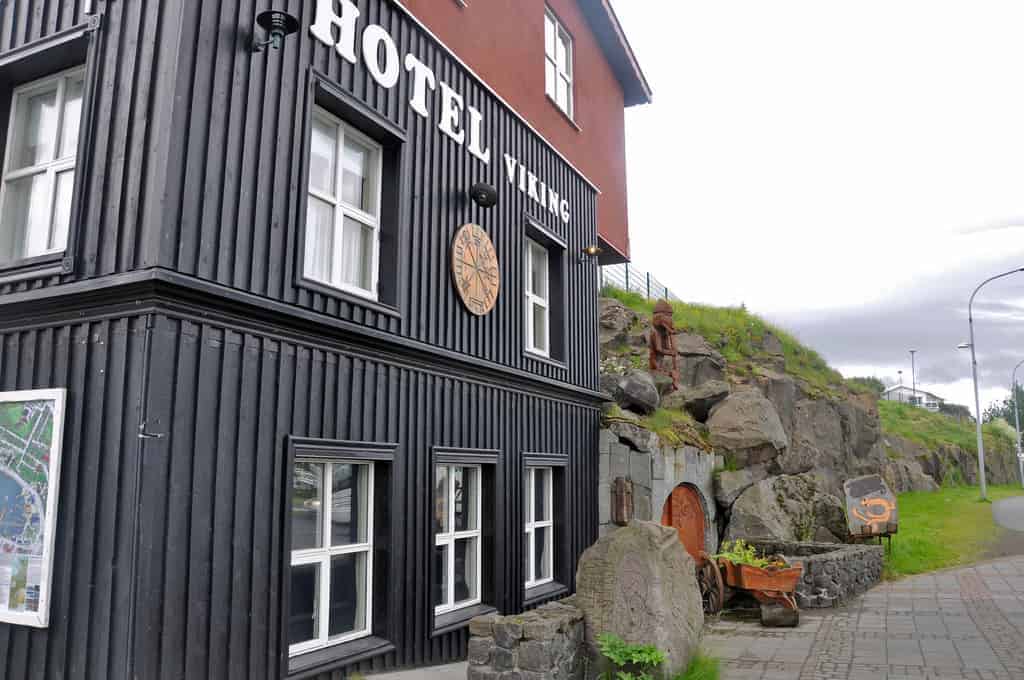 Vikings discovered Iceland, and viking culture plays a major role in the country. Visitors can stay at Hotel Viking and live like a Norse god. Decked out in a medieval theme, the décor is just as the Vikings would have experienced in their day. There is a hotel, guesthouses for rent and a traditional Icelandic restaurant to have the ultimate Viking adventure.
Hotel Glymur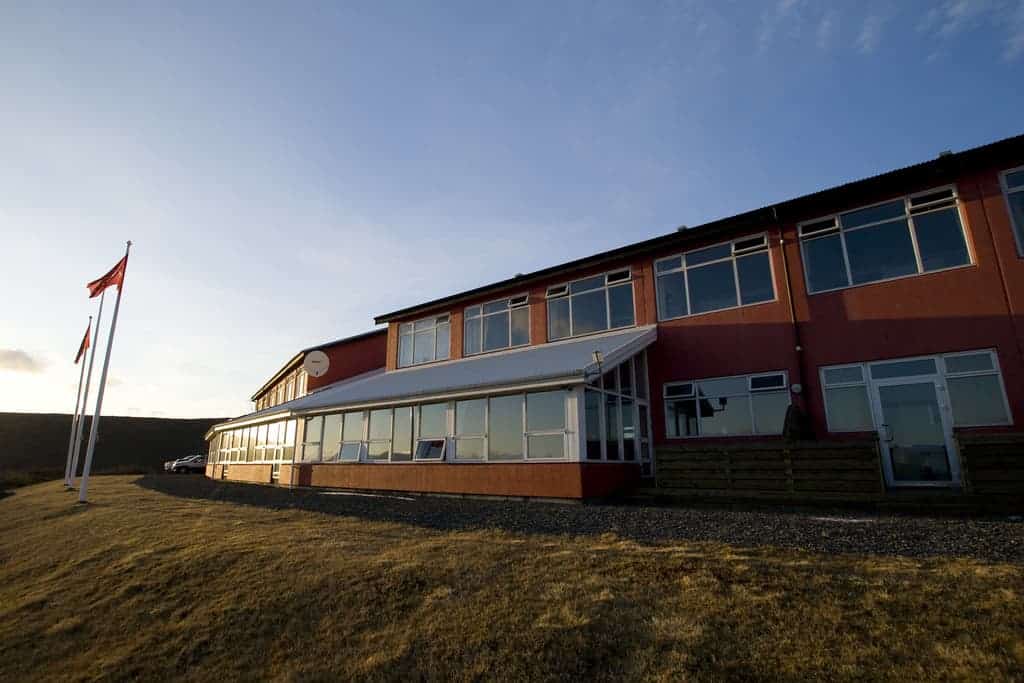 Overlooking the Whale Fjord, also known as Hvalfjörður, Hotel Glymur is north of Reykjavík and offers cozy villas that make for an amazingly romantic getaway. Set against the backdrop of the deep brooding landscape of the Whale Fjord, guests can explore the Fjord where British and American troops built a naval base during World War II eventually leaving behind its abandoned remains. In the town of Glymur, adventurous hikers can see one of the tallest waterfalls in Iceland. When the terrain has worn down even the most experienced traveler, return to one of the six villas that each have their own theme and come equipped with TVs, bathroom, a kitchen space and everything you need for a relaxing getaway. The massive windows look out over the fjord, and it may feel like you are the only person in the world.
Kex
This is actual a hostel that is housed in an old biscuit factory in the city center of Reykjavik. The word Kex is actually an Icelandic word that means biscuit which obviously comes from the nature of the location. It offers guests a gastro pub and plenty of beer as well as a Gym and Tonic designed like an old boxing gym complete with a punching bag and available for meetings, movie viewings or just a little lite boxing on the punching bag. There is also an old vault that has been repurposed into a barbershop where you can get a haircut or have your beard trimmed. This unique hostel is a fun place to stay for those adventurous at heart and eager to meet other like minded travelers.
Frost and Fire Hotel
Tucked away in the beautiful landscape is the hotel known as Frost and Fire which provides access to its own geothermal spa and a restaurant that offers dishes made from the freshest of local ingredients. Its close proximity to local sightseeing makes it a convenient and relaxing place to stay. Through the hotel, book excursions like fishing, snorkeling, jeep tours, horseback riding, midnight tours, and even river rafting. The hotel has a pool, mudbath, herbal kneipp baths, hot tubs, and the adjacent river, naturally heated by hot springs, is warm enough to bathe in.
Kirkjubaer Church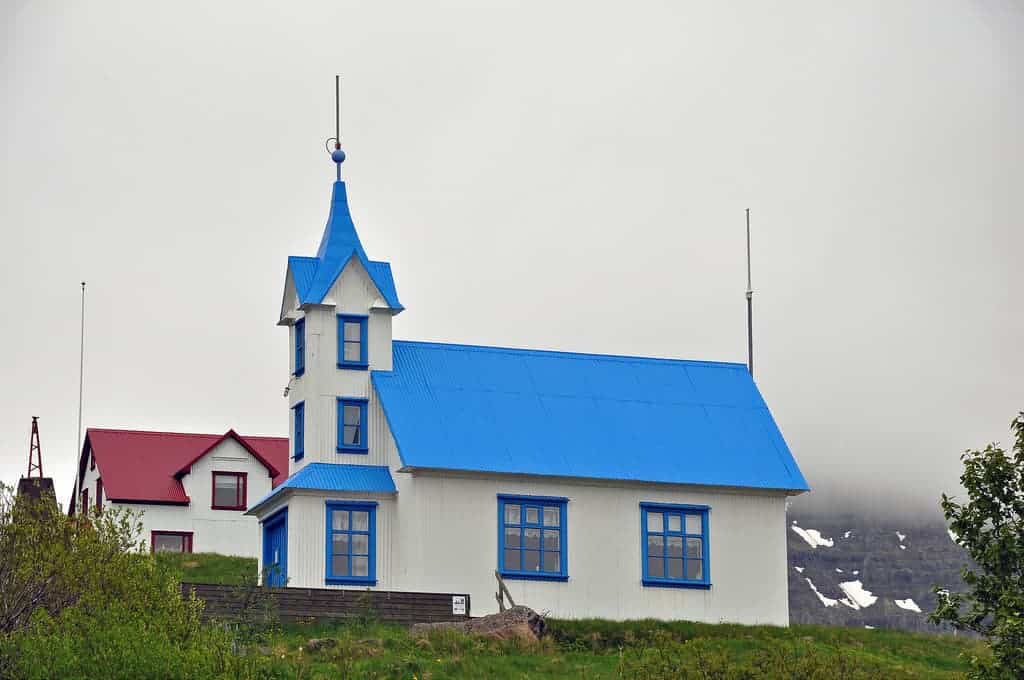 On the coast of a local fishing village you can rent out what once used to be the Kirkjubaer Church. It has a self-service kitchen and plenty of space to relax. Explore the rocky cliffs of the east coast as well as the nearby Petra's Stone Museum where there is a world famous mineral collection. There is plenty of hiking and gorgeous scenery best suited for the adventurous, outdoorsy traveler.
Hotel Jazz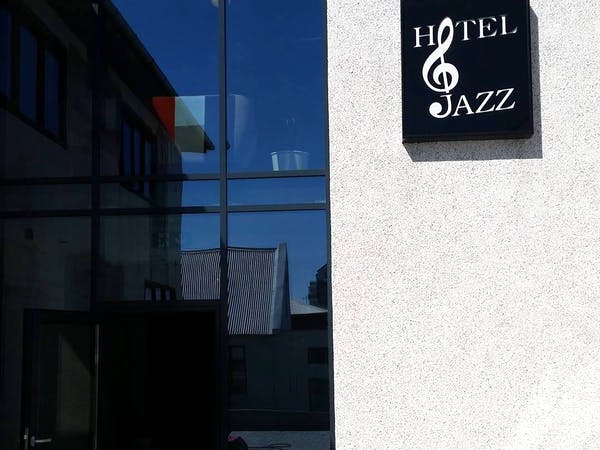 Combining a B & B atmosphere with the amenities of a larger hotel, the Hotel Jazz is located in the town center of Keflavík. It has rooms with ocean views while still just a brief walk to the city's best restaurants and shopping. It is owned and operated by a local from Keflavík, and it is surrounded by a variety of activities. Guests are just a short distance from the Blue Lagoon, Garðskagi lighthouse and Museum, a golf course, Vatnaveröld Family Swimming Pool, and the Icelandic Museum of Rock n' Roll as well as a variety other attractions.
The Silica Hotel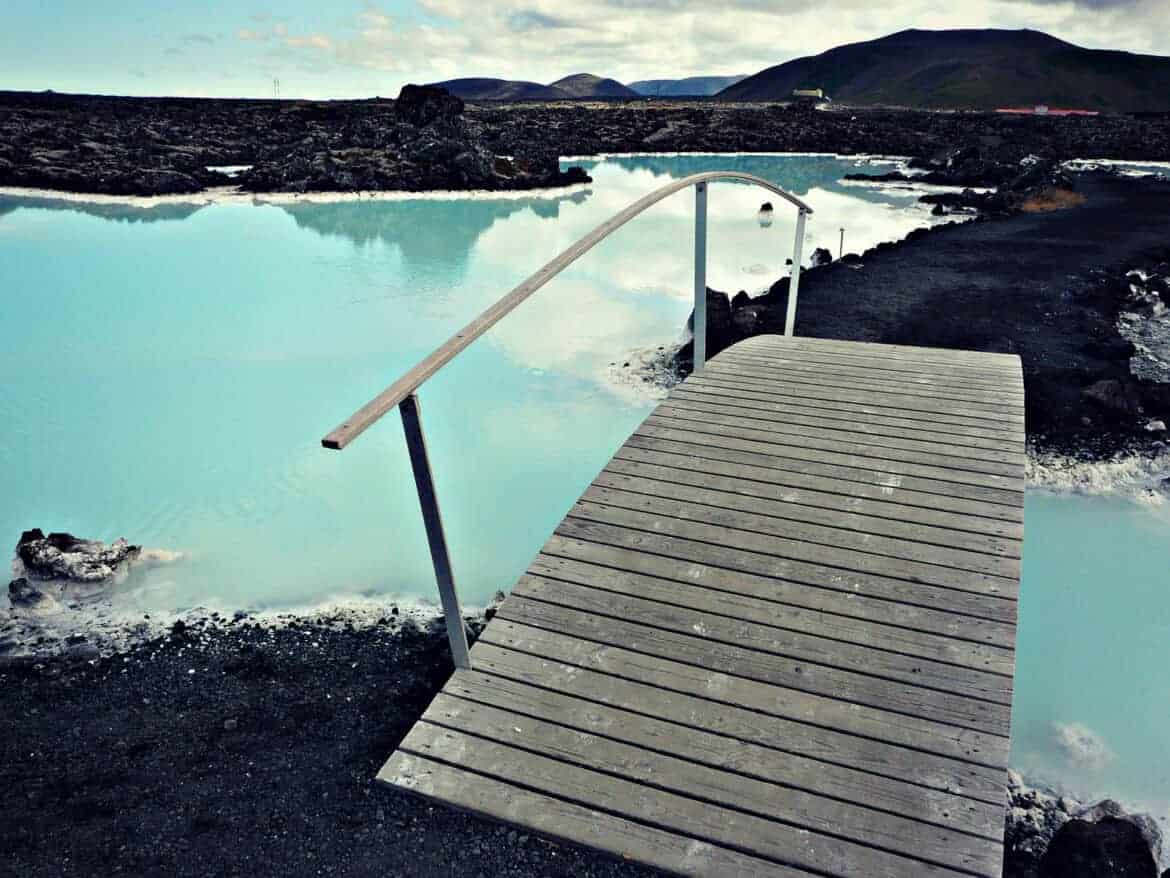 Just a ten minute walk from the famous Blue Lagoon, the Silica Hotel has 35 rooms with private accommodations and verandas overlooking the lava fields. The Blue Lagoon is a geothermal spa that is one of the 25 wonders of the world, and a must if you make it to Iceland. The hotel also has its own private bathing lagoon, and its award winning design offers guests a peaceful oasis that is one with the landscape.
The Black House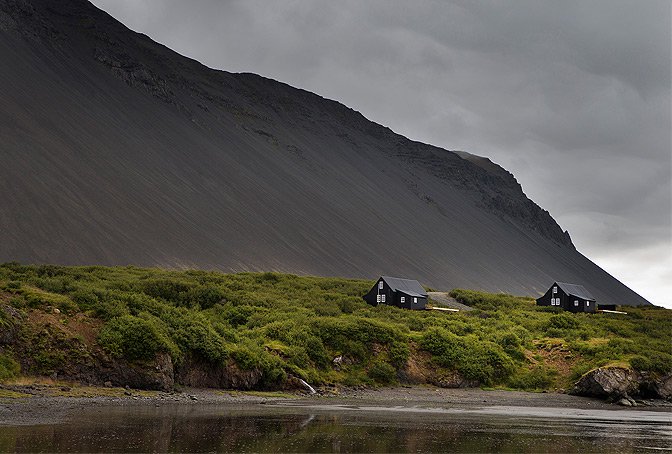 This Black House for rent was designed after the coastal homes of the 18th century, and its unique, rustic décor makes it an interesting place to stay in Iceland. The modern but traditional home is an inviting and cozy place to just escape. It gives visitors a taste of what it must be like to live in Iceland among the massive landscape and the oppressive, untamable weather.