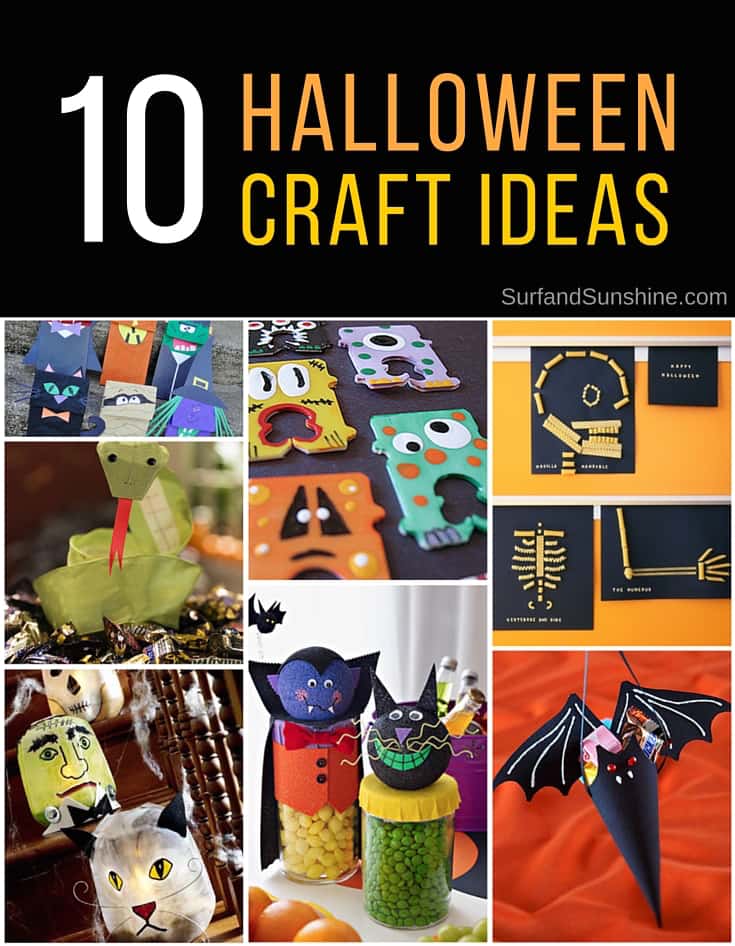 The kids are counting down the days to Halloween, beside themselves with excitement about trick or treating. The most frequently asked question of the day: can I wear my costume yet? So, whether you need to distract them, keep them occupied or are looking for something fun to do at your Halloween parties, here are some fun Halloween craft ideas for kids!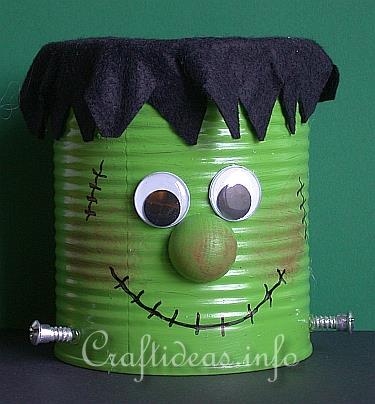 To make the Frankenstein can you'll need: large 16 ounce can (cleaned), light green and red acrylic paint, black felt, saucer or small plate, 2 large wiggle eyes, large wooden half bead for the nose, black permanent marker, 2 short flat end screws, hot glue gun, scissors, stiff paint brush, and a paper towel. You can find the instructions at Craft Ideas.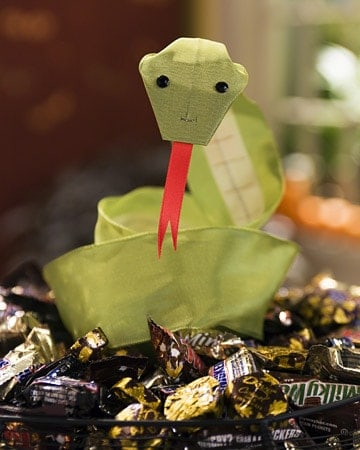 To make these ribbon snakes, you'll need: Spool of ribbon 1 1/2 inches wide or larger, masking tape of a smaller width than ribbon, 18-gauge floral wire, fine-tip brown or black permanent marker, thin red ribbon, scissors, stapler and adhesive gems. Follow the instructions at Martha Stewart.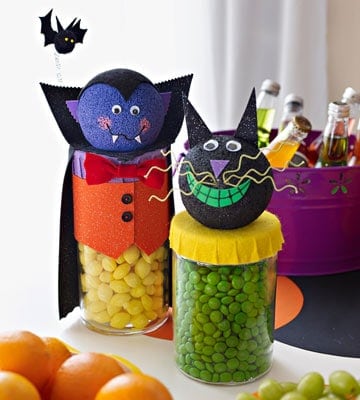 For these creepy candy jars you'll need: Lidded glass containers in a variety of sizes; glitter felt; orange and black; Felt; black, purple, orange, yellow, red; Plastic-foam balls (we used Styrofoam balls); 4-inch (Dracula), 3-inch (cat), 2-inch (bat); Acrylic paint: black, blue, green, pink; Black dimensional crafts paint; Crafts foam: black, green, white, purple; Small black buttons; Green florist cloth wire (cat whiskers); Wiggly eyes; Glue gun and low-temperature hotmelt adhesive. Follow the step by step instructions at Better Homes and Gardens.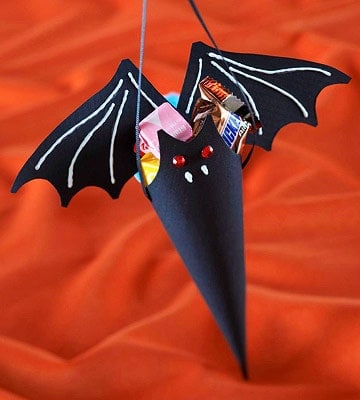 Kids will have fun making these vampire bat treat holders to give guests as party favors. You'll need: Bat pattern, Black card stock or construction paper, Score, Crafts knife, Glue, Gems, White dimensional paint, Black grosgrain ribbon and a hanger. The bat pattern and instructions can be found at Better Homes and Gardens.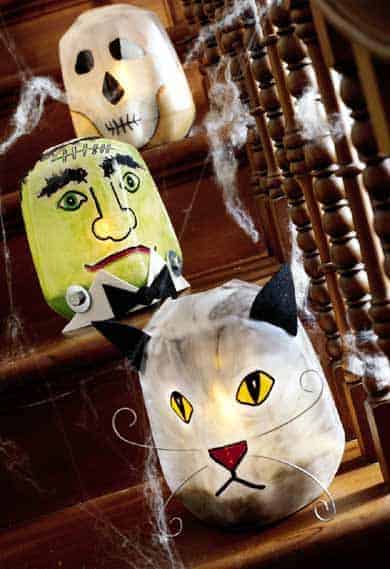 These luminaries are a great way to reuse your milk jugs while making a fun decoration for Halloween. You'll also need: Patterns, Gallon plastic jugs rinsed with labels removed, Utility knife, Tracing paper, Pencil, Scissors, Tape, Paint markers in silver, orange, green, yellow, red, and black, Goo Be Gone, Paper towels and cotton swabs, and Thick white crafts glue. To make the Monster: 2 each of bolts, nuts, washers; white and black crafting foam scraps, such as Fun Foam, for the Cat: 2 12-inch lengths of 20-gauge steel wire, Darning needle and pliers. Plus, once they're complete you'll need sand and candles, a flashlight, or a string of lights. The free patterns and instructions are at Better Homes and Gardens.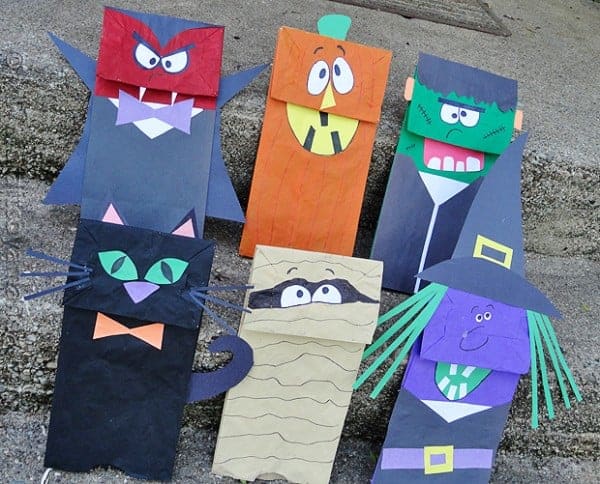 I love the idea of saving bread tags and then using them to make bread tag monsters, so creative! See how she made them at Crafts by Amanda.
Most kids love to play with paint and with this cute Spider handprint craft, they can play in the paint and you'll have a keepsake!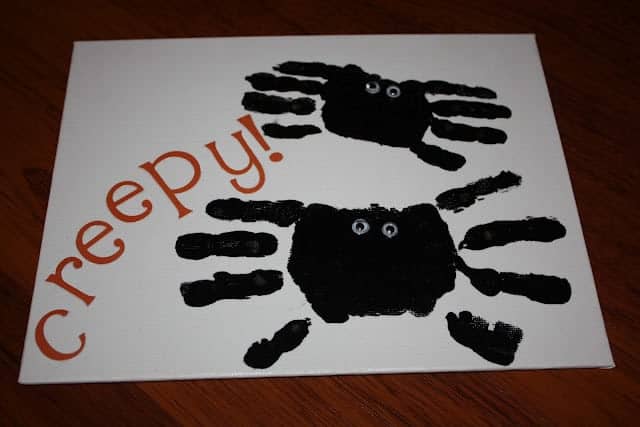 What is your favorite Halloween craft to make with the kids? Do you have any Halloween traditions?